.
VOORHEES, N.J. – Brief and to the Point …
>> My Wednesday column is an open mea culpa to Jaromir Jagr after our lengthy talk yesterday.
One thing I hope you'll never see me do on this job is refuse to say I'm wrong when I'm wrong, even it isn't evident until well after the fact as in this case.
>> And now, without further ado …
The Steelers are all really small! And not at all racially diverse! And practicing on farmland!
Well, actually, those are the bona fide 1934 Steelers, now officially the fashion model for the 2012 Steelers and the throwback jerseys they'll wear twice in the coming season.
And over there to the right, you can find Isaac Redman modeling the jersey in a bathroom yesterday. (He blew up on Twitter, with at least one swear word, that he was trying to avoid the media.) Somehow, I'm guessing the bathroom thing will come up again once the Steelers actually get around to taking the field in these.
That said, I love them.
No, really.
If you're going to do a throwback jersey, at least make it a legitimate one. If you don't do that, then you're really achieving nothing at all with the concept. It's not the main reason I so abhor the Penguins' blue alternates — this is Pittsburgh, last I checked — but it's one of them. The Penguins never wore anything like those sweaters. Ever.
They should be the next to do throwbacks right. And you know what I'm talking about. Oh,  yeah, those all-gold, head-to-foot skating bananas from the Mario Lemieux draft years.
Do it!
>> James Neal's one-game suspension and Arron Asham's four games aren't going to draw a complaint from here. It's weird that NHL disciplinarian Brendan Shanahan felt compelled to go way back three years to cite precedent for Neal, but there's no question Neal left his feet and hit Sean Couturier away from the puck. That's that. Same with Asham.
But this is something else entirely …
httpv://www.youtube.com/watch?v=GAQs8lq6KJ8
That's Marian Hossa getting cheap-shotted to the head by multiple offender Raffi Torres late last night. This is going to be a really big story today.
But hey, when you're letting WWE-style head slams go unsuspended, the postseason simply become open season. This is NHL-created.
>> The Pirates lost Jeff Karstens after one inning last night, and the immediate word afterward in Phoenix was that it's shoulder inflammation. I can't say I like the sound of that happening in-game, but it's a lot smarter not to really think anything until he's examined Thursday.
Try to picture this team without pitching on top of all the hitting it isn't getting …
>> One quick point of order: The chat will be pushed back to Friday this week because of travel back home when we'd normally do it.
>> Oh, and a final thing. This is the cover of tomorrow's Philadelphia Daily News …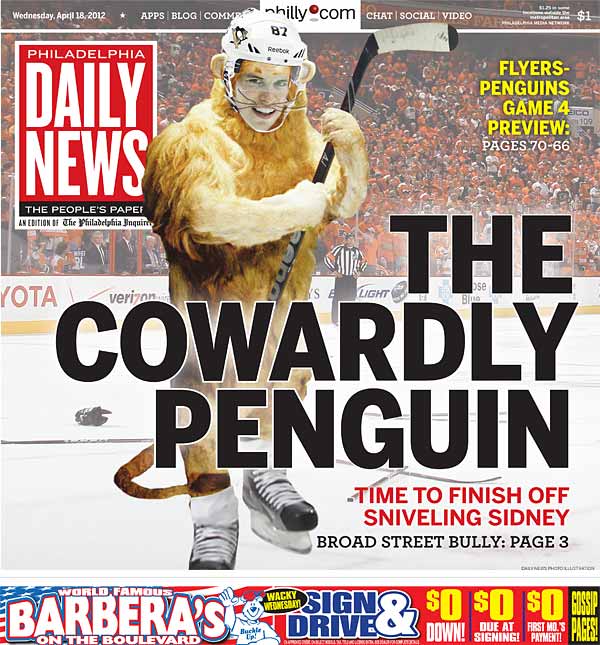 No, that's not a fake. That's actually the cover of a journalistic organization that, only yesterday, was awarded the Pulitzer Prize for some tremendous work.
If you want to know how I felt about that, check my Twitter account for a fun exchange last night with someone at that paper.