.
>> My Friday column collects a whole bunch of randomness regarding the Stanley Cup playoffs. Would love to hear some of your own pluses and minuses to date, not just related to Penguins.
>> It's so easy for me or anyone to say without standing in the batter's box ourselves, but … man, I can't help it: Why did Alex Presley get out of the way of that pitch in the eighth inning last night?
Is it OK to even talk about stuff like this?
I've seen firsthand the bruises and welts a baseball player can get from being hit by a pitch. They're huge, ugly, and I'm told they really hurt. So take this, please, in that context.
Presley needs to get on base there. The Pirates were down a run, struggling for offense. The pitch was well down in the zone — 91-mph standard fastball — and he's wearing one of those protective shin guards. But he leaped back with both legs as if his life depended on it.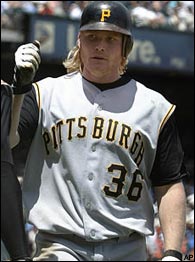 Remember how Craig Wilson would get hit all the time despite standing well off the plate?
His secret: He stood there when the pitch came his way and took one for the team. It's the same thing we ask running backs to do when we want them to take the hit rather than step out of bounds, same thing we ask hockey players to do when demanding toughness in front of the net. Nothing out of the ordinary.
Again, though, like I said, easy for me to say.
>> Anyone who needed evidence that the NFL's new draft cap would get players signed more quickly didn't have to wait long. You already know that the Steelers only have David DeCastro and Sean Spence left unsigned out of their nine picks, but did you know every single one of the Ravens' picks already are signed and reported to Owings Mills for workouts?
Can't imagine that either DeCastro or Spence will be a problem, either.
It's a win-win-lose, really, with only the agents ending up on the losing side.
>> I'm headed out to Dallas tonight on assignment, and I'll be there for four days working on a few things, some immediately, some future. Most of it's Olympics-related.