.
DALLAS — Brief and to the Point …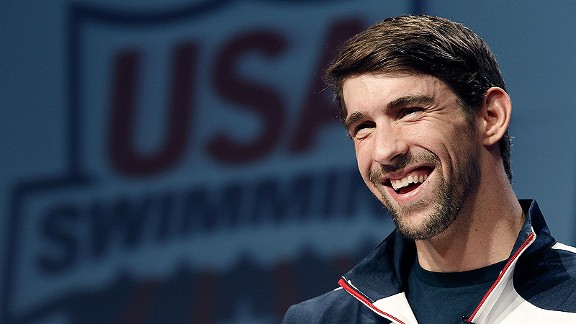 >> My Monday column is about Michael Phelps, who struck me yesterday — more than ever — as someone who was born extraordinarily gifted and sometimes wishes he was not.
Very interested in your feedback.
>> Also interested in your response to this: When do you care about the Olympics?
In being here surrounded by 300-plus reporters in the grand ballroom interviewing Phelps, I couldn't help but wonder how many of the dispatches being sent out of that room — mine included — would be read so much more intently once the torch gets lit in London July 27. I've always thought of the Olympics, kind of like most people, when there are actual Olympics.
Phelps is different. He's on pace to become the most decorated Olympian of all time.
I'm just talking about plain, old Olympics. Fastest man or woman, all that stuff.
>> Here is what I believe to be a complete list of all personnel moves the Pirates have made during the season to address the worst offense in the majors:
April 14 – INF Matt Hague optioned to Class AAA Indianapolis
Anyone think of another?
No? So it's just that?
I'm not talking lineup shuffles here. I mean the actual moving of players on or off the roster. With the pitching worn down and a bit uncertain because of Erik Bedard's status, Neal Huntington and Clint Hurdle are expected to meet to hash out a plan that probably will include help from Indianapolis. It might be temporary, just for a handful of games.
Such moves can happen with hitters, as well. Yes, it takes two to trade. Yes, options and waivers come into play, but who in this lineup – aside from a handful – could possibly be a concern to be lost?
Seriously, I didn't see the Nate McLouth and Alex Presley at-bats yesterday. But if they're half as grisly as has been described, and if the rumor is true that McLouth was summoned to bat for Casey McGehee … what are these guys watching?
>> Don't mean to be a wet blanket after what, from the highlights, looked like quite the fun ending for Josh Harrison, A.J. Burnett and the Pirates as a whole. There's nothing like a walkoff.
But this offense problem isn't going to just go away.
>> Next time you hear or read anyone trying to examine the NHL's national TV ratings, consider that I'm in Dallas, a Western Conference city, and I'm unable to watch the Western Conference final in my hotel room that offers 60 channels but no NBC Sports.
People might not like hockey once they see it. But we'll never know if they don't see it at all.
>> My sources inform me that Anze Kopitar is just slightly adept at rifling backhanders over gloves from the low slot. But I'm checking with Mike Smith for confirmation.
The Kings are legit.
>> I'll make my weekly appearance on TribLIVE Radio today at noon, talking Olympics, Pirates and whatever else the gentlemen back home care to discuss.