.
Brief and to the Point …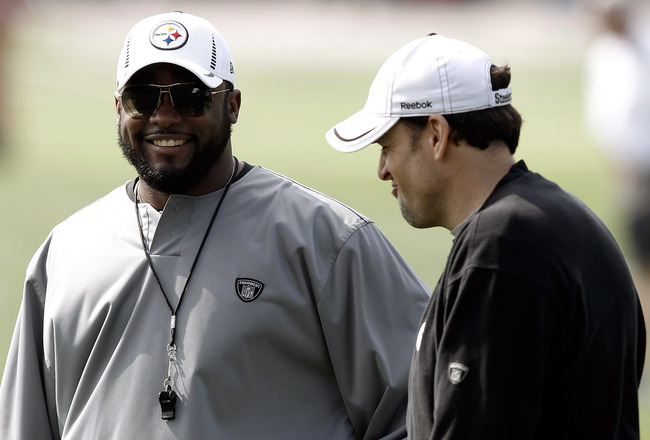 >> The Steelers begin OTAs this morning on the South Side. I'll be over there for work on the Wednesday column, actual subject still to be determined.
Most veterans are expected to be there, even Troy Polamalu, which is a rarity.
Ben Roethlisberger will be there, too, of course. He expects to 'feel like a rookie again' because of losing some weight, changing offensive coordinators and other factors.
Mike Wallace, as you'd have guessed, won't be there. Not a big deal, really. Whenever he shows up, minicamp or not, his role won't change much: Hey, Mike, straight line! Sixty yards!
But two players who won't be there are those who undoubtedly would benefit most. That's the top two draft picks, linemen David DeCastro and Mike Adams, neither of whom is permitted to participate in OTAs because the semesters at their schools still haven't ended. This is one of those cases of the NFL agreeing to a rule that sounds like it's protecting students, but really only hurts the people who have chosen to play football for a profession.
Now, DeCastro is still working to graduate. But there are a zillion ways for him to achieve that without having to hurt the first year of a highly lucrative — and not really all that long — career in the NFL.
It's not a big deal, but it is silly.
>> That was a pretty nice W over there last night. In addition to Michael McKenry's home run, Erik Bedard battled through not-his-best stuff, and the bullpen did what the bullpen does. Jared Hughes, in particular, continues to look like he belongs.
>> Let me add to one small slice of yesterday's column: The concept that the Pirates can't make trades in May is one of the most egregious examples of hooey from this management team since they took over.
Would anyone believe Neal Huntington if he also said that historical records show trades are rare on odd-numbered days when it rains and the moon is full?
They traded Nate McLouth in early June. It happens. Nothing prohibits it.
Stop making excuses, stop funneling minor-leagues from one team to another, open your eyes and look at the pitching staff you've commendably built — No. 5 in Major League Baseball — and bring in a bat.
>> Here's another one I heard a lot yesterday: OK, wise guy, if you think the Pirates should make a trade, who should they get? Who's out there?
Three responses:
1. I have no idea. You have no idea. Only 30 people on this planet know.
It's the job of the GM to know those players, as well as those who could be pried away unexpectedly. You know, the way McLouth was three years ago, when the Pirates legimitately were not shopping him.
Anyone who pretends to know who the available players are is, for the most part, pretending.
2. Call me crazy, but I prefer not to use fiction to bolster my case. Hypothetical or fake trades are pure fiction. They mean nothing, certainly not in a journalistic sense.
3. If you really believe no hitters are available for quality pitchers … wow.
>> John Tortorella, in addition to making a fool of himself in these playoffs, really hurt his team last night. The Devils were up, 3-0, entering the third, and the Rangers opened that period with clearly organized thuggery. Thus, when Ruslan Fedotenko scored with five minutes left and cut the deficit to two, all that time New York wasted on PK could have been put to far better use.
>> Admit it, you looked.