By Dejan Kovacevic | Trib Total Media
Brief and to the Point …
>> The Monday column counts the Steelers' outstanding defensive counterpunches vs. the Jets. Funny that, for all football's strategic and scientific advances, how a few hard hits and old-fashioned intimidation can still make such a difference.
>> All of the toughness wasn't reserved for the defense. As Ryan Clark correctly pointed out, "Our guys on the offensive line showed the same thing, pushed right down the field with that long drive."
Clark was referring, of course, to that elegantly violent 14-play, 75-yard drive the Steelers used to bury the Jets in the fourth quarter. It was capped by two hard runs, one from Jonathan Dwyer, the next by Isaac Redman with a big second effort.
At one point in the third quarter, the Steelers were averaging an awful 1.9 yards per rushing attempt. It looked like a waste of time, especially with all the minimal first-down plays.
But the latter part of any  game is when running consistently pays off. We should know that around here.
>> Here's the Trib's game coverage by Alan Robinson, Ralph Paulk and Mark Kaboly.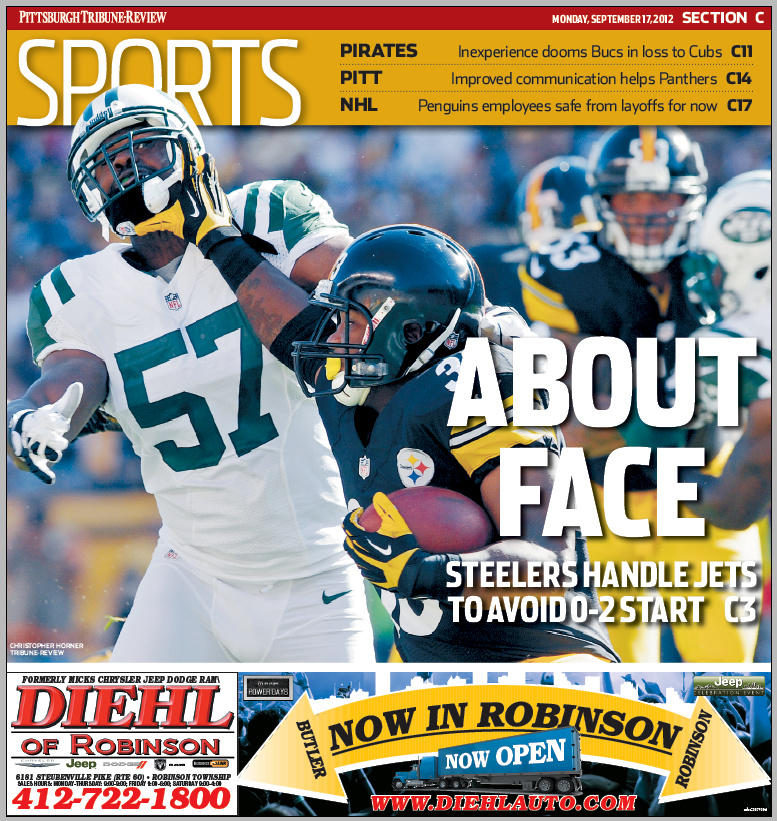 >> The Pirates are a wretched mass.
If you have more to add to that, be my guest. Keep it clean.
>> This was Neal Huntington, interviewed Saturday by the Trib: "I don't want to get into the blame game. We're all part of the really good, and we're all part of the not-as-good. There's no doubt how we've gotten to this point makes it very easy to put a negative spin on it and think the sky is falling. There's a reason for every loss. In some cases, it's fixable. In others, it's not."
To summarize:
1. Calling a collapse a collapse is spin.
2. No individual is at fault. It's all one unnamed collective entity.
3. Oh, well.
>> Tino Sunseri played a very good game in Pitt's upset of Virginia Tech. No one should — or, really, could — take that away from him.
But this attitude that followed it?
Hey, kid, stick it to your critics when you play more than one good game out of every six. And I might be generous with that ratio.
>> Even if this idiotic NHL lockout doesn't last long — I don't think it will live a day past October – it's still the pinnacle of stupidity to miss a single puck dropping.
The owners themselves acknowledge record revenues year after year, but never how those translate to mounting profits for most teams. Yes, including the Penguins. And yet, they want the players to make up for their massive blunder in Phoenix, as well as the Panthers' lousy call to move well outside Miami.
Sound fair to you?
>> This was my appearance last night on KDKA-TV's 'Showdown.' Note new coat.