By Dejan Kovacevic | Trib Total Media
Brief and to the Point …
>> This was what I saw of the second pitch once I took my seat in the PNC Park press box at 7:05 p.m. …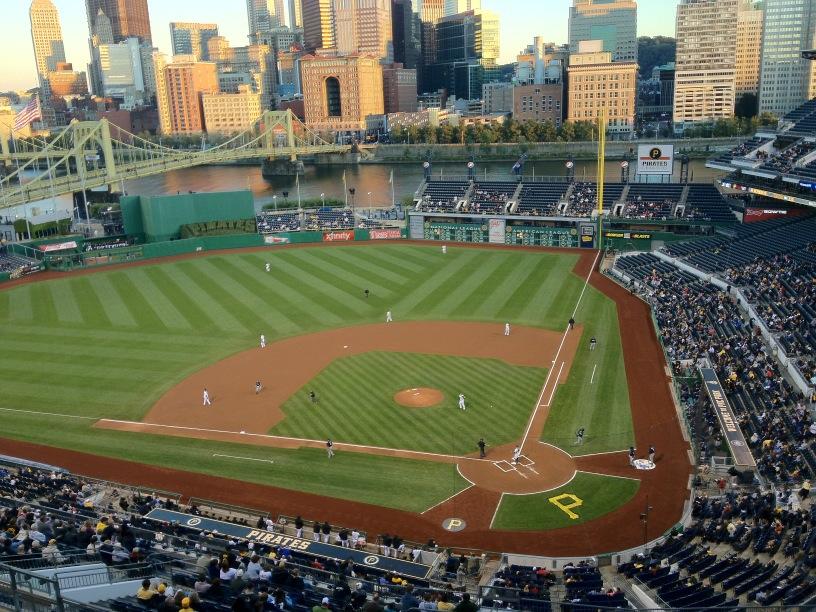 Quite a sight, huh?
You should have heard the place.
Only the Pittsburgh Pirates could do this. Only one franchise.
From 16 games over to .500, from re-bonding a city with its baseball team to ripping that bond to the point that a mid-September game — with actual playoff implications — could draw so few. And so rightly.
There's nothing more tormenting than having hopes raised, then dashed. Except maybe having hopes raised, then dashed twice. The Pirates have lost 10 of their past 12 games and — get this — have a worse record than the Astros since early August. And they're at .500. Again.
To my mind, as a lifelong follower of the franchise, this season is the worst out of the 20 to this point. In 1997, nothing was expected, everything a bonus. In 2010, they lost 105. Still not as excruciating as this.
What a scene.
>> There's plenty of blame to go around, as I repeated in the Wednesday column. But the players have thoroughly embarrassed themselves in these first two games against the Brewers.
Clint Hurdle tried to tiptoe with his criticism by pointing out that Marco Estrada was being seen for the third time and wasn't throwing anything special. His batters failed to square up meaty fastballs.
I won't tiptoe: That's two disgraceful performancs in a row in front of paying Pittsburghers.
People will deserve to be fired if this season ends this way, and the players, of course, can't be fired. But don't — I'll say it again — let these players off the hook.
>> I'll save the rest for our weekly chat, which is today at noon as always.