By Dejan Kovacevic | Trib Total Media columnist
Brief and to the Point …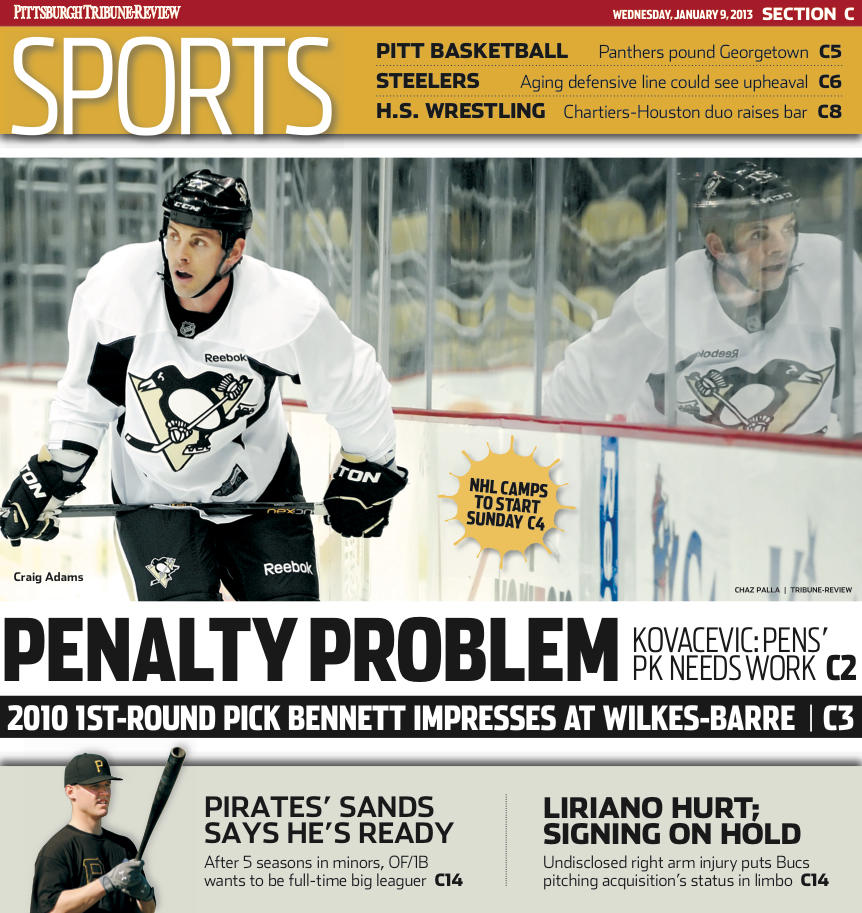 >> The Wednesday column looks at the No. 1 issue the Penguins must address in training camp.
Terrific insight from Matt Cooke and Craig Adams was much appreciated. One of the neat things about this whole columnizing thing is when you have something of a preconceived notion, only to ask, verify, ask some more and learn all you can, only to come out with something else entirely.
Happens quite a bit, especially when dealing with people you trust.
>> Here's my TribLIVE Radio podcast from yesterday, and below is riveting video of the first segment …
httpv://www.youtube.com/watch?v=AtvrvCF-s5g
Thanks to Penguins president David Morehouse and to the Trib's Steelers beat writer, Alan Robinson, for being guests.
>> Just an outstanding night for Pitt down in Georgetown, as our Kevin Gorman reports.
Finally, a win over a quality opponent, with the Hoyas having been ranked No. 19. A complete effort on offense and defense. Some running the floor by guys who can legitimately run the floor. Some actual smiles on the faces of the young Panthers, who just through my TV appeared to be having more fun than any game all year.
It's unfair to call the third game of the conference schedule a signature anything, but it might at least be a springboard. Marquette is next, Saturday at home, and Jamie Dixon finally has some solid evidence that his guys thrive at a more active, less-halfcourt game. Even the big man, Steven Adams, seems to function more fluidly while in motion.
Learn, and move on.
>> The Pirates … um … oh, just go read it and opine for yourself.
No?
All right then, but I'll make it quick: The problem with the Francisco Liriano mess isn't that he was hurt after the parties agreed to a two-year, $12.75 million deal. Assuming the Pirates are telling the truth (not always the case) about the timetable, there's no real mistake on their part.
Rather, the mistake that could come to pass, would be that they committed money beyond a payroll limit and, as a result, felt compelled to trade Joel Hanrahan and his likely $7 million salary to clear space for Liriano before giving Liriano a physical. It will be harder now to find that badly needed starter.
So, is that dumb?
Disorganized?
Brilliant beyond all reasonable adjectives?
That's up to you today. These guys wear me down.