By Dejan Kovacevic | Trib Total Media
Morning, lunatics …
>> The Friday notes column tackles the Bob Nutting/Clint Hurdle relationship, Kris Letang's carelessness with the puck, and the Steelers' locker room drama being a bunch of hooey.
If memory serves, this will mark the second time I've used 'hooey' in a column. I'm certainly open to suggestions here.
>> The chat transcript summarily dismissed all sideshow hooey related to the baseball team. It's about contending for a playoff spot, or it's about getting fired.
>> Before the daily rundown of of the Trib's section, slide the play arrow all the way over to the 9:00 mark of this video below. It's from Canucks-Stars last night in Dallas …
Been immersed in hockey my entire life. Never seen anything quite like that.
And you thought the Penguins' penalty-killing strategy was passive.
>> Steve Breaston to the Steelers? He sounds at least amenable, per Mark Kaboly.
>> Full report from the Scouting Combine by our Alan Robinson in Indy.
>> Brandon Sutter's early impressions on the Penguins are described by Josh Yohe.
>> Jamie Dixon focuses on Pitt's poor shot selection, by Kevin Gorman.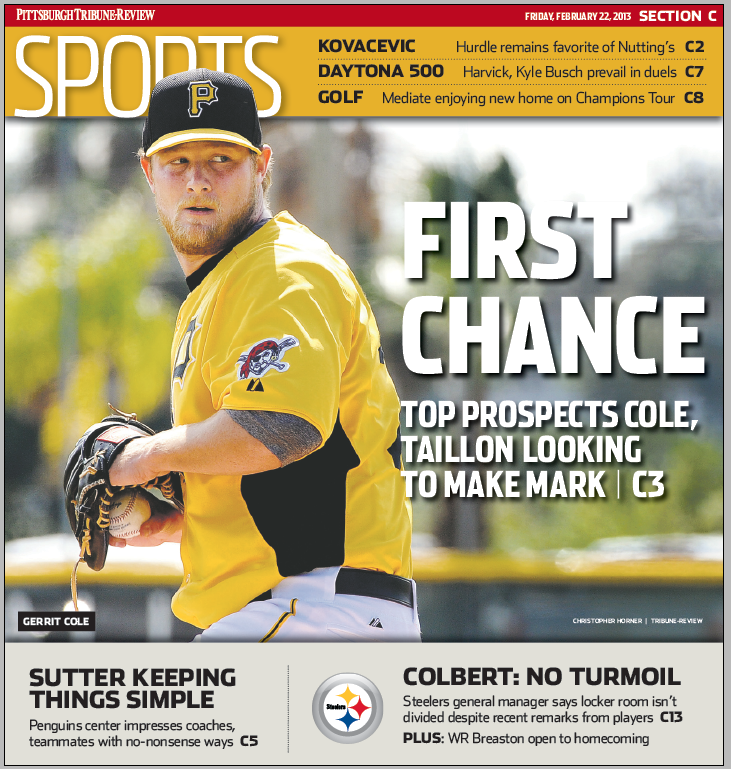 >> Gerrit Cole and Jameson Taillon hope for productive springs, by Rob Biertempfiel in Bradenton.
>> I'll visit with TribLIVE Radio today at 11:30 a.m. to discuss the column.
>> I'll be all pucks over the weekend, like most of you, I'm sure, then it's off to Bradenton on Thursday for a week of hooey-free baseball coverage.