By Dejan Kovacevic | Trib Total Media
>> The Wednesday column pins Pitt's hopes for the Big East tournament on one pretty special kid. And don't worry, it's nothing Tray Woodall can't handle.
Who's your key player?
Better question: Which version of the Panthers do you think will show?
A video of some of my talks with the Panthers before they departed …
>> Count me squarely in the let's-see-what-comes-next sect of those looking at the Steelers' offseason. There's lots of time, lots of moves still to made, not to mention an NFL draft.
I wrote after the season it would be nice to have Plaxico Burress back, though I didn't think it would happen.
I wrote after the season it wouldn't be so bad if Larry Foote were allowed to walk, and I did that it seemed highly unlikely he'd stay.
Well, both of those did happen, plus Mike Wallace got paid, and much more.
But I'll repeat: There's no bigger waste of time or energy, never mind emotion, than to judge an NFL roster in the second week of March.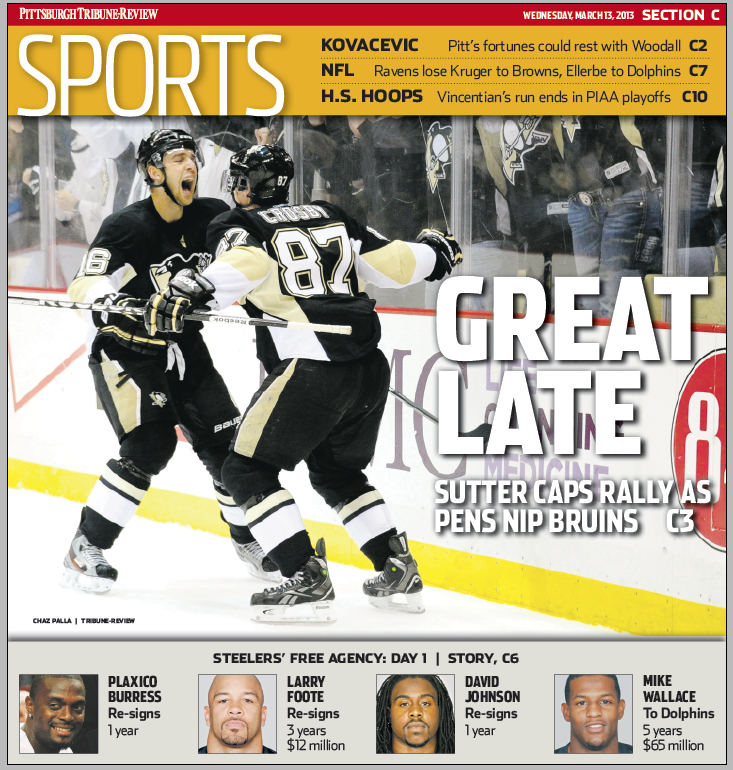 >> That was quite the exceptional comeback at Consol last night.
>> By the time the Rangers get here this weekend — they'll stop in Winnipeg first — it is entirely possible that John Tortorella will have internally combusted.
What a jerk this guy's become, as he illustrated again last night in Buffalo.
>> Here, again, is yesterday's TribLIVE Radio show podcast, featuring guest Brooks Orpik. And below is video of the opening segment …
>> I'll visit with John Steigerwald today at 1:30 p.m on TribLIVE Radio. And later in the week, I'll be part of the pregame show for NBC's broadcast of Penguins-Bruins.