By Dejan Kovacevic | Trib Total Media
>> The weekly chat is today at noon. Come one, come all, leave the pitchforks at the door.
>> Ray Shero is the Penguins' greatest GM, according to columnist Joe Starkey in today's Trib, and he puts him even ahead of Hall of Famer Craig Patrick.
Do you agree?
Patrick, let's remember, shaped this franchise into the model it remains even 25 years later.
Another point here: Take a look at the list of Shero's successes in the trade market. It's impressive, to say the least. And it's something to consider the next time you hear or read any argument defending any GM's trades that basically amounts to, "Well, what did you EXPECT him to get for so-and-so?"
Good GMs get it done.
>> We'll find out today if Jim Boeheim was simply blowing smoke about Pitt back on Feb. 5, when he floored a roomful of us by declaring that the Panthers were "the best team we've played, without any question. It's not even close."
Yesterday, as our Kevin Gorman reports from the Garden, Boeheim backed off a bit.
Tipoff is at 2 p.m. Should be fun.
This, again, was my Wednesday column advancing Pitt's tournment outlook.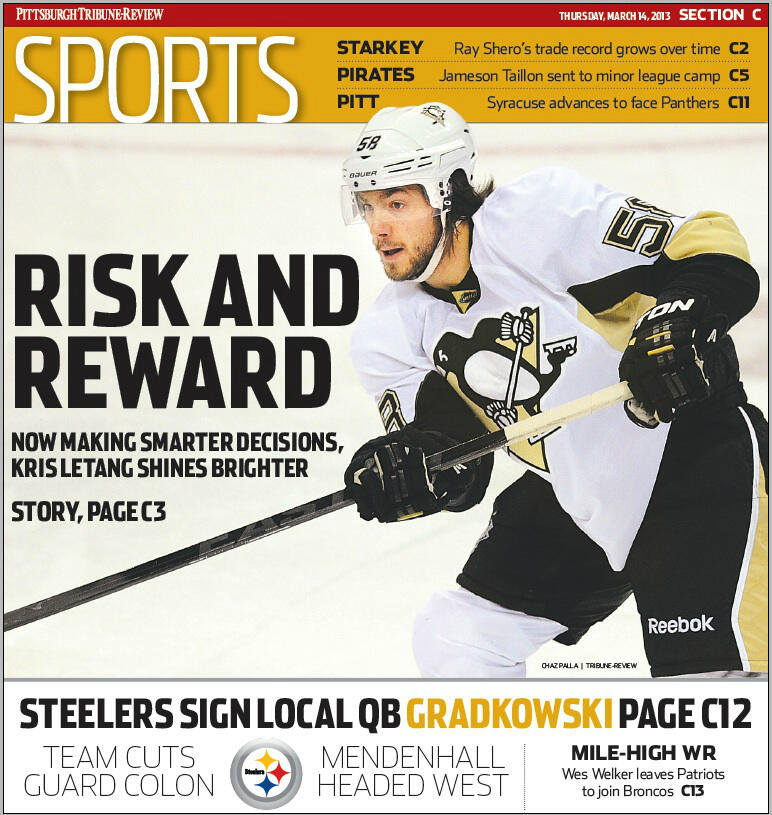 >> It'll be interesting to see if Dan Bylsma leaves Brandon Sutter with that second line tonight in Toronto, as he did — with tremendous results — for the third period two nights ago.
By all accounts, the Penguins won't be without Evgeni Malkin long, so this isn't some big issue, but I like this team's chances of pinning the Leafs deep in their zone a lot better than the chances of their D-man keeping up with a hot Phil Kessel. He's got five goals and four assists in his past five games.
>> The podcast of my TribLIVE Radio studio visit with John Steigerwald yesterday, talking Pitt and pucks.
>> Video from Bradenton of Josh Bell, a drafted hitting prospect in the Pirates' system and, thus, formally registered on the International Endangered Species list …
>> Hope to have you in the chat!