By Dejan Kovacevic | Trib Total Media

Morning, lunatics …
>> The Monday column looks not only at Ray Shero's acquisition of Brenden Morrow but also which player and which position his next acquisition might be.
Look forward, as always, to your feedback.
>> The streak is at 12 …
Yes, it's at 12 …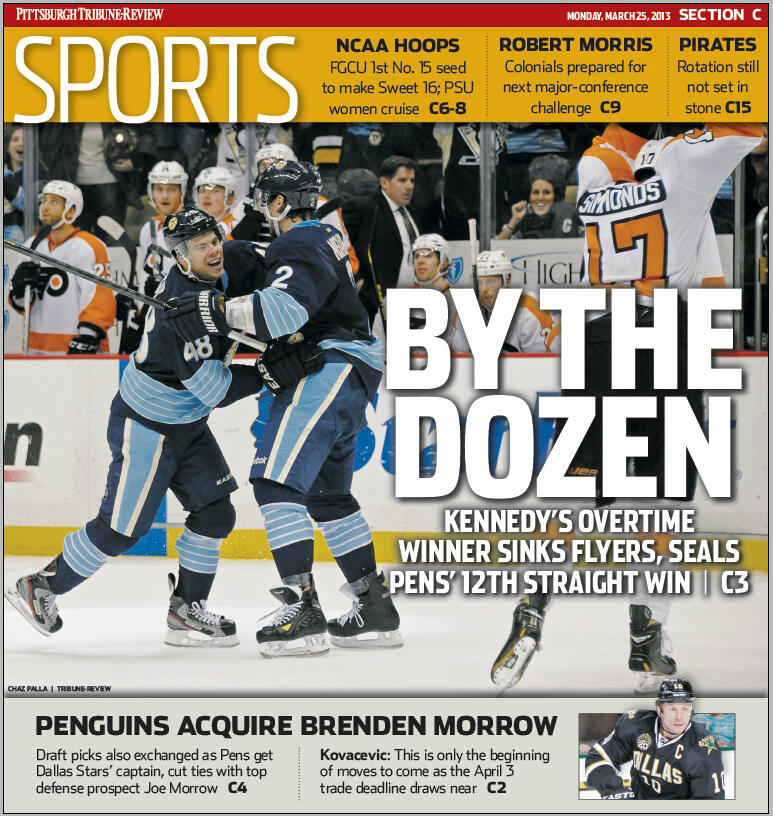 Amazing feat. What a special franchise this is for Pittsburgh.
That said, the day the Flyers are eliminated from the Eastern Conference playoff picture will be the day the Penguins have done the most to get back to the Stanley Cup final.
Here's our Trib team coverage by Rob Rossi and Josh Yohe.
>> Jeff Karstens' recurrence of shoulder trouble doesn't bode well for the Pirates' rotation, obviously, but I wouldn't fret too much. They've got a deep, talented minor-league system that's had an especially strong emphasis on pitching in the drafts. This will be no problem at all!
>> If you missed it, the Sunday column applauded Jamie Dixon's extension while also looking ahead in detail to Pitt's 2013-14 season.
>> Oh, and if you haven't heard, Serbs are about to become the master race …
The future of civilization could not be in more capable hands. We never start trouble anywhere.