By Dejan Kovacevic | Trib Total Media

Morning, lunatics …
>> The TribLIVE Radio show today — 1-2 p.m. — will feature special guest James Neal.
To listen to the show, just click on TribLIVE Radio. It's free, easy, no registration. If you've got an iPhone, iPad or Android, we've also got the TribLIVE Radio app.
The Winnipeg Free Press' Gary Lawless will the media guest, discussing not only the Eastern Conference playoff map but also the upcoming Penguins-Jets tilt here on Thursday. And, of course, the local Twitter legend @suckmeter will offer, in his own inimitable manner, the Suck of the Week in Pittsburgh sports.
I want you involved, too. Email: sportstalk@tribweb.com or call me at 412-320-7925.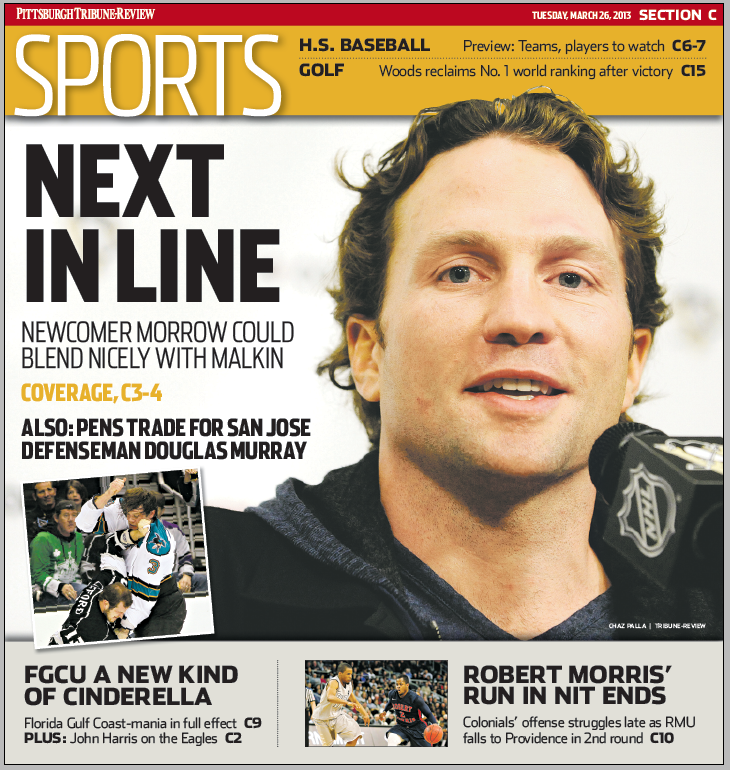 >> The Penguins' new age, if you will, might or might not begin tonight against visiting Montreal, given the uncertainty of whether Evgeni Malkin or Brenden Morrow will play. But if they do, our Rob Rossi has you covered with a thorough breakdown of what it takes to skate with No. 71.
>> The hockey team's TV ratings continue to be just insane.
>> Here's the Trib video from Consol yesterday …
>> James Harrison, nomad. Just imagine if he comes back for less than the Steelers' original offer.
 >> The Pirates' leadership? Rob Biertempfel discusses a few. My choice: A.J. Burnett.
>> Robert Morris' nice season ended last night by coming up short vs. Providence. I'm guessing that the public impact won't match that of the Colonials' previous game. Maybe no game they'll ever play will.