By Dejan Kovacevic | Trib Total Media
>> The Wednesday column is about the Pirates' patchwork rotation … and how it got that way.
>> Meanwhile, in the big glass box Uptown, the clock struck 13 …
Yes, 13 …
As in, 13 …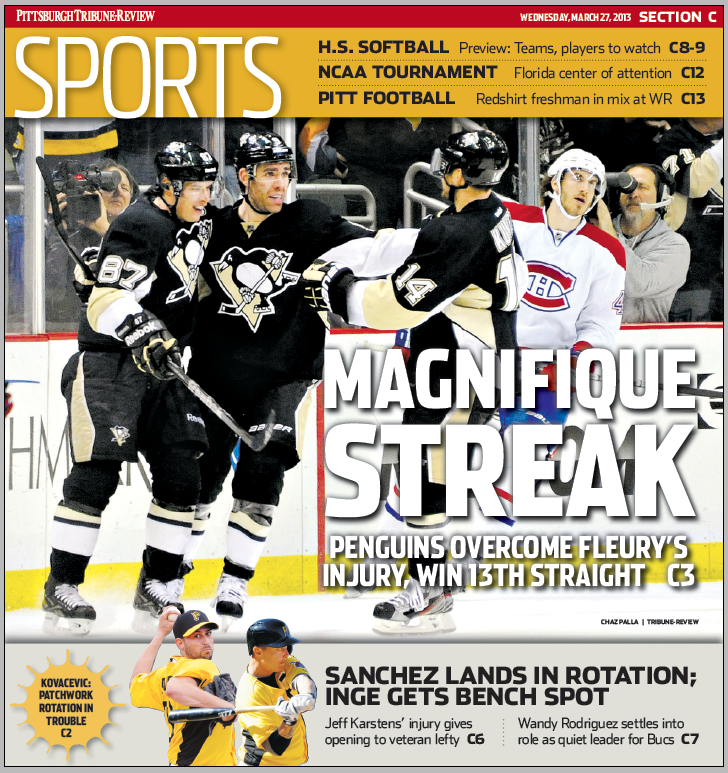 The goaltenders get it done, as Rob Rossi reports, but Marc-Andre Fleury is down. One would think Tomas Vokoun was going to get the nod Thursday against the Jets, so this might end up being moot. But, obviously, given the clear blow to the head, the Penguins would do very well to err on the side of caution.
Our #TribHKY team's video report from Consol …
>> Here again is yesterday's TribLIVE Radio show podcast featuring James Neal of the Penguins and the Winnipeg Free Press columnist Gary Lawless.
Here, too, is video of the opening segment about why Jarome Iginla isn't necessarily a good fit anymore, complete with Bruce Boudreau's head on a stick …
>> I'll visit with the TribLIVE Radio cast again this afternoon at 1:30. We've got live video streaming from the studio now, by the way. If you're on a laptop, just open the player and click WATCH rather than LISTEN.