By Dejan Kovacevic | Trib Total Media

>> The Friday column is about Jarome Iginla, the Penguins and the false notion of this extra pressure.
>> Meanwhile, in that big yellow box Uptown …
It's 14 …
As in, 14 …
Which is to say, 14 and ALL IN, as our talented cover designer Matt Rosenberg deftly illustrated …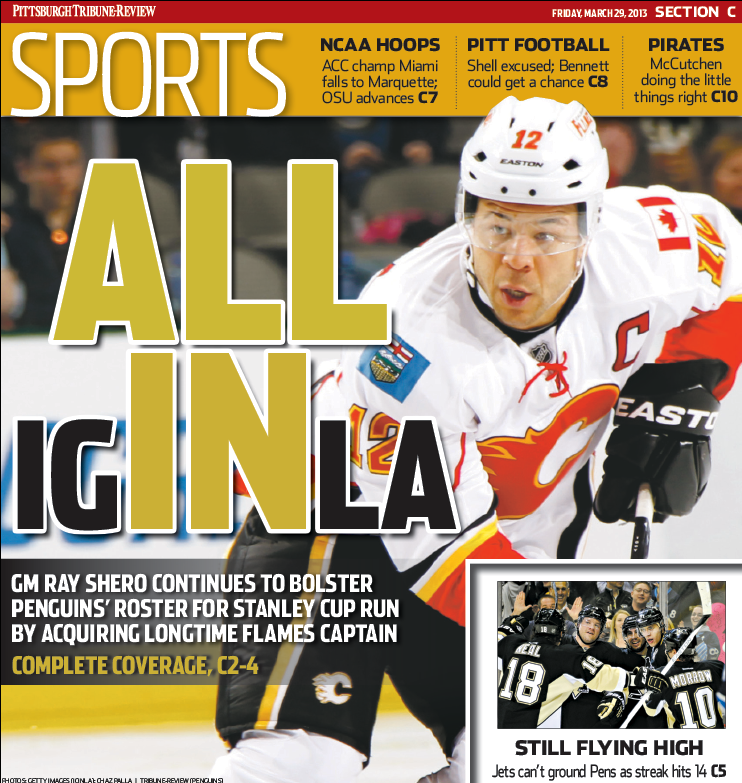 Three to go to tie the NHL record, and the roster is only about to get just a bit stronger.
But, as the column advocates, don't forget about those who brought the team here, notably Pascal Dupuis, who now is tied with Steven Stamkos for even-strength goals at 15. Game coverage is by Josh Yohe.
Much more news coverage on the Iginla trade by Rob Rossi.
And, of course, our nightly no-frills video analysis …
>> There are some NHL teams that match up well against the Penguins. It is very safe to say that Winnipeg's beloved Jets are not among them.
>> Say what? Steelers and a feature running back? Anyone?
>> Fertilizer issues at PNC Park?
>> Rushel Shell in or out at Pitt?
>> This was yesterday's chat transcript. By conducting it right here on the blog, by the way, we had record participation. Great to see. Thanks to all who hopped aboard.