By Dejan Kovacevic | Trib Total Media

>> The Monday column looks at the Pirates' mental state, as well as that of their surroundings, even as it offers a prediction for how they'll fare in 2013.
Here's a neat thing from the workout yesterday. Flicked on the video to start interviewing Jason Grilli and, as you'll see, he pretty much took it from there …
And here's our Pirates page, which includes Rob Biertempfel's Opening Day feature on Grilli, weather/parking updates and all of our Sunday season preview stuff that includes fellow columnist Joe Starkey's own prediction for the Pirates' record as well as a full sabremetric breakdown of the entire roster. (Took up a whole page in the Sunday paper!)
Here's today's Trib front page …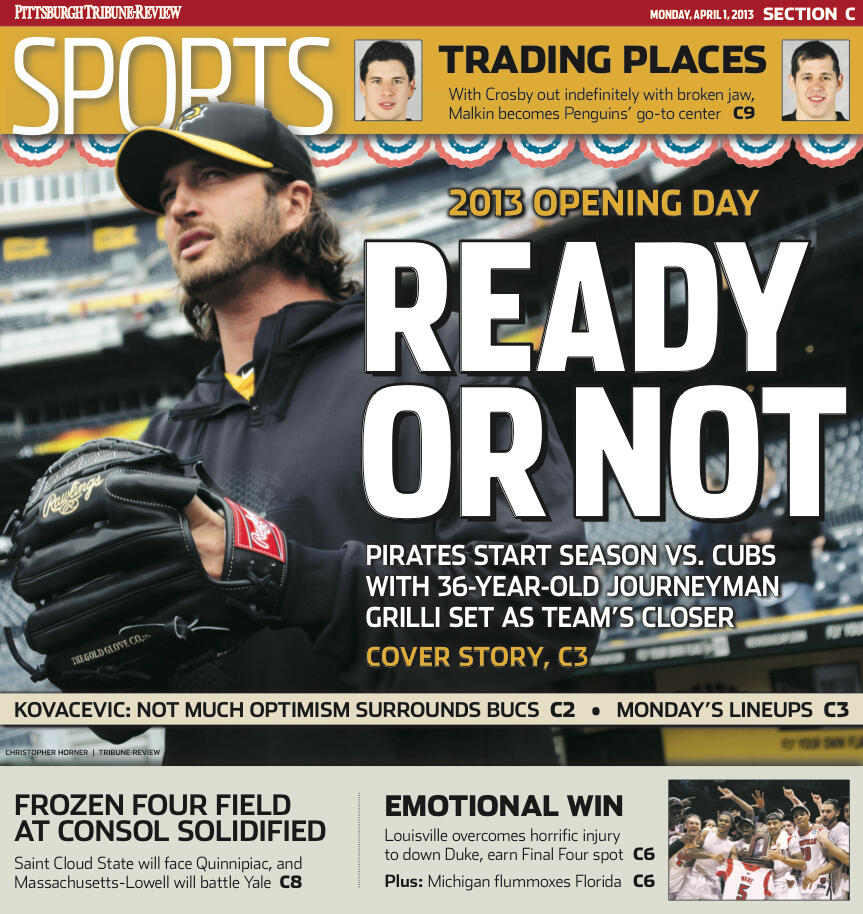 >> To far larger stuff across the river, where Sidney Crosby was diagnosed with a broken jaw. All the details are in there, brought to you by Rob Rossi. I shared a few thoughts of my own right here on the blog.
>> How the NFL owners' win in the last labor pact is already clear, by Alan Robinson.
>> Thoughts/prayers to Louisville's Kevin Ware. My God.
>> Maybe Wichita State wasn't all bad, upon further review. What is it about beating Pitt in the NCAA Tournament that propels teams to the Final Four?
Oh, almost forgot: In honor of the Francisco Liriano mention in the column …
>> I will not cover the opener. I'm off today.