By Dejan Kovacevic | Trib Total Media
>> The Wednesday column pays homage to the architect of the Penguins' 15-game winning streak that ended last night at Consol.
And boy, did it end with a blah and a half …
News coverage this morning is by beat man Rob Rossi.
Not much to say about this one, really. Tomas Vokoun didn't have it, Matt Niskanen didn't want it, and Tyler Kennedy never had it, and a team that had just turned in a perfect month turned in a perfect dud to finish it. That's kind of how it goes.
Here's what some of the athletes had to say …
No big deal. Nothing to see here. Some games are lost, and the Penguins never skated with the Sabres in this one, from faceoff to final horn.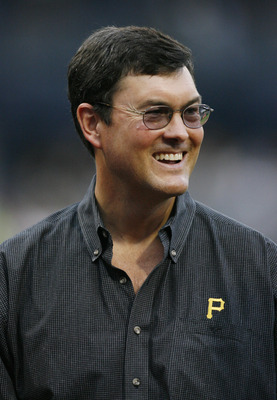 >> Fascinating, revealing Trib exclusive this morning about Bob Nutting from a former Pirates minority owner who recently sold his stake. It's by Jeff Oliver, sports editor at our Valley Independent newspaper, and it's outstanding work.
There's plenty of grist for those who feel either way about Nutting. Those who like will point out the minority owner confirming that profits are not taken out of the Pirates (something I've been writing for years now),  and those who don't like will point out the minority owner's lament at the lack of capital and lack of risk (something else I've been writing for years).
In general, there doesn't seem to be anything wrong with the Nutting ownership that hiring better people wouldn't solve. But that, of course, is itself on Nutting.
>> But man, who could ever imagine that Pitt could match the headline font by announcing that Steven Adams was declaring for the NBA and that Rushel Shell was transferring out of the football program?
Top basketball recruit, top football recruit … boom! Same day!
The two are very different tales, very different backgrounds, very different reasons for leaving. I won't delve into this too deeply because Joe Starkey's going at this in his Thursday column, but I will say that be wary of excessive excitement when landing talents such as these, because history says that they won't be around long.
That's not to suggest Pitt shouldn't pursue them. But it might be cautionary when turning up noses at the likes of a Brad Wanamaker or Devin Street who sticks around till the end. There's value in both types.
>> It's not just Mike Rice who needs to be fired at Rutgers. It's the AD and school president who saw this stunning practice video last November and decided to bury it …
Sickening stuff from the former Robert Morris and Pitt coach, but good work by ESPN.
>> Here again is yesterday's TribLIVE Radio show podcast, featuring Matt Cooke of the Penguins and the Trib's Pitt football beat man Jerry DiPaola.
And here's video of the opening rant on the welcome demise of the Penguins' blues …
>> I'll be out of commission for most of today for reasons some of you know. Hoping to make it over to Pirates-Cubs tonight, but we'll see.