By Dejan Kovacevic | Trib Total Media
Morning, Lunatics …
>> The weekly chat will be today at noon, right here on the blog. As soon as you see that thread go up, entries can be submitted on the platform.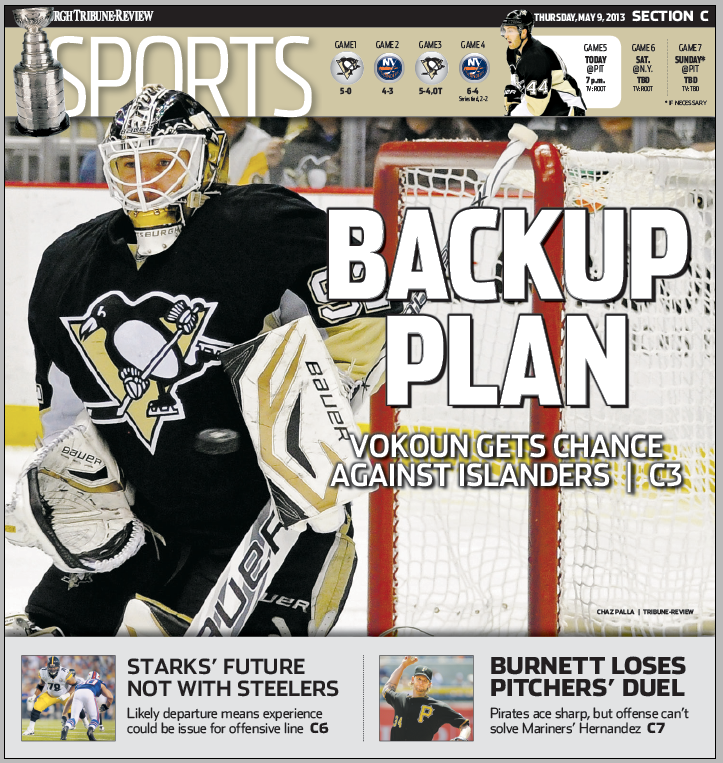 >> I took Wednesday off — at least the portion I didn't spend sitting on a JFK runway — but will be back at it for Game 5 tonight. Much good hockey stuff in this morning's Trib. It's Joe Starkey's day to column-ize, and he offers this sensible look at the Penguins' current state. You also find on our Penguins page a bunch of good material from beat man Josh Yohe.
And here's video of Dan Bylsma refusing to discuss lineups per team policy and … he did what?
>> Not that these things are always in the manager's control, but I've always had mixed feelings about ace-on-ace matchups in baseball. They're a blast to watch, but I wonder if teams aren't tossing away a better chance at a W by having, say, an A.J. Burnett get narrowly outdueled by the Mariners' brilliant Felix Hernandez. Those same seven strong innings from Burnett almost surely get you a W tonight in New York.
Not a criticism, I'll repeat. Just a thought.
>> Max Starks tells our Mark Kaboly he believes he's done with the Steelers. And somewhere Ben Roethlisberger crosses himself while wondering which of Mike Adams or Marcus Gilbert will keep him alive.
>> No need to knock for the chat room. Walk right in.