By Dejan Kovacevic | Trib Total Media

Morning, Lunatics …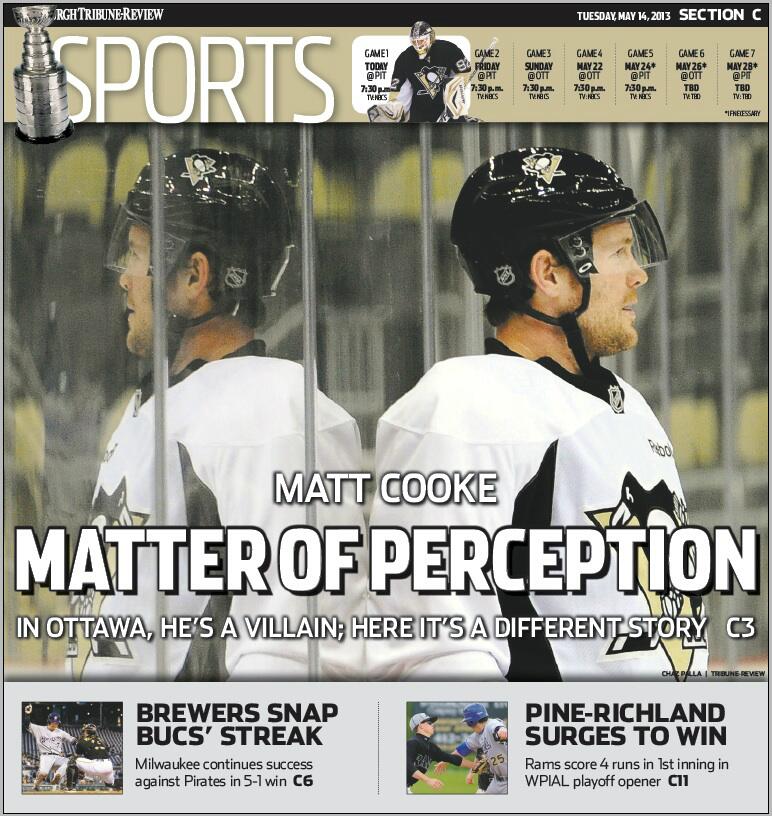 >>The TribLIVE Radio show today — 1-2 p.m. — will feature special guest Brenden Morrow.
There will also be an opening rant on Canada's neverending Cup drought, a visit from Trib hockey writer Josh Yohe and, of course, the local Twitter treasure @suckmeter offering the Suck of the Week.
To listen, just click on the link above. It's free, easy, no signup. One click, and we're on. If you've got an iPhone, iPad or Android, we've got the upgraded TribLIVE Radio app. Also free and easy and everything else.
I want you involved, too.
Email: sportstalk@tribweb.com
Call: 412-320-7925.
>> The Trib will have all hands on deck for Game 1, as well as the full second round. The coverage opens this morning with — what else? — the Matt Cooke effect.
Here's what some of the athletes had to say yesterday, including Cooke …
>> If you're interested in the opposing perspective, there's the biggest paper in Canada's capital, the Ottawa Citizen, and the unfortunately far better known tabloid, the Ottawa Sun.
>> Meanwhile, another of the Sun chain in Ontario, produced this front page for today to illustrate the Maple Leafs blowing a three-goal lead in Game 7 in Boston …
Nice, huh?
Don't get me wrong. The headline is fair and accurate. In fact, the Toronto Star, the more mainstream paper, also used 'choked' in its main headline.
But what gets you is that those headlines don't come close to the vitriol that'll spill over up there. Toronto's as vicious a place as any in North America toward its own team. And yet they wonder why so few great players have chosen to play there for a very, very long time now despite unlimited cash to spend.
>> Ray Shero for GM of the Year?
Yeah, lots of suspense there.
>> Stopped over at PNC Park yesterday and spent a little time with Travis Snider …
Also talked with a few other guys while there, and I can share a bit: Jose Tabata sounds highly encouraged by driving the ball to center-right. His smile is back, but I don't think he'll be pleased until right field is fully his job again. … Clint Barmes told me he's still a little frustrated at lapses at his old lunging habits, but he also — correctly — pointed out, "I'm miles ahead of where I was at this time last year." … Neil Walker's back is doing great. No, that's not what had him on the DL, but it's a far more important issue in the longer term. … I asked Clint Hurdle if Jordy Mercer can ever be an everyday major-league defensive shortstop, and he wouldn't answer it other than a we'll-see. Asked it again, this time focusing based solely on what he's seen to date, and he still wouldn't answer it. Do with that what you will.
>> The Riverhounds open a pretty neat — and legitimately open — tournament tonight at Highmark Stadium.
>> Hope to have you on board with the show!