By Dejan Kovacevic | Trib Total Media
Morning, Lunatics …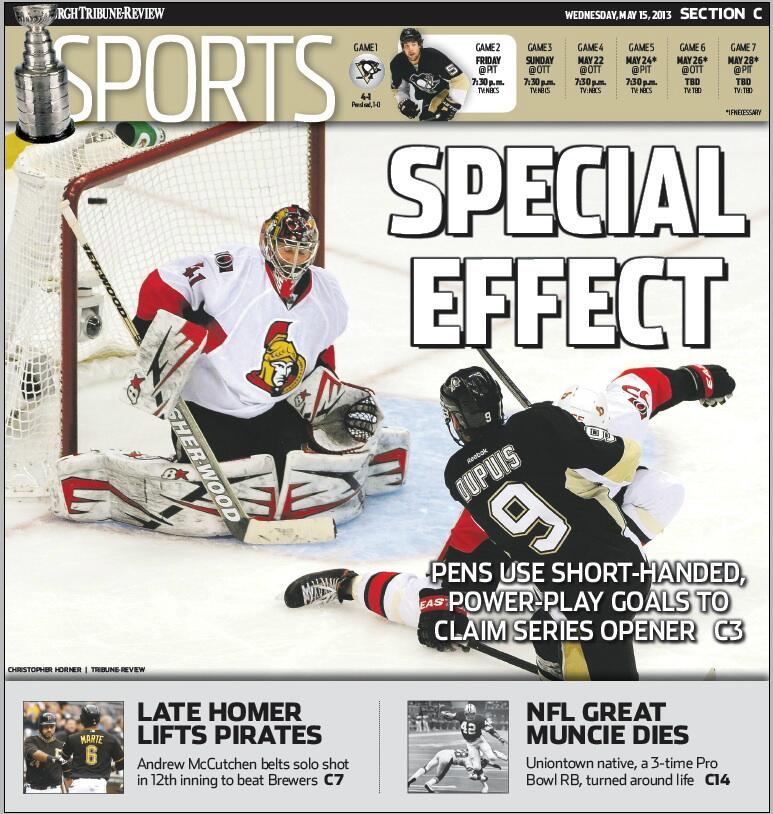 >> The Wednesday column off Game 1 loves how cool and composed the Penguins look when they're not chasing a bunch of children all over the rink.
Here's our full coverage, led by beat man Rob Rossi, along with Josh Yohe and Kevin Gorman. And I should remind more often that our team also includes many talented people more behind the scenes, such as night editor Mike Palm for his design of that front page you see up there, as well as photographer Chris Horner for the great capture of Pascal Dupuis' shorty.
It's very much a team effort at the Trib, and we're proud of that.
And here's a sampling of some quick conversations I had in the Penguins' room afterward, beginning with the player I felt was their best on this night: Chris Kunitz …
And Tomas Vokoun …
And old Iron Jaw himself …
Really fun night at Consol. And a good vibe in the room. I particularly liked this line from Dupuis: "We're going to enjoy this. That's one thing I don't think we did against the Islanders, enjoy our victories enough."
>> If you missed it, this was the TribLIVE Radio show podcast featuring the Penguins' Brenden Morrow and Yohe. The opening rant on Canada going 20 years without a Cup was caught on video …
>> If a walkoff homer happens in the woods, does it make a noise?
Either way, for those who didn't stay up or never changed the channel, the Pirates had to go 12 to take down the Brewers, and Rob Biertempfel has a sharp account.
>> Below was the difference between the fans outside Consol watching on a big TV at the same time as you can see the number at PNC Park …
>> Jose Angulo keeps finishing for the Riverhounds, who probably should have had an easier time handling RWB Adria than they did in going to penalties. More attack still needed.
>> I'm going to mostly shut down here before Game 5 Friday, then a few days up in Canada's capital.