By Dejan Kovacevic | Trib Total Media

OTTAWA — Morning, Lunatics …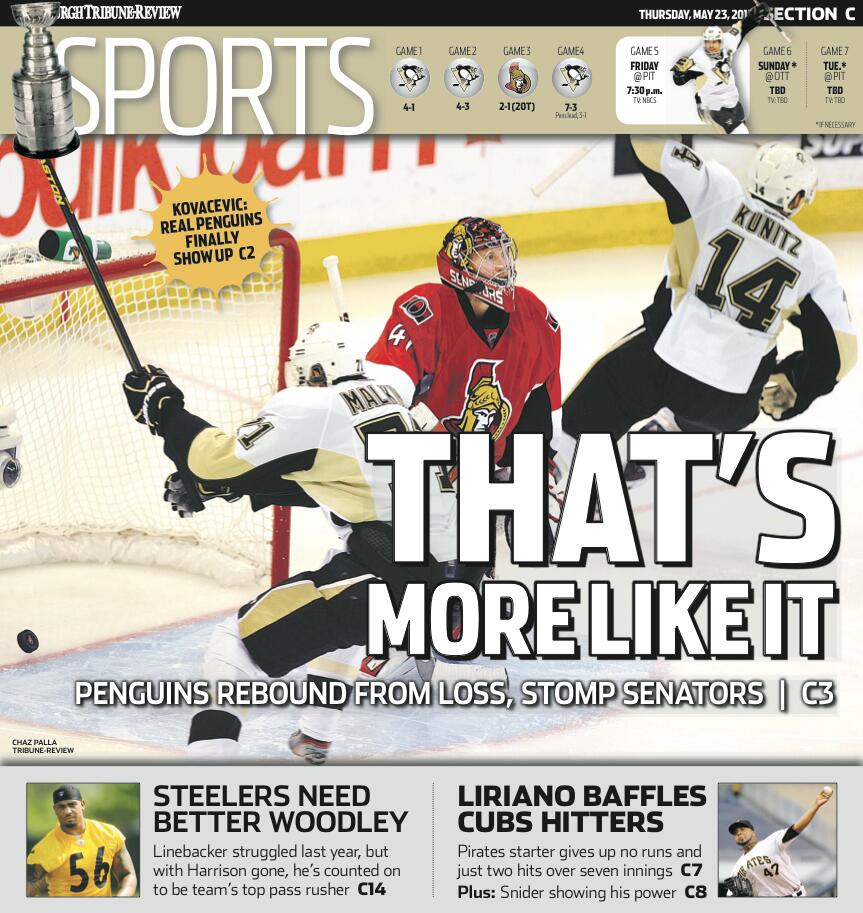 >> The Thursday column off Game 4 asserts that the Penguins maybe, just maybe asserted themselves at long last in these playoffs.
Here's video of some of my conversation with Kris Letang afterward, including the column's money quote that pretty much wrote the ending …
And here are Tomas Vokoun, Jarome Iginla, James Neal and Sidney Crosby all in one …
Here's our full team coverage, by Rob Rossi and Josh Yohe.
And here's the full highlights package from NHL.com.
>> There will be no chat today. I'd never pull off an hour of wi-fi during the drive home from Syracuse, which was our overnight stop last night on the trek home.
Anyway, the chat will be Friday at noon.
Your understanding is appreciated.
>> If you haven't seen Paul MacLean's press conference last night on the Senators' side, be sure to set aside 22 seconds of your day for it. Tremendous.
>> LaMarr Woodley piped up for the first time since … well, it's been a while.
I could spend this entire blog entry and the next dissecting all that he said and how it doesn't sound as if his nothing's-wrong attitude has changed, but I'll instead applaud him for apparently reporting for the Steelers' OTAs a little lighter and in quality shape.
Although that's kind of what's expected.
>> The Pirates got another superlative start from Francisco Liriano.
>> Mostly out of commission today because of the drive, which actually will begin shortly after this very filed is shut down for the night!