By Dejan Kovacevic | Trib Total Media
Morning, Lunatics …
>> The Wednesday column identifies two key barometers for how the Penguins-Bruins Eastern final will go, and both are defensemen …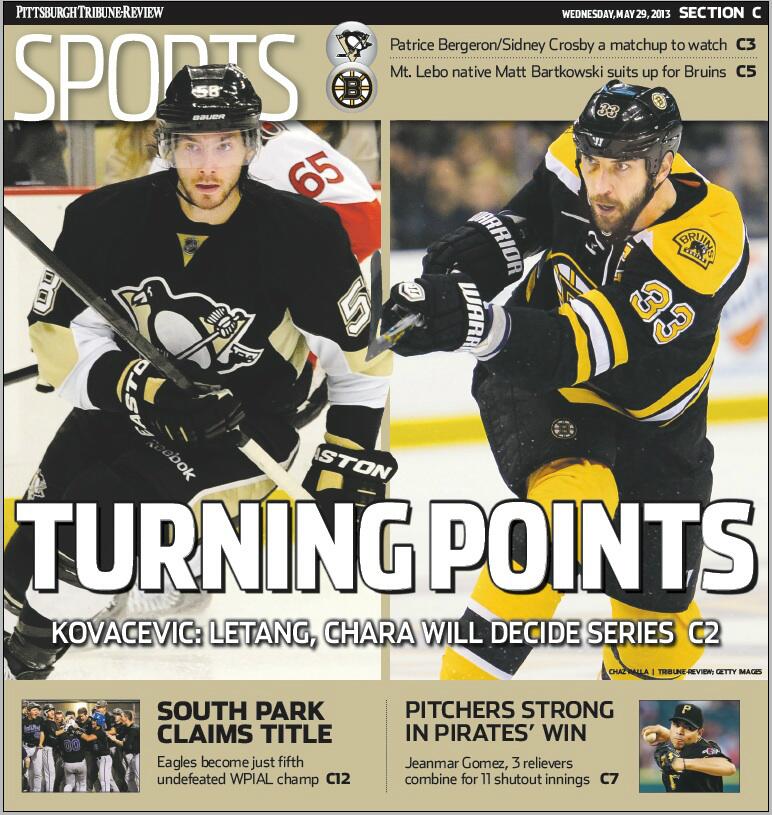 My thanks to Kris Letang for extra time given for this piece, as well as being the special guest on my TribLIVE Radio podcast yesterday. Also on the show was TribLIVE Radio's Ken Laird checking in from Boston, plus a segment on the Pirates' 'invisible' usage of Jason Grilli and Mark Melancon, and, of course, @suckmeter
Here's video of the opening rant on how the NHL's scheduling idiocy will benefit the local team …
Oh, and hey, everyone, HERE'S THE SCHEDULE!
Only in the NHL do they make two teams sit around for a week, only to ram Games 6 and 7 together on back-to-back days.
>> David DeCastro looks forward to what should fairly be considered a true rookie season, given his preseason injury last year. Alan Robinson reports from the Steelers' OTAs. Also, Mark Kaboly breaks down the latest on the Steelers' cap issues.
>> The Pirates played all night long in Detroit until Neil Walker homered in the 10th, and Mark Melancon and Jason Grilli closed it out.
Melancon and Grilli have now made a combined 54 appearances, they've allowed a total of six runs, they've struck out 66 and walked six.
Grilli, shown above after his breathtaking save last night in which he struck out all three batters including Miguel Cabrera and Prince Fielder, is enjoying the breakout season of a lifetime at age 36. He's 21 for 21 in saves, has saved 21 of the Pirates' 32 wins and has 37 Ks against five walks.
For further perspective, I offer …
Previous career K/BB ratio in majors: 1.93
K/BB ratio through 10 years in minors: 1.98
This season: 7.4
Previous career Ks per nine innings in majors: 7.8
Ks per nine innings through 10 years in the minors: 6.7
This season: 13.5
Previous career walks and hits per inning pitched (WHIP) in majors: 1.43
WHIP through 10 years in the minors: 1.42
This season: 0.68
The season is not yet one-third of the way done, but I vote for Grilli right now for Cy Young. I nominate him for greatest 36-year-old reliever in human history. In fact, clear space in Cooperstown. This is amazing, astonishing stuff.
>> I'll be bouncing around to a bunch of different practices and stuff today. Look forward to hearing from you about the column and whatever else.