By Dejan Kovacevic | Trib Total Media

Morning, Lunatics …
>> The Tuesday column doesn't get any more analytical than necessary: The Penguins' star players are laying an egg at the worst possible time.
Here's a bit of my talk with James Neal on that topic afterward …
Here's the rest of the Trib's coverage of Game 2 …
>> The Penguins are in deep trouble, by Rob Rossi
>> A goaltending controversy in bloom, by Josh Yohe
>> Brad Marchand gets it done for Bs, by Jerry DiPaola
>> Complete playoff photo gallery, by our Chaz Palla and Chris Horner
>> More on the Bruins from our news partners at the Boston Herald
>> Finally, here's this morning's front page …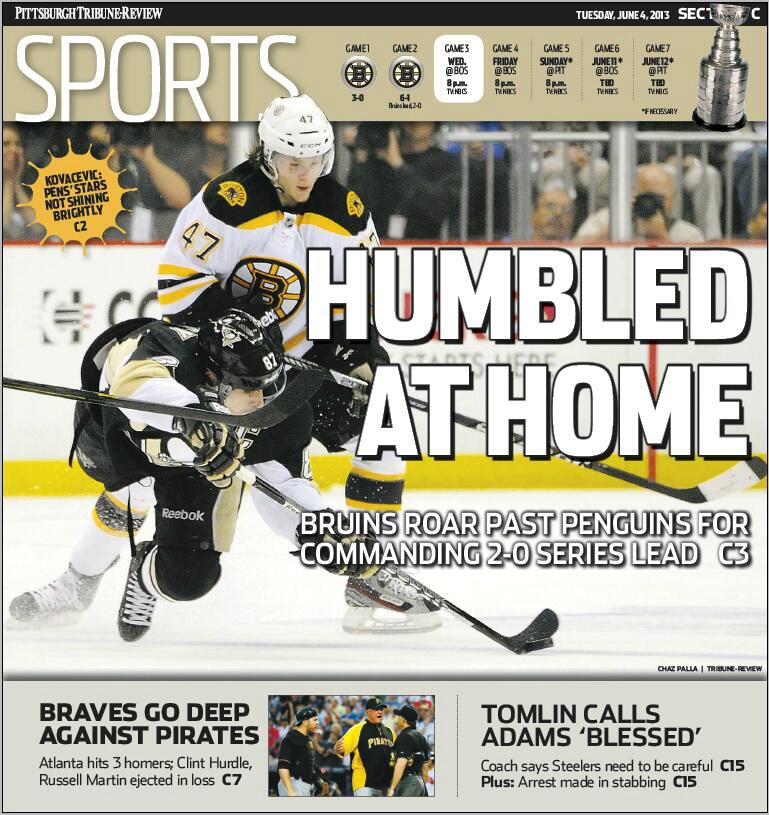 >>The TribLIVE Radio show today — 1-2 p.m. — will visit with the Steelers over at OTAs. One regret of all-hockey-all-the-time lately is that this will be only my second trip to the South Side, so I'll come up with a guest there and tweet who it is at first chance. Also, we'll touch base with Trib baseball writer Rob Biertempfel, who's with the Pirates in Atlanta.
To listen, just click on the link above. It's free, easy, no signup. One click, and we're on. If you've got an iPhone, iPad or Android, we've got the upgraded TribLIVE Radio app. Also free and easy and everything else.
I want you involved, too …
Email: sportstalk@tribweb.com
Call: 412-320-7925.
>> A.J. Burnett thinks he threw more strikes than he did, by Biertempfel.
>> The Steelers had a big day, and not because of OTAs. They signed their top two picks, as Alan Robinson reports, and Mike Tomlin had some pretty striking things to say about our South Side.
As someone who once bought a home not far off Carson Street, I'll attest what I'm hearing from a lot of folks after the Mike Adams incident, and that's this: It's a wonderful place to live all but six hours of the week. And those six hours are getting worse and worse all the time, almost entirely caused by people who don't live there.
>> There won't be a column Wednesday. Flying up to Boston later tonight to get a first-hand look at the Bruins' pending parade route.
Hope you can tune in this afternoon. Better yet, call!