By Dejan Kovacevic | Trib Total Media
Morning, Lunatics …
>> Today's TribLIVE Radio show — 1-2 p.m. — will feature a call-in interview with the Pirates' Mark Melancon, live from Seattle. Thanks to all concerned for making it happen.
Also, I'll begin with a few thoughts on what the rest of this summer holds, as well as stuff on the Penguins' big weekend to come and the Stanley Cup final. We'll also talk some Steelers offseason with Trib football writer Mark Kaboly and, of course, engross ourselves in the wit and wisdom of @Suckmeter … and Suckmeter Jr.?
To listen, just click on the link above. It's free, easy, no signup. If you've got an iPhone, iPad or Android, we've got the upgraded TribLIVE Radio app. Also free and easy.
I want you involved, too …
Email: sportstalk@tribweb.com
Call: 412-320-7925
And you can email the show at any time, not just when it's on.
>> Congratulations to the champions of the grandest trophy in team sports …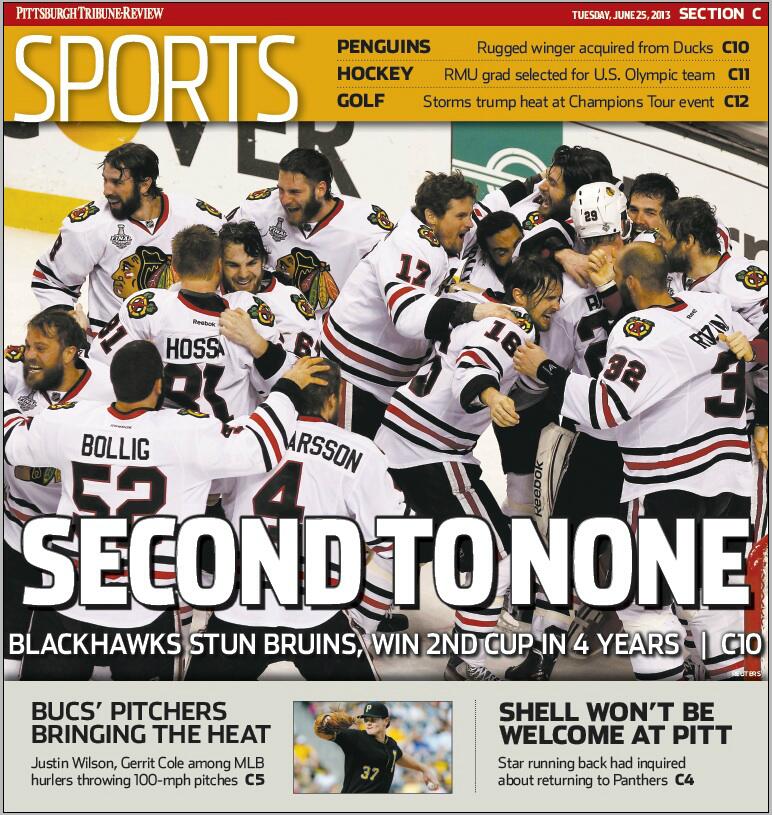 >> Here's much more on the Blackhawks from the Chicago Tribune and Chicago Sun-Times.
That finish was as fantastic as any in a Cup final, including those that went to Game 7. What a flourish, what drive by the Chicago forwards to pound the net, as if by force of will.
All in 17 seconds …
>> Just remember: This season almost didn't happen.
>> The Penguins made a minor trade for a guy with a lot of majors. Josh Yohe reports.
>> The Pirates open up tonight at Safeco for another of those weird — and unfortunately inconvenient — two-game series forced upon the MLB schedule by the perpetual interleague play. Rob Biertempfel reports from the Great Northwest.
I'll have much more on the club and where it stands in the Wednesday column.
For now, here was The Final Word's segment on that subject …
>> Thanks but no thanks, Pitt tells Rushel Shell. Jerry DiPaola reports. Can't take this away from Paul Chryst: The man doesn't think in the short term when it comes to program-building. Always thinking of precedents being set.
>> Hope you can tune in today!