By Dejan Kovacevic | Trib Total Media
Morning, Lunatics …
>> The Wednesday column embodies a whole lot of thoughts I've had about the Pirates for a while now, all spilled out into this extra-length piece. My thanks to Bob Nutting and Mark Melancon for invaluable input.
This is our front page this morning, designed by the talented Melanie Wass …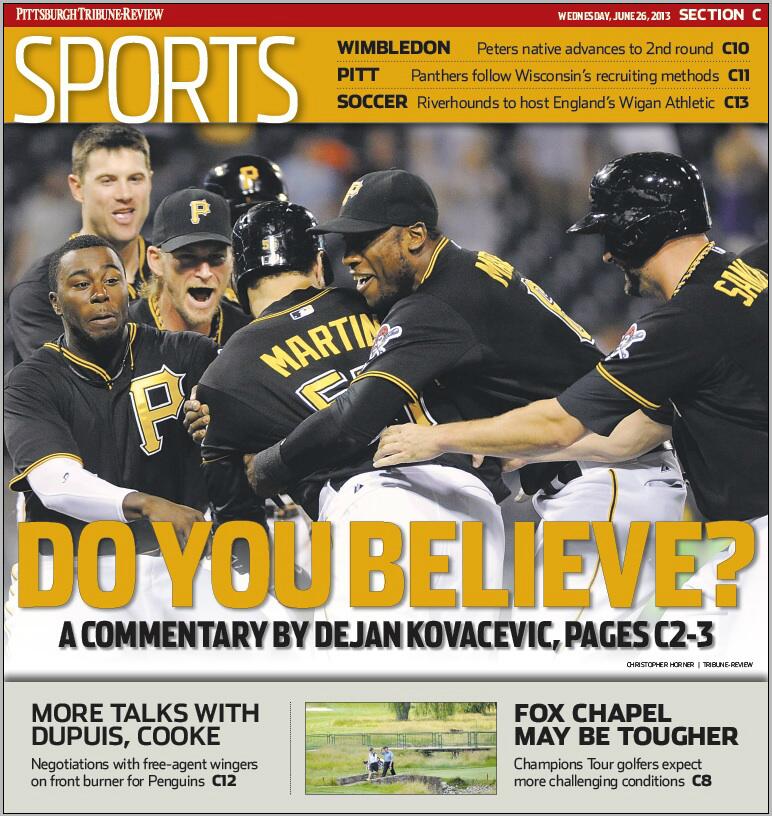 And below, with one flick of that cover, is the actual two-page newspaper spread on Pages 2-3, designed by equally talented Matt Rosenberg …
In a related news piece, Nutting shared his view on demoting Gerrit Cole to save money.
Looking ahead to plans for the next month or so, I'll be doing a lot more baseball in the columns. Will inform as those plans become more concrete, but it sounds exciting.
There will be more baseball on the radio show as well. If you missed it yesterday afternoon, here's the full TribLIVE podcast, as well as video of the Melancon interview …
>> The Pirates blew away poor Joe Saunders, Rob Biertempfel reports, and Starling Marte had himself quite the night. But they'd better not be sleepless in Seattle, because the matinee today brings a much tougher challenge: Felix Hernandez.
>> Encouraging talks between the Penguins and Pascal Dupuis and Matt Cooke, per Rob Rossi.
>> Some tremendous Stanley Cup Final ratings info from NBC Sports' PR folks. Pittsburgh never stops mounting evidence that it's America's No. 1 hockey city.
>> I'll visit with TribLIVE Radio at 1:30 p.m. to discuss today's Pirates column. I'll then visit with Mark Madden on 105.9 The X at 4:30 p.m.