By Dejan Kovacevic | Trib Total Media
Morning, Lunatics …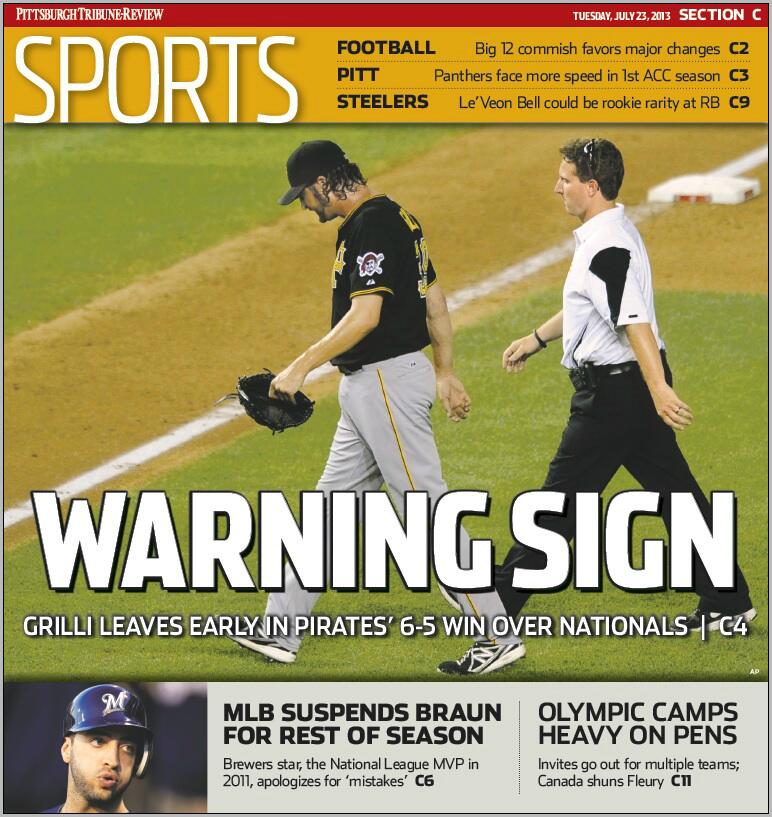 >> Jason Grilli's injury overshadowed all else with the Pirates, and that might hold true for a while depending on the news that emerges on his apparent elbow injury.
And yes, that's apparent and elbow.
Let's dispense with semantics. When the Pirates — and most teams in baseball now, for that matter — say "forearm discomfort," as Clint Hurdle did late last night in D.C., or anything related to the forearm, they're almost always talking about the elbow. Some of you have seen me write this before, but it bears repeating.
Anyone remember this?
That was Rob Biertempfel's reporting from April — based on team information — regarding Kyle McPherson, who just last week had Tommy John surgery for his elbow.
Then came this …
On June 5, when all the world saw Wandy Rodriguez pointing directly to his elbow on the mound, it was announced he had forearm tightness. That diagnosis hasn't officially changed, but it's been six weeks, and he still isn't pitching.
So anyway, the news appeared to brighten at 1:38 a.m. today when Grilli tweeted this …
… and yet, it's not all that clear as to what he meant. Did he mean minor setback as in minor within the scope of his life? Or merely a minor injury, which I'm sure everyone would prefer?
What does all of the above mean?
Really, it doesn't mean much more than that the initial diagnosis. And if you saw Clint Hurdle abjectly refuse to answer anything beyond that "forearm tightness" diagnosis, you'd know not everything has come forward yet, willingly or otherwise.
Bottom line: Doesn't look good, doesn't sound good.
The period between now and the firm diagnosis will be packed with speculation, not least of which is how this might affect the Pirates' goals at the trade deadline. All we know right now is that Mark Melancon will be Hurdle's closer in Grilli's absence.
But I'll add these quick thoughts along with that …
1. Tony Watson is absolutely capable of stepping into a back-end role. Actually, he's been doing a lot more of that lately, anyway, albeit without much fanfare. He's diverse enough to get lefties and righties out, strong enough to get the ball up there at 95-96 mph on occasion.
2. Replace Watson's name up there with that of Justin Wilson, and the entire paragraph really doesn't change much. Except his heat comes in at 98-99 mph.
3. If the Pirates had been considering a trade of a reliever to add to the offense — and let's just say at least one such rumbling came my way early last night involving the Giants — that's just got to be off the table now. Even if Grilli's injury actually is minor, can't take the risk.
Anyway, here are official game highlights from MLB.com.
>> Ryan Braun is a lying worm. Trust me when I tell you that the number of tears being shed around baseball for him, including the Pittsburgh clubhouse, will be at or near zero.
>> Today's TribLIVE Radio show — 1-2 p.m. — will feature special guest Jose Angulo, the Riverhounds' dominant striker, in studio for a visit.
We'll also get the latest on Grilli from Biertempfel on the scene.
To listen, just click on the link above. It's free, easy, no signup. If you've got an iPhone, iPad or Android, we've got the upgraded TribLIVE Radio app. Also free and easy.
I want you involved, too, so email at sportstalk@tribweb.com or call 412-320-7925. And you can email the show at any time, not just when it's airing.
>> Marc-Andre Fleury left out of Team Canada camp?
Yikes. You have to wonder if anyone anywhere believes in him anymore. Other than the Penguins' management and coaching staff, of course.
Josh Yohe has that coverage, plus the makeup of what I think will be the best U.S. Olympic roster ever.
>> Countdown to Steelers camp focuses on Le'Veon Bell. By Alan Robinson.
>> Pitt's picked to finish fifth in their new ACC division. Not the conference. The division. Fifth of seven teams. By Jerry DiPaola in Charlotte.
>> Hope you can tune in today. Think you'll enjoy Jose. Great kid.