By Dejan Kovacevic | Trib Total Media
Morning, Lunatics …
>> Today's TribLIVE Radio show — on its new day and new time, 2-3 p.m. — will feature special guest Willie Gay of the local football team. We'll discuss, in particular, why so many players who leave the Steelers end up boomeranging back, as he just has.
We'll also talk with Derrick Goold, Cardinals beat writer for the St. Louis Post-Dispatch and a longtime friend in part because of our shared comic book geekdom.
Yeah, @SuckMeter will be along, too.
To listen, just click on the link above. It's free, easy, no signup. If you've got an iPhone, iPad or Android, we've got the upgraded TribLIVE Radio app. Also free and easy.
I want you involved, too, so email at sportstalk@tribweb.com or call 412-320-7925. And you can email the show at any time, not just when it's airing.
Oh, and don't worry, there will be lots about this …
>> The Pirates tantalizingly take two from the Cardinals. Karen Price has it from a boisterous yard that Jason Grilli would later describe as 'like a rowdy soccer crowd.'
Latest on the trade deadline, by Rob Biertempfel.
The scene was twice as nice, per this Joe Starkey column.
Here's the rest of our baseball coverage.
Yadier Molina is headed back to St. Louis, per the Post-Dispatch.
And here are official game(s) highlights from MLB.com.
>> To reiterate my my trade stance on the Pirates one final time leading up to the 4 p.m. deadline: Upgrading in right field has reached the point of being mandatory. I was in favor of giving Jose Tabata a look, but he blew that. Neither he nor any current player is getting it done at that position. And Travis Snider's current injury and Garrett Jones' ongoing failure to break out underscore it all the more.
Let me put it bluntly: If a right fielder isn't acquired who is a legit upgrade over what's here, that will be one for the L column. But I fully expect that this will happen, whether it's Alex Rios, Hunter Pence or Nate Schierholtz, the latter having emerged late last night as most likely.
And honestly, I'm not sure I'd go any further. Another arm wouldn't offend me, though I'd hardly classify it as a need. When you can just randomly call up Brandon Cumpton to pitch as he did last night, you're anything but desperate for a starter. The relievers might be able to use a hand. Jason Grilli's out, and Bryan Morris has taken a small step back. But that's not desperate, either.
Get the right fielder — a good right fielder, an everyday guy — and call it a day.
I'll repeat that I don't hope to see wholesale anything. This, in case you haven't been paying attention of late, is a very good team with a very good thing going. Give it what it needs and not a thing more, or you risk messing with that.
>> Before I let go of baseball this morning, take a look at this …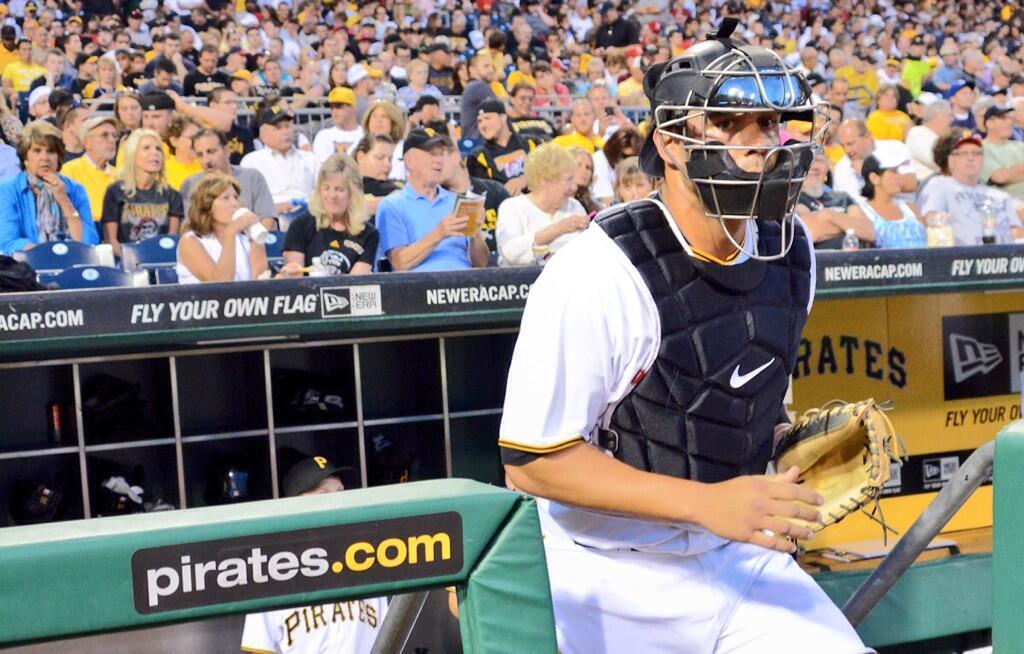 One of the many benefits to us in covering spring training in Bradenton is that we get to know not only the Pirates' current players but also those on the rise. Because of this, our staff photog, Chris Horner, who spends most of the spring down there, was aware of how much it would mean to Tony Sanchez to have the above moment captured forever: Finally taking to the PNC Park field in catcher's gear.
Horner did it just for Sanchez, but thought I'd share it with you, too.
Here's some of what Sanchez had to say after Game 2 …
>> Ben Roethlisberger and Plaxico Burress insist they've still got something special. Alan Robinson reports that from Latrobe, as well as taking part in this shiny video …
Find more from Saint Vincent — where the team was off yesterday — on our Steelers page.
>> I'll be at PNC Park the next two days to write the next two columns.