By Dejan Kovacevic | Trib Total Media
Morning, Lunatics …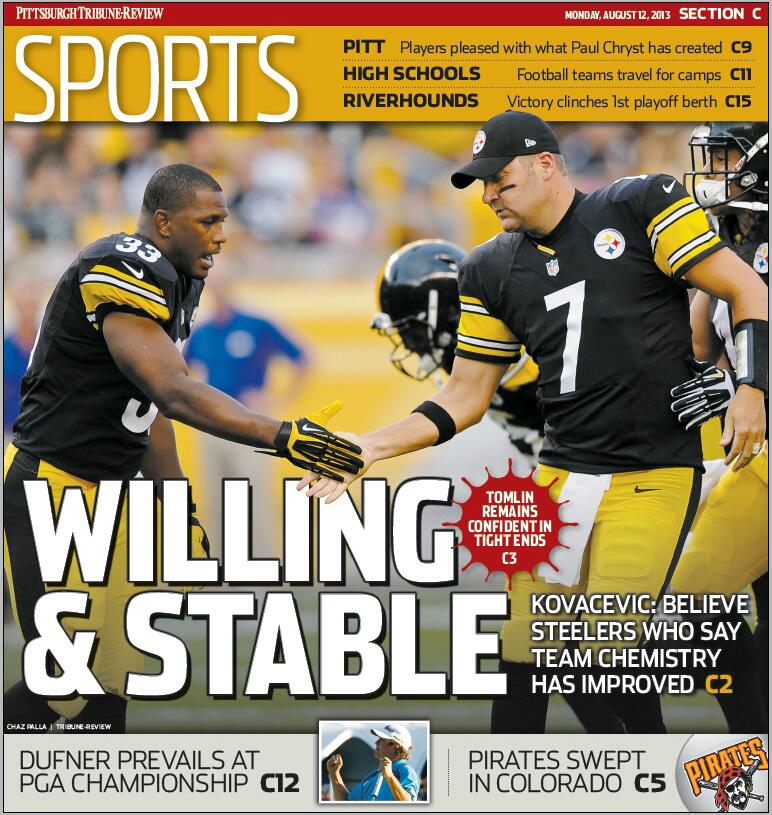 >> The Monday column is about the soul of the Steelers, and it's owed entirely to the generous time — and candor — of Troy Polamalu and Ryan Clark late Saturday night. Much appreciated, gentlemen.
What I hope to hear from you in the comments: How much do you think intangibles contributed to 8-8 after hearing what the safeties have to say?
Here's the rest of our Steelers coverage, from Ralph Paulk and Mark Kaboly. And here again, for you weekday warriors who might have missed it, was the Sunday column on Jarvis Jones' debut.
>> And now for another brand of football … or futbol …
Not going to lie. I had a great time over at Highmark Stadium, mostly because I wasn't on any deadline but also because it was a beautiful day and an even better sporting environment. I snapped the above and several other pics you can find on my Instagram account: DEJAN_KOVACEVIC
It was an extra-satisfying day for Pittsburgh's youngest sports franchise, with the Riverhounds beating VSI Tampa Bay, 3-2, to earn a USL Pro playoff berth and, maybe even more important, drawing an overflow crowd to Highmark Stadium. And I mean every inch of the place was packed.
Here's some of what Jason Kutney, the team's CEO, had to say just before kickoff …
There's one more regular-season match at Highmark, Saturday vs. Richmond, and that one's close to sold out, too. The Riverhounds are highly unlikely to have a home playoff match, so that probably will be it for the year.
As it is, they're certainly closing the summer on a high note, and that's a credit not only to Justin Evans and his staff but also Jose Angulo, Darren Amoo, Hunter Gilstrap, Jhonny Arteaga and the rest of the athletes who play for minimum wage but appeared to establish a genuine connection with the fan base and city. Wouldn't be surprised to see a lot of them back next year.
Here are all three of the Riverhounds' goals yesterday in a good-quality video montage put together by my friend Chris DeVivo for this blog …
>> The Pirates get swept by the Rockies. Rob Biertempfel reports from Denver.
Here's the rest of our baseball coverage.
Here's Rockies coverage from the Denver Post.
Here are official game highlights from MLB.com.
>> WPXI-TV's 'The Final Word' last night included plenty of Steelers and Pirates and other stuff. Alan Robinson and I represented the Trib on the show. And at least one of us pretty much lost it in the final segment about Sidney Crosby.
>> I'm off the next two days, other than a TribLIVE Radio visit today at 11:30 a.m.