By Dejan Kovacevic | Trib Total Media
Morning, Lunatics …
>> I've got Mondays and Tuesdays off now, so I'll keep this one briefer than usual. Apologies in advance for that, but there really wasn't all that much on the sporting agenda, anyway.
>> The Pirates open another large series tonight in St. Louis, where the hot topic hasn't been the pennant race but rather Jack Clark's blistering accusations against Albert Pujols and Pujols' equally blistering response and Clark then getting fired.
Say what you will about their positions and who might be right or wrong. What I take from the case is this: The tide has turned inside the baseball world.
People inside that world who had doubts, criticisms or even outright accusations like Clark's used to be afraid to speak up. They were the villains in the equation, not the prospective cheater. Now you're seeing not only Clark but people all across baseball openly rail against these Biogenesis guys and beyond. That's included a couple Pirates, as well, notably Mark Melancon.
Good for them.
They won't always be right, and the charges won't always be fair. But ask me, and I'd rather have the scale tilt toward the skeptical side after we've been fooled by so many for so long.
But then, on the other hand, a hard legal result against Clark could have enough of a chilling effect to take us right back where we were.
Anyway, here's the rest of our baseball coverage.
Here's Cardinals coverage from the St. Louis Post-Dispatch.
Here are official game highlights from MLB.com.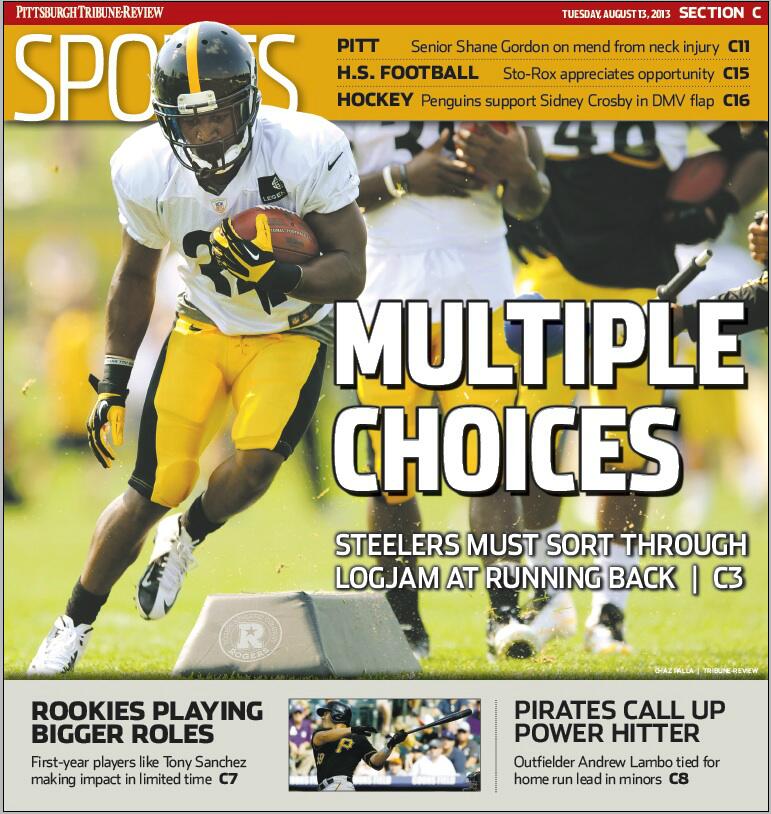 >> Our cover story today is on the Steelers' running backs by Alan Robinson.
Which leads me to the question of the day: Who would be your choice for the opener?
Not for the full season or even the bulk of the season. Nothing more than opening series vs. Tennessee.
>> It's a damned shame this story even had to be written. But good job by Josh Yohe to do it right.
>> Back at it full-bore tomorrow.