By Dejan Kovacevic | Trib Total Media
Morning, Lunatics …
>> The Monday column celebrates the maybe, possibly, we'll-see return of the real Troy Polamalu.
Here's some of what the Mane Man had to say late Saturday night …
The Steelers' Sunday was brightened by word that Jarvis Jones' chest injury wasn't a break or fracture. But, as Alan Robinson reports, many questions remain.
Here's our full Steelers coverage.
>> Doesn't take much to get an exclamation point out of the Browns these days. This one's even better, from their seventh-round pick.
Sorry. Candy from a baby and all.
>> We talked much Steelers and Pirates last night on WPXI-TV's 'The Final Word.'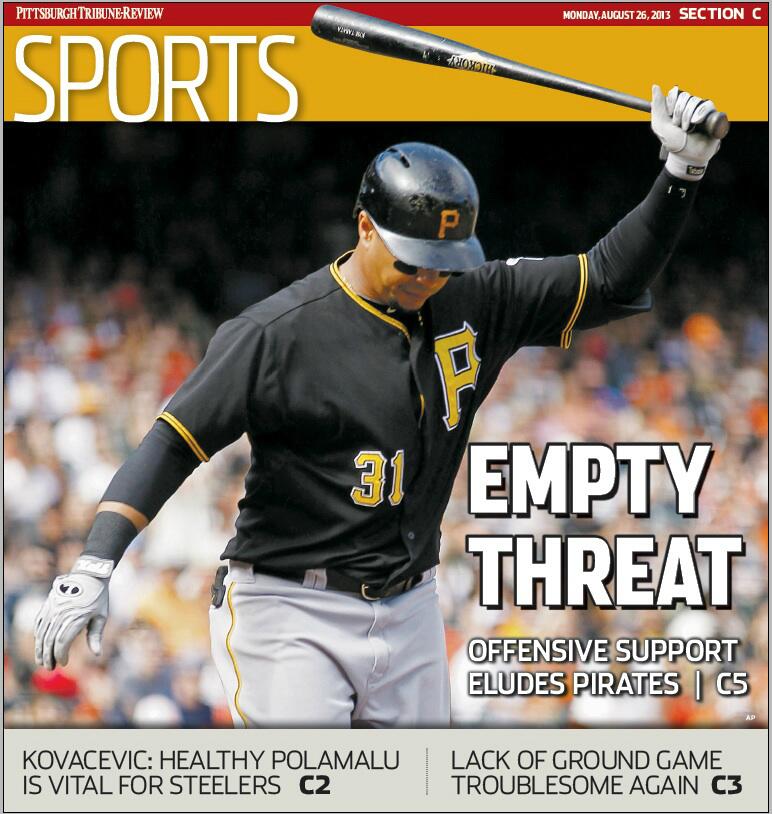 >> The Pirates scored zero runs against the Giants, and not even their outstanding pitching can overcome that. Travis Sawchik is in San Francisco.
Throwing in my own two cents here, three opinion-free facts:
1. The Pirates are 67-18 when scoring a mere three runs.
2. The Pirates' front office, after the most magical of offseasons, has made no outside moves since the start of the season.
3. Garrett Jones is batting .121 in August, now 7 for 58. That's the bar over which to upgrade.
That's all I've got, but here's the rest of our baseball coverage.
Here's Giants news from the San Francisco Chronicle, Brewers news from the Milwaukee Journal-Sentinel.
Here are official game highlights from MLB.com.
>> Hard to believe, but exactly one week until Pitt-Florida State. Jerry DiPaola sizes up the Seminoles.
>> Which of Pitt, Penn State or West Virginia will fare best in 2013? Joe Starkey's column tackles that.
>> Dreadful finish to an otherwise dynamite second half for the Riverhounds. I'll have more about their inaugural season at Highmark Stadium later in the week.
>> I'll check in with TribLIVE Radio at 11:30 a.m.