By Dejan Kovacevic | Trib Total Media
Morning, Lunatics …
>> The Wednesday column evaluates all that led to the Pirates' long-awaited trade, including a little story about Dilson Herrera — the prospect sent to the Mets — that I've been saving for a while.
Brought that topic up with Neal Huntington yesterday …
Funny, but it also was brought up with the GM if he was surprised that Byrd had fallen to the Pirates, who have among the last waiver selections, without someone else — ahem, Reds — blocking it.
Huntington's diplomatic answer after a slight laugh: "I have enough to worry about here that I don't really worry about what other teams are doing."
OK, then, I'll say it: What were they thinking?
Forget the Cardinals. If you didn't know, they actually had lower pecking order than the Pirates at the time of waivers, so they couldn't have blocked. See St. Louis Post-Dispatch columnist Bernie Miklasz's blog entry on the Pirates' trade for more.
But Cincinnati is different. According to Huntington, the Pirates put in the waiver claim on Byrd within the previous 48 hours of the actual trade. Even if the Reds' Walt Jocketty had no interest in Byrd — and you can understand why he wouldn't, given Ryan Ludwick's return — they had everything to gain by putting in claims and at least delaying or disrupting the process. Even if the Pirates still end up getting a crack, there would be more pressure to get a deal done by the Saturday deadline to set playoff rosters.
Really strange. And hard to explain.
Which might be why Cincinnati Enquirer blogger Steve Mancuso tried with just one word.
Anyway, here's news coverage of the trade, by Rob Biertempfel.
Here's the Mets' perspective, by Adam Rubin of ESPN New York.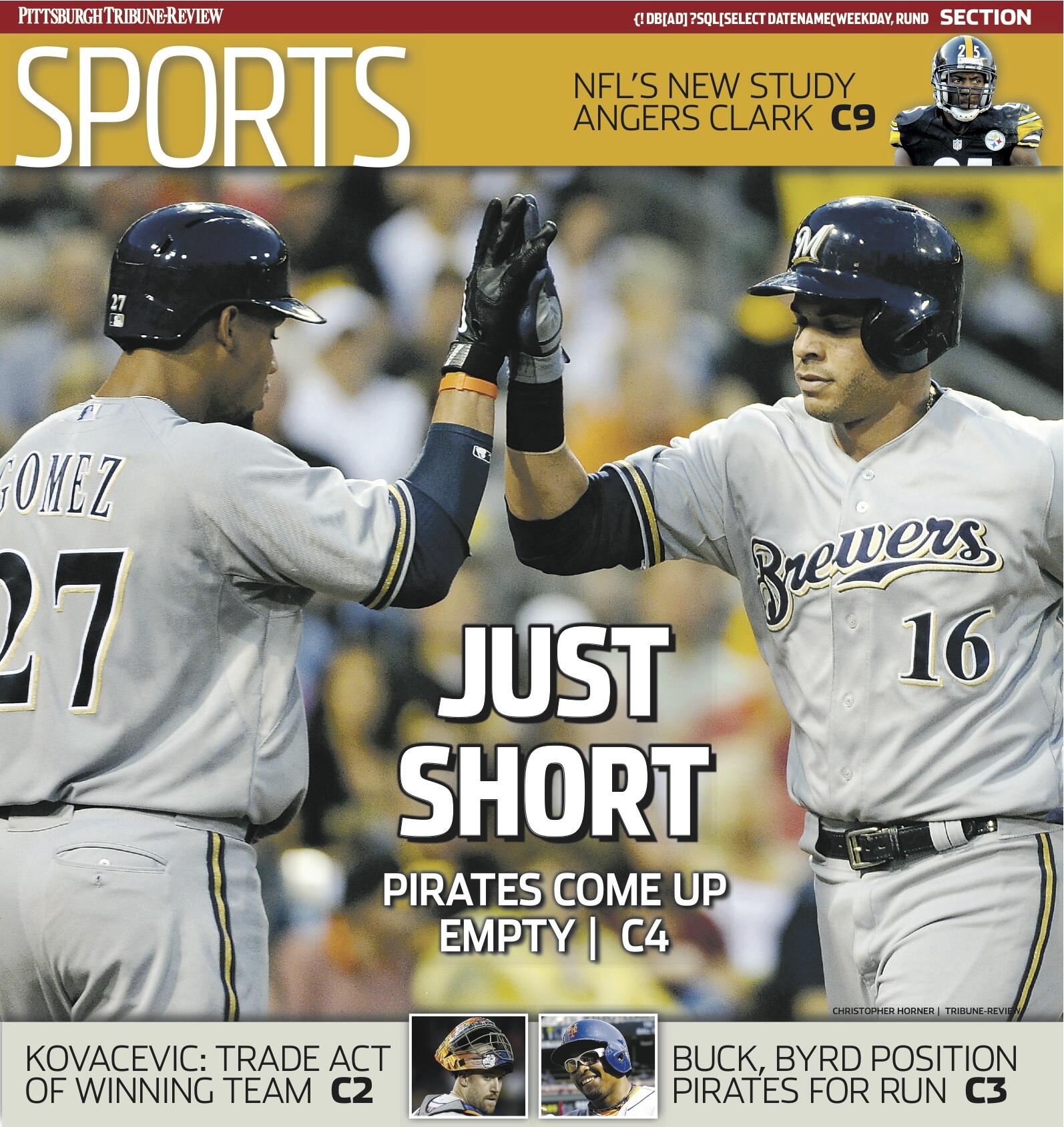 Here's the game story from PNC Park last night, by Karen Price.
Here's our full baseball coverage.
Here's Brewers news from the Milwaukee Journal-Sentinel.
Here are official game highlights from MLB.com.
>> It had been a while since Ryan Clark barked at the NFL. Alan Robinson reports on that, as well as how tomorrow night could bring a whole lot of Landry Jones. (Yippee.)
Isaac Redman and Jonathan Dwyer keep talking like the other isn't in the room …
Here's our full Steelers coverage.
>> This Pitt headline contains the amazing term 'post-Sunseri era.' Jerry DiPaola reflects.
>> Bill O'Brien won't name his QB. Chris Adamski reports from State College.
>> Dana Holgorsen won't, either. Bob Hertzel reports from Morgantown.
>> My TribLIVE Radio show is today at 2 p.m., featuring special guest Antonio Brown. I'll have a full blog post up on this at around noon. Hope you can call in for the opening segment!