By Dejan Kovacevic | Trib Total Media
LONDON – Top of the morning, Lunatics …
>> The Monday column documents the Steelers' latest ridiculous loss and, indirectly, laments the fact that I'm running out of more inventive ways to describe how they're doing beyond that they stink.
On the bright side, the Brits were magnificent. I was actually more impressed with the planning, the passion, the kindness of all involved for this than for the — admittedly much larger and less wieldy — Olympics last summer. The stadium was dolled up in ways that Heinz Field should strongly consider, from the 50-foot player banners to the tunnel lined with images of Pittsburgh and some of the more familiar faces on the team.
Wonderfully done. Good show!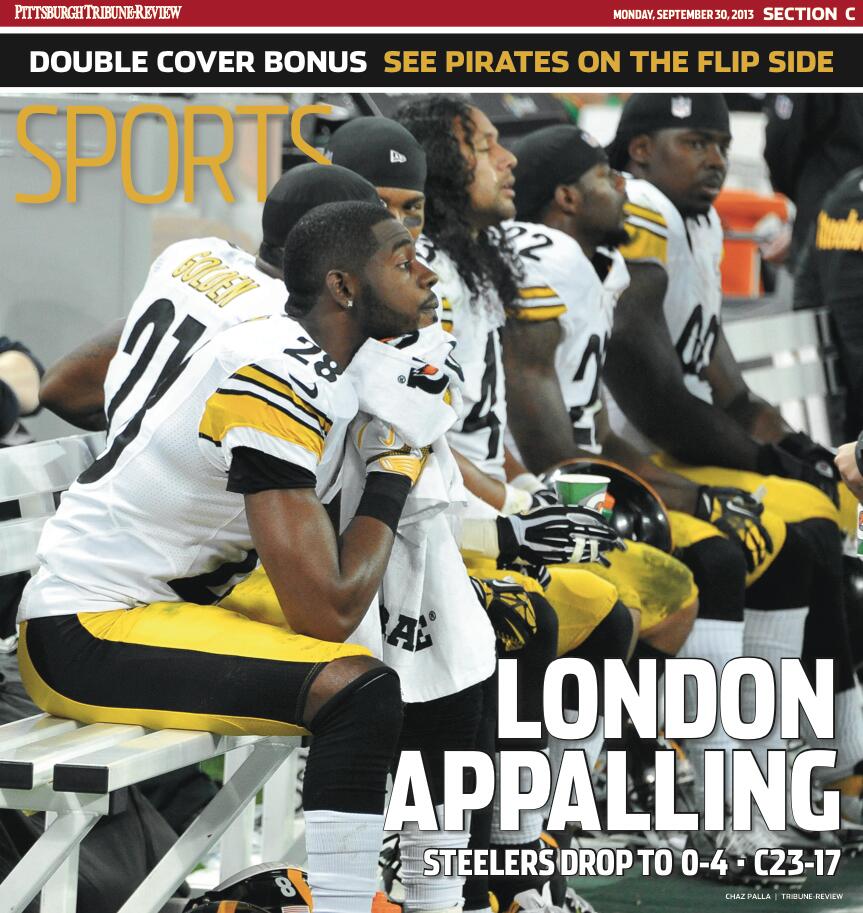 Anyway, here's the game story by Alan Robinson.
Here's a sidebar I wrote on the suddenly terrible secondary.
Here's the photo gallery by Chaz Palla.
Here's the latest on the Vikings from the Minneapolis Star-Tribune.
Here are official game highlights from NFL.com.
Here's me annoying Mike Tomlin with the first question about the worst left tackle anywhere …
Here's Troy Polamalu …
And here's Ben Roethlisberger …
What a season this is shaping up to be, huh?
And finally on the Steelers' front, the great L.C. Greenwood has died. Only one of the four members of the true Steel Curtain, Joe Greene, survives. Ernie Holmes and Dwight White passed in recent years.
I hadn't seen L.C. since last fall, and he looked and seemed fine. You never know.
>> The Pirates' B-team closed out a 94th win. Rob Biertempfel reports from Cincinnati.
Francisco Liriano is columnized by Joe Starkey, also at Great American.
Here's our full Pirates coverage, including stuff from Travis Sawchik, Karen Price and others who were part of our baseball staff making that drive.
Here's Reds news from the Cincinnati Enquirer.
Here are official game highlights from MLB.com.
>> Evgeni Malkin is pretty tough on himself in this interview with Rob Rossi.
Here's our full Penguins coverage, including the latest on Kris Letang.
Here are official game highlights from NHL.com.
>> Flying home in a few hours, through Paris again. I'm told I have a sporting event to cover on Tuesday. When I find out what that is, I'll be happy to share.