By Dejan Kovacevic | Trib Total Media
Morning, Lunatics. Or at least I think it's morning …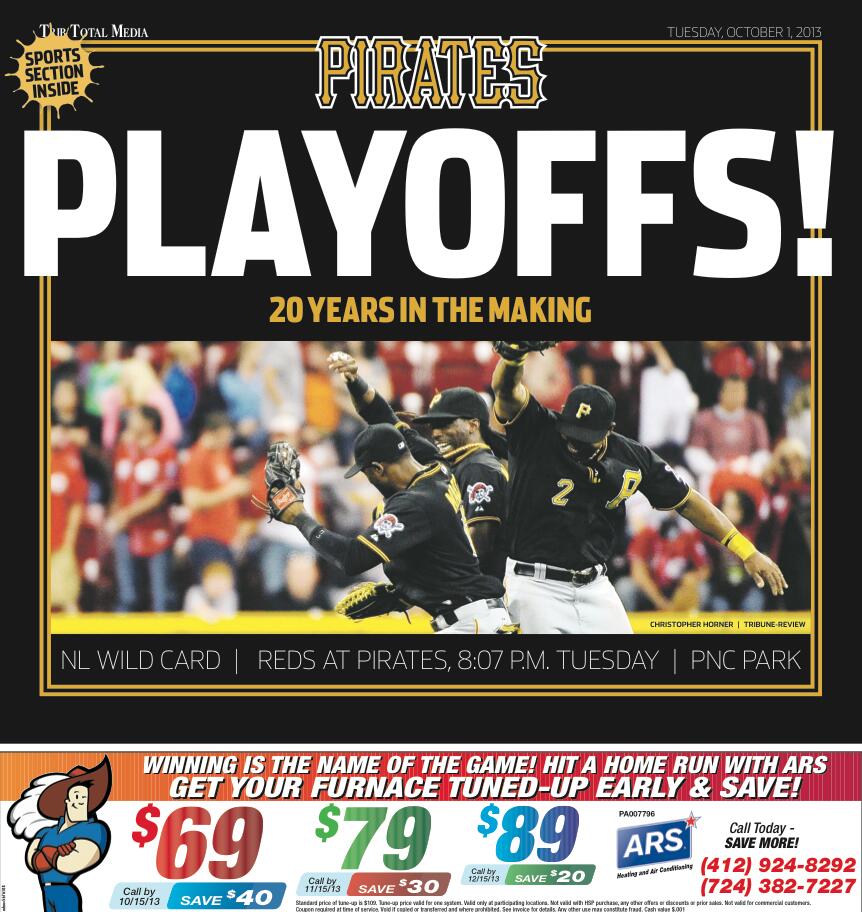 >> The Tuesday column weighs the first-half Pirates vs. the second-half Pirates and what that might mean tonight and beyond.
It's part of a special playoff preview section the Trib has on the streets this morning. Support your local journalistic enterprise and rub two quarters in its name, won't you?
Other material inside …
Our cover story on the building of these Pirates, by beat man Rob Biertempfel.
News from the PNC Park workouts, by Biertempfel., not least of which was Andrew McCutchen looking away while shagging and paying a rotten price. Never a good idea.
Francisco Liriano vs. lefties will be key, by Travis Sawchik.
How these teams match up otherwise, by Sawchik.
One-and-done has fans and detractors, by Bob Cohn.
Hundreds came to a Market Square rally, by Tom Fontaine. So did Gerrit Cole.
Here's what Clint Hurdle had to say to reporters yesterday about the difference between the turnaround in Pittsburgh and others he'd experienced in Colorado and Texas. It is MUST viewing …
Here's our full Pirates coverage.
Here's Reds news from the Cincinnati Enquirer.
Here are official game highlights from MLB.com.
>> Closing out other business, I whiled away some of the 12-hour travel day by putting together a Le'Veon Bell feature. Sunday was a dud for the Steelers, obviously, but he's a clear bright spot.
Some of my talk with Bell in London …
Mike Tomlin spoke of change. But what can he change? Alan Robinson takes inventory.
Ramon Foster sounds like he'll be fine. Mark Kaboly has the exclusive.
And don't dare miss Kaboly's weekly Steelers Film Study, focusing on — what else? — missed tackles.
Here are official game highlights from NFL.com.
>> Kris Letang will open on IR, and the Penguins made a ton of other roster moves. Rob Rossi. has the details, including the weird paper move of Beau Bennett to the Wheeling Nailers.
All I'll add is that the better defenseman between Olli Maatta and Simon Despres made the team. Even if Maatta just gets the nine-game gig.
Scoring vs. substance? Josh Yohe analyzes.
Here's our full Penguins coverage.
Here are official game highlights from NHL.com.
>> Tom Savage should be back for Pitt's tilt with Virginia Tech. Jerry DiPaola reports.
>> I'll be over at PNC Park tonight. Depending on how that plays out, I'll either be in St. Louis the next day or at the Penguins' opener Thursday night.