By Dejan Kovacevic | Trib Total Media
ST. LOUIS – Morning, Lunatics, from the city that long ago stole Pittsburgh's Gateway to the West designation but only because we didn't really care enough to keep it …
>> I'll be with the Pirates for each step of the playoffs, just as I have been with the Steelers and Penguins over the years. Home, road, night, day, every game, everywhere.
The other two and the colleges will still get the occasional column, but baseball's postseason is at center stage. And I'll join the rest of our Trib team — Rob Biertempfel, Travis Sawchik, Karen Price, photographer Chris Horner – to bring it to you as best we can.
That said …
>> It stinks not to be able to go all Dr. Manhattan and cover the Penguins' opener tonight, as well.
Yeah, it's just the first of 82, with a dash of Sochi Olympics thrown in, but I'll find this team's first few games to be of particular interest for the following three questions …
1. Could Marc-Andre Fleury actually blossom without the perpetual father figure as backup?
Think about it. Seems like forever that he's had a Ty Conklin, Brent Johnson or Tomas Vokoun there as the failsafe. And in each case, those backups were seen as the wise old vets, the standup men in the locker room.
If – and I know this goes against Fleury's mostly fluffy personality – he were to embrace being that guy, might it change more about him than his regular-season performance?
2. Will Olli Maatta stick?
I love that he's here now, as you might have noticed. He's 19, but he's polished and smooth enough that he looks like that rare breed of young defenseman who can actually get better right away at the NHL level, rather than simply have holes exposed.
He's got nine games to do that, given the junior rule, and I wouldn't bet against him.
Tired of writing this already, but this team needs fresh legs all over the rink.
3. Grit, anyone?
Tuukka Rask notwithstanding, the Penguins can score in their sleep. Too much talent to imagine otherwise.
But can they grind it out?
If so, who will do it, particularly up front?
Craig Adams and Joe Vitale and who else?
If they aren't going to hit anyone on the forecheck, they'd better do a ton of scoring, in their sleep and otherwise.
Our weeklong NHL preview concludes today with — who else? — the captain, by Rob Rossi.
Vokoun's career is on hold, writes Josh Yohe, and I took this video for you of his little press gathering …
I also penned this quick news item upon learning that Jaromir Jagr's likeness was replaced from the ring of Penguins greats in the home locker room.
Just in time, by coincidence, for Jagr to return tonight with the Devils.
Here's our full Penguins coverage.
Here are official game highlights from NHL.com.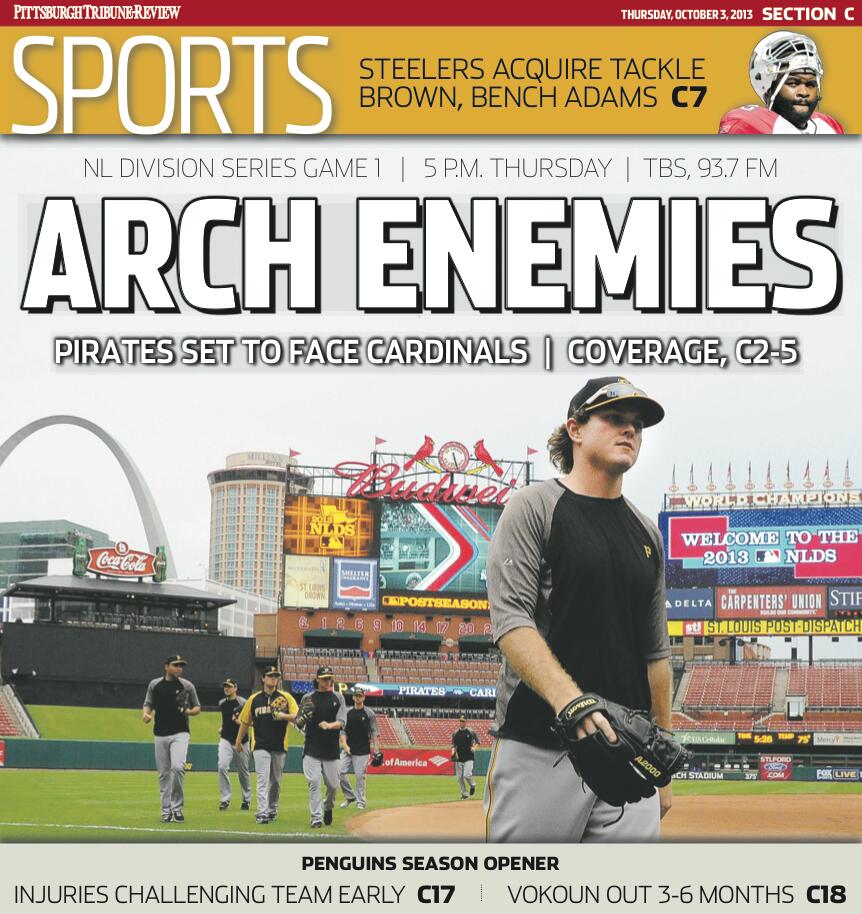 >> Game 1 of Pirates-Cardinals didn't seem to be as much the focus here in the land of baseball's self-proclaimed best fans. Rather, it was the ridiculous scene at PNC Park for the wild-card game, as in how they might translate to this series and, specifically, to Busch Stadium.
I've got that answer right now: It won't.
Difference between St. Louis and Pittsburgh sports fans, in general, is that they're a lot nicer than we are. They clap when the opposition turns a fine defensive play. We'll boo Carlos Beltran just because he's a name we recognize on the other team. They take pride in being classy. We take pride when some idiot jumps in the Allegheny. They view baseball as a grand old game. We view it as yet another form of competitive blood extraction, a la football and hockey.
That's not about to change just because everyone here caught a game on TBS the other night.
A.J. Burnett + Russell Martin = 'Charged Battery,' our cover story by Price.
Some of what A.J. had to say at his Busch Stadium presser yesterday …
How to emulate the Cardinals' sustained success, by Sawchik.
Jeff Banister's day has come, by columnist Joe Starkey.
Gerrit Cole takes the Game 2 ball, by Biertempfel.
Still more on that wild-card atmosphere, by Bob Cohn and Chris Togneri.
Here's our full Pirates coverage.
Here's Cardinals news from the St. Louis Post-Dispatch.
Here are official game highlights from MLB.com.
>> The Steelers made a rare in-season trade to find a left tackle, Levi Brown, who might challenge Mike Adams for starting duty.
That term might is used advisedly, as that noted offensive line guru Mark Kaboly tweeted yesterday that Brown = Adams = Guy Whimper = Don't get your hopes up.
Man, Max Starks must have just fallen off a cliff since last season, huh?
Here's our full Steelers coverage.
Here are official game highlights from NFL.com.
>> I'll check in with TribLIVE Radio at 11:30 a.m. And if you haven't bookmarked this yet, please check out the new podcasts page we've created. All shows all day are constantly updated so you can listen on the go.
Being totally honest here, that's the only radio I hear anymore.
Until things get going this afternoon at Busch …