By Dejan Kovacevic | Trib Total Media
ST. LOUIS – Morning, Lunatics …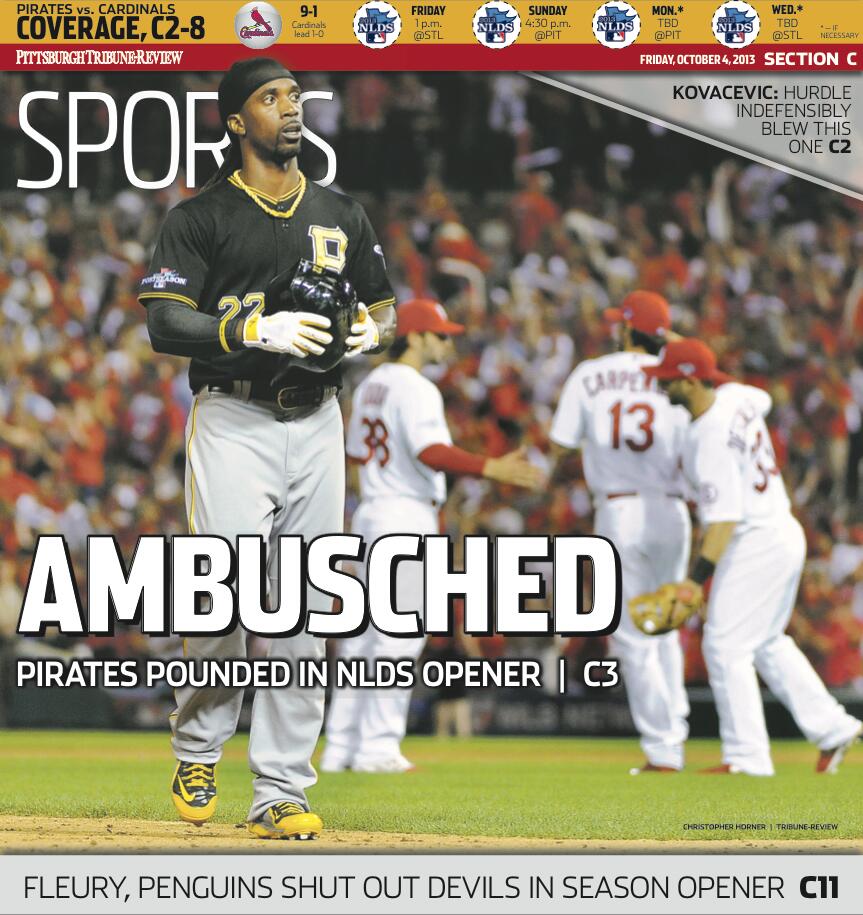 >> The Friday column from Busch Stadium very specifically follows advice from the manager regarding how to properly opine on A.J. Burnett's pitching line.
Here's some of what A.J. had to say afterward …
The game story, by beat man Rob Biertempfel.
The Pirates were really behind the curve, by Travis Sawchik.
A look ahead to Gerrit Cole in Game 2, by Sawchik … plus a Cole video …
MLB Network's telecast today leads the notebook, by Biertempfel.
Photo gallery by Chris Horner, including this beauty of Jon Jay scoring the seventh St. Louis run …
Back home, the Federal Street big screen went into action, by Tom Fontaine.
Here's our full Pirates coverage.
Here's Cardinals news from the St. Louis Post-Dispatch.
Here are official game highlights from MLB.com.
>> The Penguins opened their 47th National Hockey League season with a well-timed shutout by Marc-Andre Fleury, by Rob Rossi.
Jaromir Jagr had a one-word reaction to my news item that his likeness was replaced from the ring of greats in Consol's home locker room. Josh Yohe reports.
Here's our full Penguins coverage.
Here are official game highlights from NHL.com.
>> The Steelers' defense looks old and slow, by Alan Robinson.
Here's our full Steelers coverage.
Here are official game highlights from NFL.com.
>> Penn State prepares to lay it on the line at Indiana, by Chris Adamski.
>> I'll check in with TribLIVE Radio at 11:30 a.m., and that'll be followed by the weekly chat at noon. The latter always takes place here on the blog. As soon as you see the post pop up in the morning, you're free to submit entries.