By Dejan Kovacevic | Trib Total Media
Morning, Lunatics …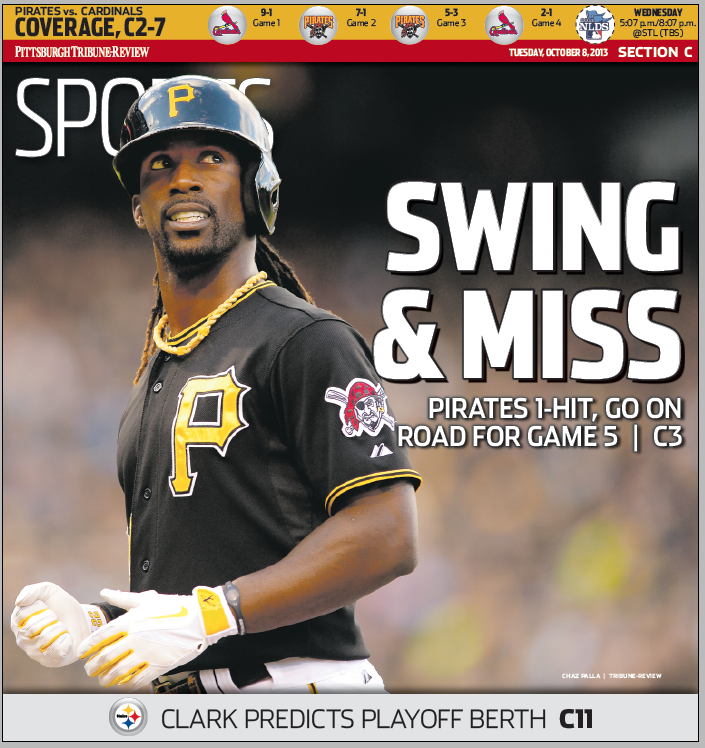 >> The Tuesday column from PNC Park offers five rays of sunshine looking ahead to Game 5. Because I am, you know, that ray-of-sunshine kind of guy.
Here's some of what Charlie Morton had to say after a plenty-good-enough start …
And here's Neil Walker …
The game story, by beat man Rob Biertempfel.
Gerrit Cole gets the ball for Game 5, by Bob Cohn.
Michael Wacha is the real deal, by Travis Sawchik.
Starling Marte and Walker have been a 1-2 punchout, by Karen Price.
The Cardinals celebrate Matt Holliday's blast, by Kevin Gorman.
Charlie Morton plans to have a sinking feeling today, by Bob Cohn.
The trouble with changeups in Game 4, by Sawchik.
Kevin McClatchy is welcomed back, by Biertempfel.
Photo gallery by Chris Horner and staff, including this shot of Andy Van Slyke by Chaz Palla …
Here's our full Pirates coverage.
Here's Cardinals news from the St. Louis Post-Dispatch.
Here are official game highlights from MLB.com.
>> The Dodgers gained the NLCS, thanks to one huge outburst from Yasiel Puig and Juan Uribe. The Los Angeles Times reports.
Also, if you weren't up way late, as soon as the Dodgers won, all the MLB.com and TBS schedules showed the Pirates-Cardinals Game 5 being pushed back three hours to 8:07 p.m. Eastern.
>> Marc-Andre Fleury is all business now, by Josh Yohe.
Our panel on WPXI-TV's The Final Word tackled the Fleury issue, as well, in this segment …
Here's our full Penguins coverage, including a look ahead to Carolina in town tonight.
Here's Hurricanes news from the Raleigh News-Observer.
Here are official game highlights from NHL.com.
>> Ryan Clark says the Steelers will make the playoffs, by Alan Robinson.
Here's our full Steelers coverage, including Levi Brown's early work at left tackle.
Here are official game highlights from NFL.com.
>> Pitt gets a good word on Tom Savage, by Jerry DiPaola.
>> I'm doing nothing today. Absolutely nothing. Then it's back to St. Louis.