By Dejan Kovacevic | Trib Total Media
Morning, Lunatics …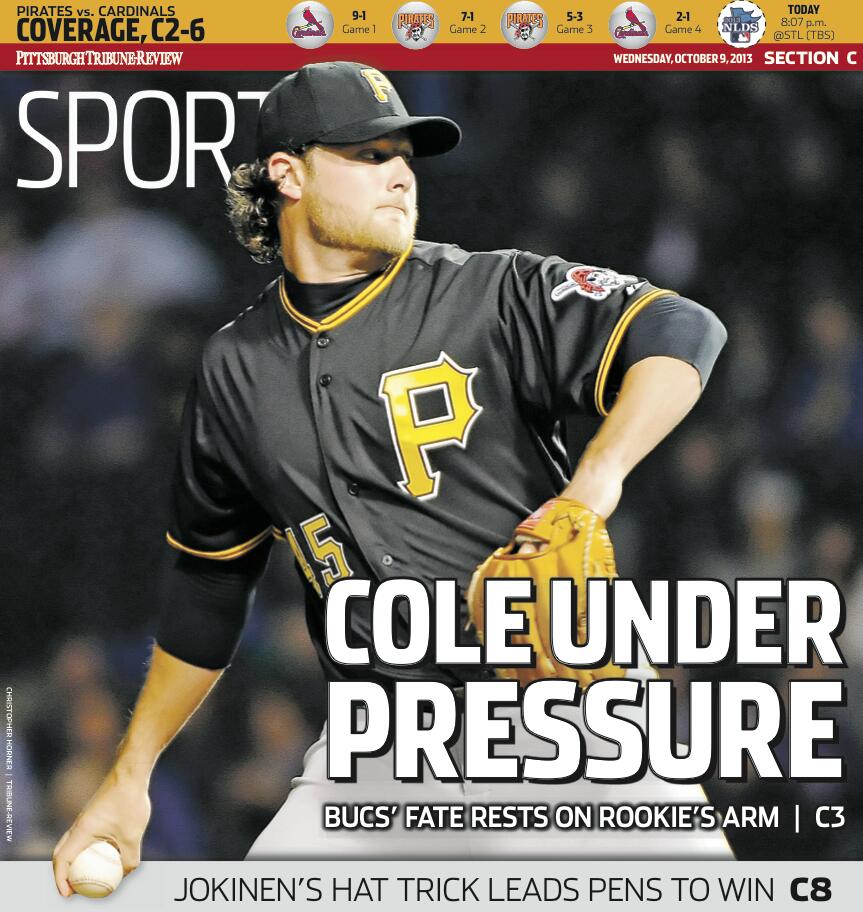 >> If the Pirates win, they're headed for L.A.
If not, thanks for coming.
It's up to Gerrit Cole to get it done, Joe Starkey writes for his column today. You'll want to check Ray Searage's quotes about A.J. Burnett in there, too.
The game preview, by beat man Rob Biertempfel.
Can Adam Wainwright stay ahead of the curve? Karen Price has that.
Preparing for an elimination game, by Bob Cohn.
Contact is critical, by Travis Sawchik.
The Cardinals hope Busch gets louder, by Price. Good luck with that. Really old crowd.
On the North Shore, Federal Street will hold another viewing party, by Chris Togneri.
In Bradenton, some Pirates minor-leaguers were interviewed by police about an alleged sexual assault. Biertempfel and Kevin Gorman have the exclusive.
Photo gallery by Chris Horner, Chaz Palla and staff.
Here's our full Pirates coverage.
Here's Cardinals news from the St. Louis Post-Dispatch, Dodgers news from the Los Angeles Times.
Here are official game highlights from MLB.com.
>> Jussi Jokinen gets all tricky with his old (and in some ways current) employers, and the Penguins improve to 3-0, by Rob Rossi.
All I have to say about this game: No way Olli Maatta can back to the OHL. Just no way. This kid's got no business in any league other than this one.
Here's our full Penguins coverage, including a Jordan Staal catch-up by Josh Yohe.
Here's Hurricanes news from the Raleigh News-Observer.
Here are official game highlights from NHL.com.
>> Mike Adams and Ziggy Hood are sent to the sideline, by Alan Robinson. I'd petition that the NFL that the Steelers get credited with their first W for that.
Here's our full Steelers coverage.
Here's Jets news from the Newark Star-Ledger.
Here are official game highlights from NFL.com.
>> Pitt braces for a hostile crowd in Blacksburg, by Jerry DiPaola.
>> You wouldn't like Bill O'Brien when he's angry, by Chris Adamski.
>> Duquesne hoops are picked to finish 13th in a conference called the Atlantic 10, by Denis Gorman.
Aw, I'm just having fun at my old school's expense. I actually like the approach Jim Ferry is taking by bringing in a ton of juco. The only way to raise the bar on the Bluff is to add hired help. You're just not going to win local recruiting wars. Maybe someday, but not now.
>> I'm flying out to St. Louis this morning, then hooking up on TribLIVE Radio with Ken Laird for a half-hour beginning at 11:30 a.m. We'll do this in lieu of the full radio show, which is kind of challenging when on the road, but yes, we'll still have @SuckMeter as part of the mix.