By Dejan Kovacevic | Trib Total Media
EAST RUTHERFORD, N.J. — Morning, Lunatics …
>> The Monday column from MetLife Stadium revisits Steelers vs. Other Jets and reiterates my stance on this team's talent vs. its achievement level to date.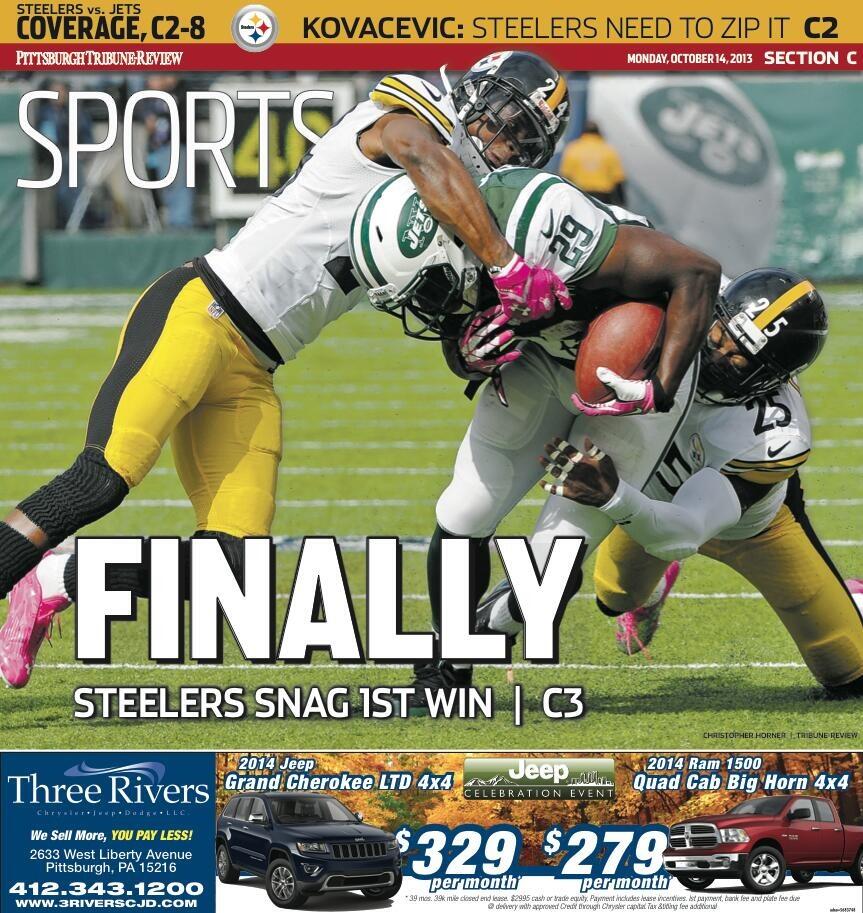 A few other random observations I set aside for the blog: There's nothing Kelvin Beachum can't do, apparently, given his many positional switches. But after performing "above the line" — Mike Tomlin's words — in his first full duty at left tackle, you can be sure he'll stick. And that he'll improve. "I know it's a tough position, and there's a lot to learn, but I'm really looking forward to it," Beachum was telling me afterward, just beaming. … You can forget about Levi Brown. Tomlin all but blurted out he's done for the season. Injured in warmups before what would have been his first game. Yikes. … I'll leave the high-intensity film dissection to our beat guys, but I saw an awful lot of good blocks by running backs. Credit them, but also Kirby Wilson. … Did you know 61 of the Steelers' 73 rushing yards came in the second half? Ben Roethlisberger explained that he approached Todd Haley and said, "No more passes," then challenged his linemen to kill the clock the old-fashioned way. Even against the NFL's No. 2 defense, it worked. … Lawrence Timmons was insanely good. Just crushing people. … Is it good or bad that Willie Gay outplayed Cortez Allen at the job everyone had been hoping Allen could keep? … Can't remember the last time I saw Kevin Colbert smile, but he had a healthy one in the locker room afterward. … I've actually always liked Ryan Clark. Didn't enjoy ripping him in column. But man, he's made a fool of himself this past week. … Two words you never, ever hear: Fernando Velasco. And that's a good thing. … Loved this from LaMarr Woodley but couldn't keep it in the final edit of my column: "We did what we were supposed to do." … I asked Ben Roethlisberger what's the mindset now, given the still-huge 1-4 hole: "The mindset is, 'Congratulations, good job, but we've got a lot of work to do." … It wasn't just Beachum and Velasco. I liked what I saw on the line from both guards, Ramon Foster and David DeCastro, though not at all what I saw from Marcus Gilbert. We'll see what the film shows.
In the meantime, here's some of my talk on that topic with Foster …
And stuff from a bunch of other guys …
Here's our full Steelers coverage, by Alan Robinson, Ralph Paulk and Mark Kaboly.
Here's Jets news from the Newark Star-Ledger.
Here are official game highlights from NFL.com.
And don't forget our Steelers photo gallery, by Chaz Palla and Chris Horner. In there you can find this pristine capture by Palla of Ben's 10-yard run to the New York 2 and lowering of the shoulder …
>> I'm taking a week off beginning today, and I'll be back to cover Steelers-Ravens next Sunday. No columns, no blogging, no radio, no TV, no social media, no nothing for a little bit. It's a spectacular job, but the past 11 days I've been to Paris, London, Paris again, Pittsburgh, Baltimore, St. Louis, Baltimore again, Pittsburgh, Chicago, St. Louis again, Chicago again, Pittsburgh, Harrisburg, East Rutherford and soon back home again.
Not complaining at all. Again, it's all great.
I will, of course, put up threads here in advance for daily discussion, as well as one for each game being played by our various teams. And there's just about no way I'll be able to stay away from Consol with all the young talent Edmonton's bringing through Tuesday night, but I've promised not to work there, either.
Be good.