By Dejan Kovacevic | Trib Total Media
Morning, Lunatics …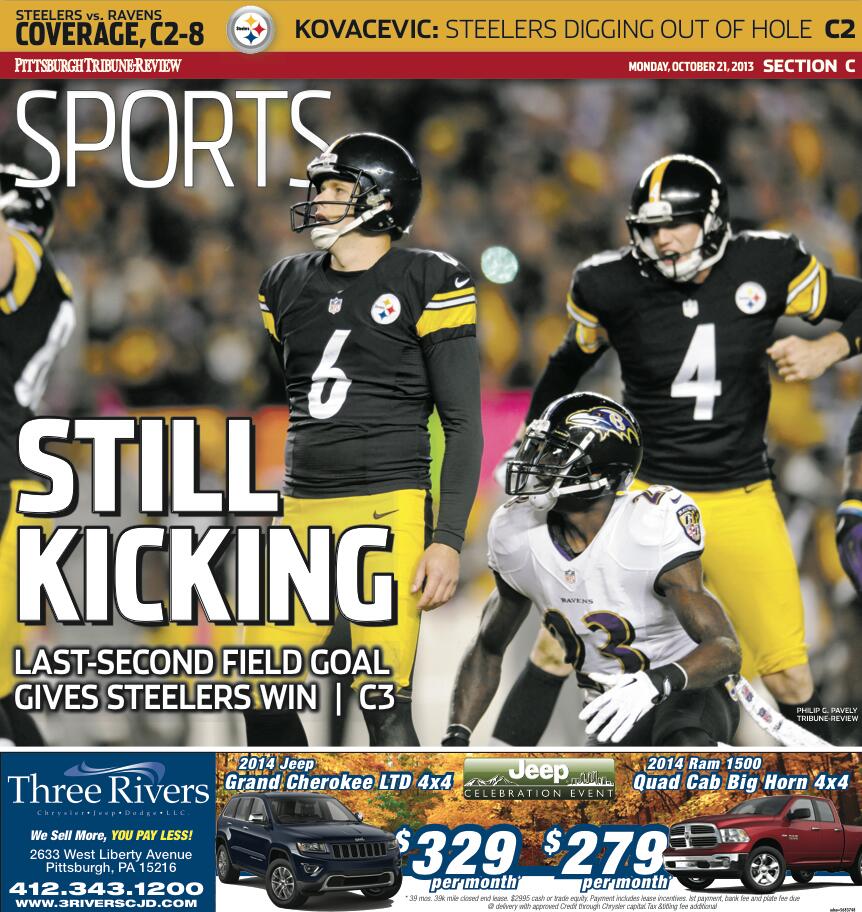 >> The Monday column from Heinz Field, first thing I've written of any kind after about of basically sleeping around the clock, declares that the Steelers are back! Until it doesn't.
The usual postgame randomness: Had to love Ben Roethlisberger offering — unsolicited yet again — that the sweet shovel pass to Heath Miller for the lone TD was his idea. "I will take credit for that play," he said, grinning. … No question the running backs fed off each other. You saw Le'Veon Bell go hard, then Felix Jones, then Jonathan Dwyer. I asked Ramon Foster if he thought that was a coincidence: "Absolutely not. All of those guys are working really hard, and they all want to be a part of this." … John Harbaugh tried to justify the onside kick by saying "we wanted an extra possession." Essentially, he laid it on the defense. Which was bunk. It was a dumb call. … Say this for Joe Flacco: It might be because he's got no actual pulse, but he doesn't get rattled by anything. … Let's not lose sight of another really dubious round of Mike Tomlin clock management to close the first half. … Tomlin just loves Bell. There was a told-you-so feel to all his Bell replies in the postgame. … The way the rest of the linemen were glowing about Guy Whimper, you'd have to wonder if Marcus Gilbert gets back in. I'm serious. … Rough day for Miller and the Steelers still won. Wrap your head around that. … I hate everything about the wildcat, but I loved Tomlin's explanation for using it: "We'll do anything to win football games. That's just the state we're in." … Shaun Suisham is so good it's probably unfair that he isn't extolled even more for how good he is. Not that he wants any part of it. Asked his reaction to getting a game ball: "I just did what I'm supposed to do."
Here are some questions I had for Ryan Clark afterward …
And Bell …
And LaMarr Woodley …
The game story focuses on Roethlisberger's finishing drive, by beat man Alan Robinson.
Bell's big day is bissected by Mark Kaboly.
Lawrence Timmons leads the defense, by Ralph Paulk.
The Ravens called it a 'bunt,' but it was a home run for the opponent, by Jason Mackey.
Here's our full Steelers coverage.
Here's Ravens news from the Baltimore Sun.
Here are official game highlights from NFL.com.
Our Steelers photo gallery, by Chaz Palla and Chris Horner, includes this really cool shot from Horner of Troy Polamalu's ill-timed leap on Baltimore's late kick attempt …
>> The Penguins have a really nice matchup tonight with Patrick Roy's high-flying Avalanche, probably one of the better marquees we're likely to have here in the early NHL season. Colorado's got some terrific young forwards, but that was true under Joe Sacco, too. Difference now is that Roy's got them playing a little D.
I'll be over there for the morning session and the game.
In the meantime, let's hear it for keeping Olli Maatta.If you've been reading my stuff here and on social media, you don't need to read from me why this is the right move by Ray Shero. But it still should be stressed that this kid legitimately had to earn this. The Penguins weren't posturing here. If they had their way, they'd preserve that year down the road. Plain and simple, Maatta forced their hand.
Good for him, better for the team.
Can Sidney Crosby keep up two points per game? Josh Yohe asks the captain.
Here's our full Penguins coverage.
Here's Avalanche news from the Denver Post.
Here are official game highlights from NHL.com.
>> I plan on watching about as much of the World Series as I do excising my own molars. But I will toss in that it sure was funny to hear all those MLB.com reporters peppering early-round playoff participants with questions about the glories of revenue sharing. Guessing those won't be coming up much in this series.
The Pirates' ability to sustain success is analyzed by Travis Sawchik.
>> Pitt's Tommy Savage has taken a step back, by Jerry DiPaola.
>> If you missed last night's very late episode of the Subway Final Word on WPXI-TV, here you go.
>> I'll check in with TribLIVE Radio at 11:30 a.m.