By Dejan Kovacevic | Trib Total Media
Morning, Lunatics …
>> The plan for the week is a Steelers column for Thursday, a Penguins column for Friday and a flight out to Oakland for more NFL stuff on the weekend.
>> Finally got to a hockey game last night, inexcusably overdue on my part, but I did get to see something that fans in these parts aren't likely to forget anytime soon …
Jean-Sebastien Giguere looked like his decade-ago self from his time with the Mighty Ducks, stopping all 34 pucks the Penguins sent his way. The Avalanche blocked 22 others and saw 16 others miss the net, making for an incredible 72 attempted shots and zero goals.
The game story is by Rob Rossi.
News of the day is by Josh Yohe.
A few of my own thoughts from the evening: There's almost nothing to analyze beyond Giguere. As Dan Bylsma told us afterward, "We had shots that were labeled. He was rock solid." But it's also worth pointing out that the Avs got big defensive showings from Jan Heyda (27 minutes, six blocks, four hits) and Hopewell native Nate Guenin (three blocks, three hits, great PK). … I've no doubt about Nate MacKinnon's No. 1 overall pedigree, but I saw very little beyond a very green rookie on this night. … Evgeni Malkin attempted 15 shots, landed eight, had five blocked and missed two. Sidney Crosby attempted 13, landed seven, had five blocked and missed one. Yeah, it was that kind of night. … Think James Neal and Kris Letang might have made a difference? … Concern over the Penguins' lack of grit up front really hasn't manifested because of the hot start, but it sure shows on a night like this. Count up the fourth-line turnovers in the neutral zone, and that looks even worse. … I'll admit: Robert Bortuzzo is growing on me. … I'll further admit: There was way too much Matt Niskanen on the ice last night. … Paul Martin and Brooks Orpik aren't playing like a shutdown pairing. … If a novice fan ever asks how a ref can call both an obstruction penalty and diving on the aggrieved party, show them the clip from the final minute of Guenin legitimately holding Jussi Jokinen and Jokinen legitimately going spastic to try to jazz it up. It really can be both. … It's got to be asked: If the Avs are the NHL's No. 1 team right now at 8-1, and the Penguins just schooled them for an hour like a JV shinny session, then what does that make the Penguins?
Here's our full Penguins coverage.
Here's Avalanche news from the Denver Post's Adrian Dater, who sat in the seat to my right on this night.
Here are official game highlights from NHL.com.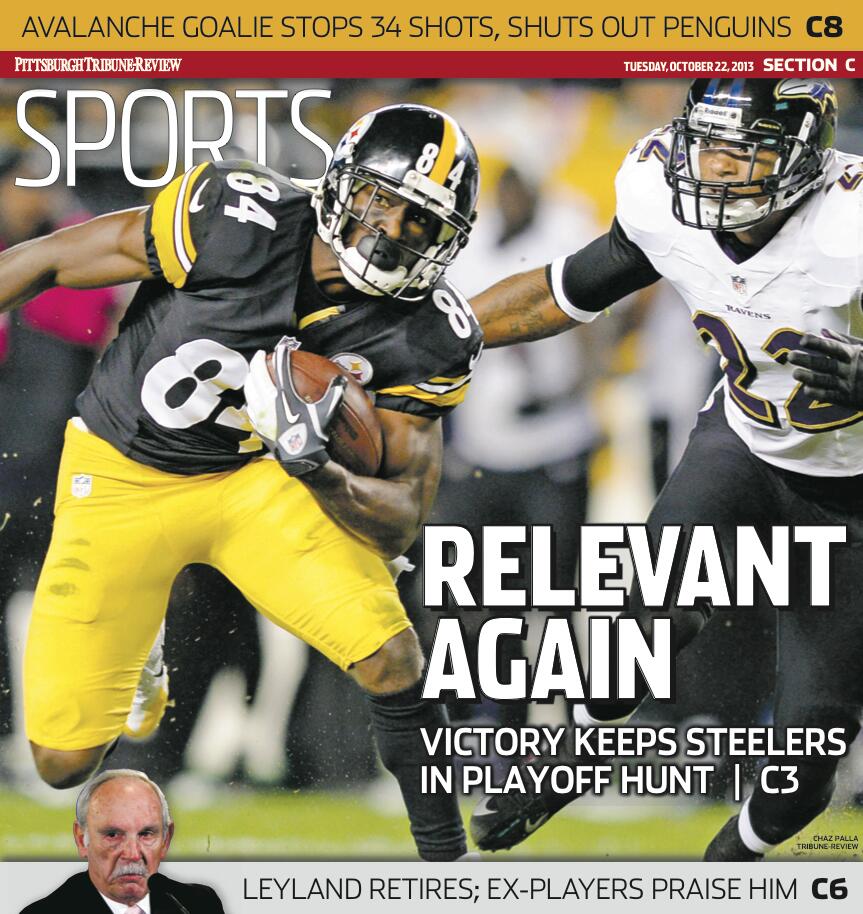 >> What's next for the football team? Alan Robinson looks ahead.
What went right for Le'Veon Bell? Mark Kaboly looks back in his weekly Film Session feature.
What went wrong for Isaac Redman?
I'm increasingly convinced that there's no better sports talk in our town than that brought to TribLIVE Radio every weekday morning by Ken Laird and Guy Junker, and I don't particularly care if that sounds self-serving. These guys are good.
Here's their take on the W over Baltimore …
Here's our full Steelers coverage.
Here's Raiders news from the San Francisco Chronicle.
Here are official game highlights from NFL.com.
>> If you thought the Vikings looked lousy in beating the Steelers in London, there's a reason: They still stink.
>> Francisco Liriano is named the National League's Comeback Player of the Year, by Rob Biertempfel.
Here's what our panel on the Subway Final Word had to say about the World Series …
>> I'm off today, then the TribLIVE Radio show comes tomorrow at 2 p.m.