By Dejan Kovacevic | Trib Total Media
Morning, Lunatics …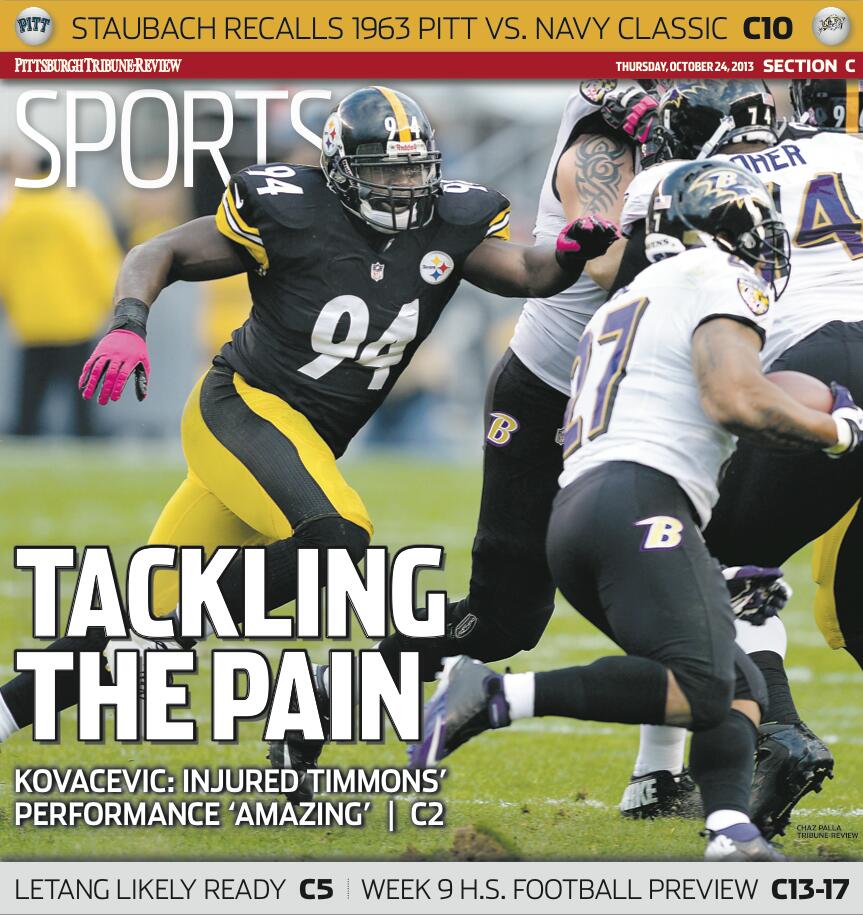 >> The Thursday column rewinds four whole days to fully appreciate an individual performance that, as you'll see why, couldn't have been fully appreciated at the time.
I mean this when I say thank you to Nate LoCascio and the Steelers' staff and those involved for their help in putting together this piece yesterday on the South Side. Above and beyond.
Here's some of what Lawrence Timmons had to say in our good talk …
Let me hear from you: Who's your Steelers MVP to this point?
Some other randomness from the South Side yesterday: Cam Heyward stood for the entire opening half-hour media session and handled wave after wave of interview requests, all with a smile, all with comportment. That included this annoying session, too. For a guy who for so long  sat quietly at his stall without anyone asking him anything, you could tell he's enjoying being a real part of this defense at last. … Great answer by Ben Roethlisberger when asked about being rated the NFL's fourth-most hated player in a pointless Forbes poll in which QBs took seven of the top 10 spots: "I think a lot of people don't like us because we're usually the ones who help beat their team." He meant QBs, not the Steelers. And he's right. … Remember that huge tackle-for-loss Steve McLendon had Sunday to kill a Baltimore drive? He asked me to give full credit to D-line coach John Mitchell, who had stressed to him all week "to have my feet moving with my hands at all times. It's all about technique." Mac took exactly that approach in blowing through the Ravens' line. Little things. … Because Timmons already has been cleared to play in Oakland, I didn't bother much in the column with a status update on his hand. But Timmons did tell me the hand felt "good" and "a lot better" than when injured. He was wearing a soft cast. … Jarvis Jones didn't sound all that pumped about being inactive against the Ravens, given a late rejection by the Steelers' medical advisors regarding his concussion. But hey, I'd rather have that than risk this kid's future. Let's hope it becomes a common refrain in the NFL.
David DeCastro comes with guarded optimism. Alan Robinson reports.

Shaun Suisham is really good at kicking. Mark Kaboly reports.
Terrelle Pryor retells a draft encounter with Mike Tomlin.
Roethlisberger talks about Oakland's environment and other stuff …
Here's our full Steelers coverage.
Here's Raiders news from the San Francisco Chronicle.
Here are official game highlights from NFL.com.
>> Kris Letang's skates are sharpened for a Friday debut, by Josh Yohe.
Here's our full Penguins coverage.
Here's Islanders news from Newsday.
>> The Sabres are a sad joke. The firing of Lindy Ruff has only been compounded by the embarrassing performance and behavior behind the bench of Ron Rolston, who might be fired by the time you read this.
And if you haven't seen the thug John Scott's latest cheap shot, look away now.
Brendan Shanahan had better top the 10-game threshold for that one. If not, the infamous 17-game suspension meted to Matt Cooke will continue to be more and more of an outlier.
The franchise needs to start over, top to bottom. All there is to it. The guy who should have been fired was Darcy Regier, not Ruff. One would think that's imminent, too.
>> Roger Staubach looks back at an epic Pitt-Navy clash 50 years ago. Jerry DiPaola writes. Good stuff from the Dallas legend on what makes the academies' games more special than ever: "The good news is the American people are really helping and supporting veterans today. They didn't do a lot of that after Vietnam."
>> Jordan Lucas is cornering confidence for Penn State. Chris Adamski writes.
>> Really nice preseason showing for Pitt's Steven Adams for the NBA's Oklahoma City franchise: 11 points, seven boards, two assists, two steals. Right decision?
>> I'll be with the Penguins out at Southpointe this morning, and I'll check in with TribLIVE Radio at 11:30 a.m.