By Dejan Kovacevic | Trib Total Media
OAKLAND, Calif. — Morning, Lunatics …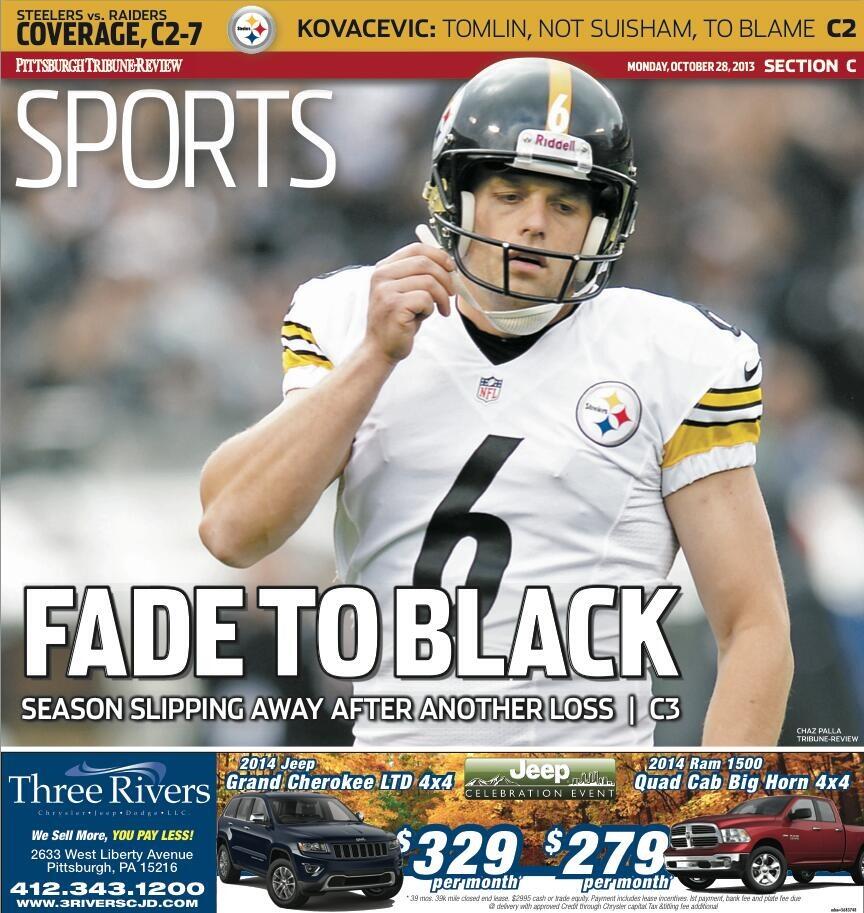 >> The Monday column lays blame on just about everyone … and then just one guy.
Here's some of what Mike Tomlin had to say …
… as well as Ben Roethlisberger …
… and Ryan Clark …
If you watch all three clips, you'll see that I ask all three gentlemen — at different points in the sessions — the same question: Were the Steelers ready for this game?
I didn't use the material from the latter two in the column for space purposes, but I did want to share it here with you. Draw your own conclusions.
Some other multipurpose randomness from multipurpose O.co Coliseum: Watching Terrelle Pryor burst down the field on that opening play reminded me so much of the feeling in London when Adrian Peterson did it, partly because he's such a special athlete, partly because the Steelers looked so terribly un-athletic compared to both. … It might get lost in the loss, but the O-line is in enormous trouble after seeing Ramon Foster, Guy Whimper and David DeCastro go down. I don't think DeCastro is serious, based on some stuff in the locker room, but the other two … that'll hurt. … Darren McFadden told Bay Area-reporters that Ryan Clark was telling him on the field that Clark bit badly on Pryor's 93-yard run in part because the Steelers repeatedly had Clark tackling the McFadden simulator in practice all week. … Heath Miller shouldn't be playing. Watch him. No way he should be out there. Can barely move. … Did Le'Veon Bell do much for you in this game? Kind of tough judging given the state of the line. … Growing up an NFL Films junkie, it saddens me what's become of the league in Oakland. Directly across from the press box was an entire level of the stadium tarped off, plus three sections  in each of the end zones. Had to be at least 12,000 seats. All of those were open last season, and all would have been sold for this game, but the league doesn't allow teams to fluctuate capacities. … This is in the column, but it really is worth repeating: LaMarr Woodley didn't have a tackle. … Know who had a nice game, if you want to single out a positive? Jerricho Cotchery. … Shaun Suisham was devastated afterward. I mean, just crestfallen. And you know what? He didn't have much company in that regard.
The game story focuses on the final thud, by beat man Alan Robinson.
Suisham's misery, by Ralph Paulk.
Terrelle's monster run, by Eric Gilmore.
Here's our full Steelers coverage, including game-changers, game balls and more.
Here's Raiders news from the San Francisco Chronicle.
Here are official game highlights from NFL.com.
Here's our Steelers photo gallery by Chaz Palla, including this gem from the losing sideline …
>> The hockey club lugs a three-game losing streak into tonight. Josh Yohe is in Raleigh.
Here's our full Penguins coverage.
Here's Hurricanes news from the Raleigh News & Observer.
Here are official game highlights from NHL.com.
>> The Islanders swung a pretty big deal to get Thomas Vanek from the Sabres, and I've got to say at first blush it looks very, very favorable to New York in my eyes. Yeah, I know Matt Moulson's started hot, and I know a couple of high picks went Buffalo's way, but the team that gets the best talent tends to win trades.
Vanek is better and younger than Moulson, and there's no way Garth Snow would have done this without being sure he could keep him from free agency after this season.
The question now around here is what impact this will have on the … ugh, still can't bring myself to say the ridiculous new name of the Penguins' division.
>> Pitt really lost to Navy? Jerry DiPaola writes.
>> Penn State really lost by 1,000 to Ohio State? Chris Adamski writes.
>> Flying back overnight from SFO, will be out of commission Monday. Back at everything tomorrow.