By Dejan Kovacevic | Trib Total Media
Morning, Lunatics …
>> The Thursday column goes to bat for Jarvis Jones, and it does so now rather than later.
Some of what the young man had to say yesterday …
Ben Roethlisberger vs. Tom Brady, always compelling, by beat writer Alan Robinson.
Still haunted by Terrelle Pryor, by Ralph Paulk.
Here's our full Steelers coverage, including more on Jarvis.
Here's Patriots news from the Boston Globe.
Here are official game highlights from NFL.com.
>> An October night at a hockey rink doesn't get much better. The Penguins and Bruins went at it voraciously, almost at a playoff level, and the home team prevailed by hanging on to the final horn. Really entertaining stuff.
Some randomness from the evening at Consol: Dan Bylsma's left-wing lock had its toughest test and maybe its most important in the minds of the athletes. "It was big for us to go out there against this team and have success with it," Pascal Dupuis was telling me afterward. "Those guys can come at you with speed in the neutral zone, and we took that away." … Funny how Jarome Iginla was effective all night on the right wing. Imagine. … At least a couple of the Penguins' players were furious with Brad Marchand and the refs for the Kris Letang diving call, much more so with Marchand. They felt Marchand had his knee out to injure Letang. … Anyone else notice a similarity between Marc-Andre Fleury's final save and a certain other final save he once made? … Similarly, the Brandon Sutter peanut-butter special over Tuukka Rask's blocker was a near carbon-copy of his Game 2 laser to the exact same spot, right down to the puck popping off the twine the same way. Not sure I've seen that. … One of game's most telling moments was Sidney Crosby's partial breakaway after a long, long shift in the defensive zone. He looked so exhausted he barely got off a shot. I couldn't help but tease afterward and ask if he considered a dump and change. "No, but Kuny did," the captain came back with a grin. Sure did. Chris Kunitz went off to the bench, and no one could blame him. … This will get forgotten today, and it shouldn't: Fleury was the better goaltender. … I'll have much more on this game's finest performer for the Friday column.
Oh, wait, the tooth! You want to see the tooth! Here you go …
The game story focuses on pinpoint execution of a solid plan. Beat man Rob Rossi has that.
The D is about to get busy, by Rossi.
Rob Scuderi has ankle surgery, by Josh Yohe.
Here's our full Penguins coverage.
Here's Bruins news from the Boston Globe.
Crazy story coming out of Colorado regarding Semyon Varlamov. The Denver Post was on this all night.
Here are official game highlights from NHL.com.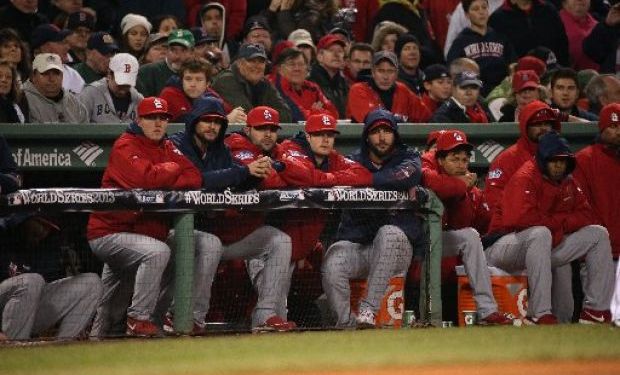 >> The National League Central was finally eliminated from World Series contention. The St. Louis Post-Dispatch has that angle, while the Boston Globe cover the $150 million champs.
>> Looking ahead to Pitt and Georgia Tech, by Jerry DiPaola.
>> Doing likewise with Penn State, by Chris Adamski.
>> I'll write Penguins for the Friday column, after which it's off to Boston for football. Oh, and I'll have the usual check-in with TribLIVE Radio today at 11:30 a.m.