By Dejan Kovacevic | Trib Total Media
Morning, Lunatics …
>> The Thursday column focuses on a GM who keeps such a low profile that his bio in the team media guide takes up less space than that afforded to the equipment managers.
No kidding, Kevin Colbert gets half of Page 44 in the Steelers' guide, while equipment guys Rodgers Freyvogel and Patrick Noone get two-thirds of Page 54.
And be very sure that's how Colbert likes it.
That aside, I'm curious to hear your thoughts on this column, particularly as it relates to how you feel about the level of accountability involved.
>> Antonio Brown talks about his brief benching, by Alan Robinson.
The Steelers share thoughts on bullying in football, by Mark Kaboly. Below are Ben Roethlisberger's …
Here's our full Steelers coverage, including Sean Spence being shut down.
Here's Bills news from the Buffalo News.
Here are official game highlights from NFL.com.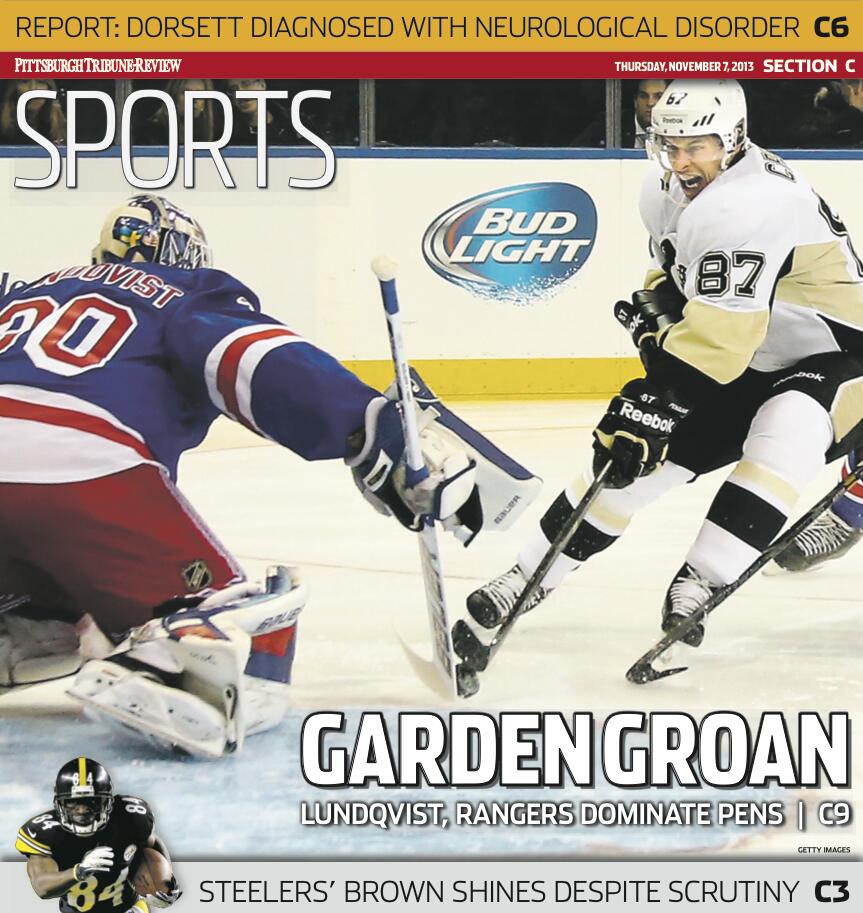 >> The Penguins came hard early but fell hard, too, at the Garden. Funny the difference some world-class goaltending can make. Rob Rossi is in New York.
Here's our full Penguins coverage, with all kinds of injury updates.
Here's Rangers news from the New York Post.
Here are official game highlights from NHL.com.
>> It's a big week for Pitt, and Steve Pederson discussed that and much more on my TribLIVE Radio show yesterday. Much obliged to all who made it happen, not least of whom was the AD himself …
The Panthers' inconsistent defense braces for Notre Dame, by Jerry DiPaola.
Tony Dorsett has signs of neurological disorder, by DiPaola.
>> Bill Belton's impact at Penn State is measured by Chris Adamski.
>> Andrew McCutchen and Pedro Alvarez win Silver Sluggers, by Travis Sawchik.
>> For those who haven't already noticed, we've had a new mobile platform for this blog up and running for the past week or so. It's really nice and seems functional, but I'd welcome hearing from you — good or bad — how you feel. Especially as it relates to commenting.
>> I'll cover the Steelers and Pitt football today, with an eye on the latter for the Friday column.