By Dejan Kovacevic | Trib Total Media
Morning, Lunatics …
>> The Friday column assesses Pitt's chances of ever again having an on-campus football stadium … and summarily dismisses it within a couple of paragraphs.
Here's Paul Chryst's answer to my question yesterday about the Notre Dame game …
I'll welcome hearing from you on this, especially students and alumni of the university.
Oh, and since this always comes up with a topic like this, no, I have no vested interest in Pitt of any capacity. Went to Duquesne, and I didn't even like that.
Here's our Pitt-Notre Dame game preview by beat writer Jerry DiPaola.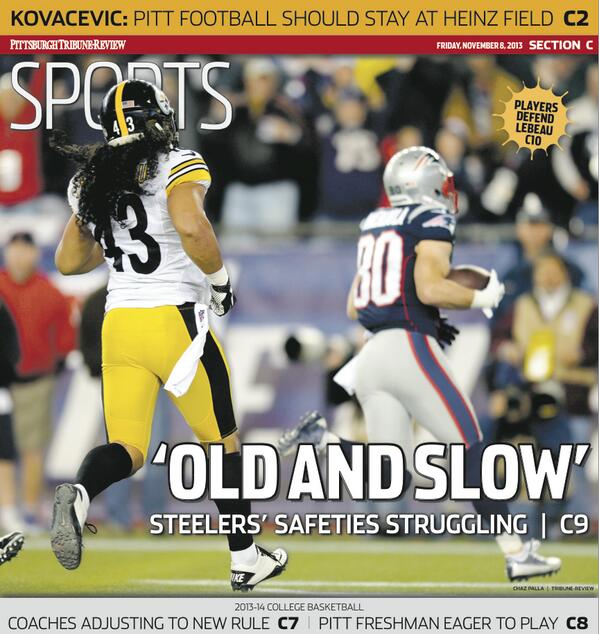 >> What's wrong with the Steelers' safeties? Alan Robinson wonders.
What's wrong with Dick LeBeau? Ralph Paulk wonders.
Here's our full Steelers coverage.
Here's Bills news from the Buffalo News.
Here are official game highlights from NFL.com.
>> The Penguins are tired of these multiple-goal losses. Josh Yohe reports.
Here's our full Penguins coverage.
Here's Blues news from the St. Louis Post-Dispatch.
Here are official game highlights from NHL.com, including another Philadelphia shutout. And if you haven't been tracking this, Sidney Crosby's 23 points are more than the Flyers' 22 team goals. And Claude Giroux, who has contributed to all but 22 of those, walked out on reporters last night.
If you've missed any of the Flyers' offensive highlights this season, here's a summation …
>> It's tipoff day for both Pitt basketball teams, with Suzie McConnell-Serio's debut with the women this morning, then Jamie Dixon's men facing Savannah State tonight. Both are at the Pete.
>> Quality off-the-court W for Duquesne with three-point ace Micah Mason  cleared to play by the NCAA. He's a Highlands grad. Chris Harlan reports.
>> The weekly chat begins at noon, though you can submit entries as soon as the post pops up. Would love to have you on board!