By Dejan Kovacevic | Trib Total Media
Morning, Lunatics …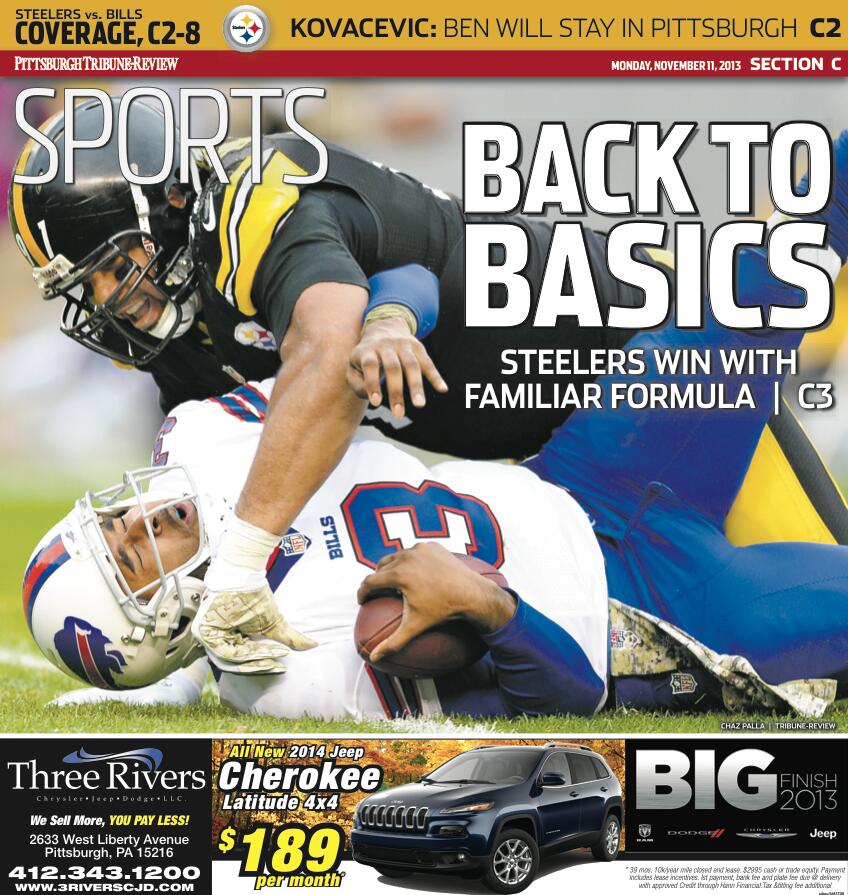 >> The Monday column shares my firmly held belief that Ben Roethlisberger isn't going anywhere.
Here's some of what the QB had to say afterward …
And a more-upbeat-than-we've-seen-in-a-while Mike Tomlin …
Random randomness from the event: This is all I'll add regarding the reporting of the NFL Network's Ian Rapoport, who I don't know at all, by the way. There are two discussions to be had here, and a lot of folks seem to mix them. One is whether or not Ben could be traded and the plausibility therein. The other is the veracity of the reporting itself that Ben and/or the Steelers already are planning such a thing. Drives me nuts, too. These two issues have nothing in common. Ben could be traded exactly as the report laid out, but if the report itself was inaccurate (that such a thing is being planned right now), the report still stinks. … Good to see Jonathan Dwyer running well. And hard. And straight ahead. Again. This is a repeat of a repeat. … Most offensive linemen prefer run-blocking. They'd rather be the aggressors, not back on their heels. But Kelvin Beachum really loves it: "That's us, man. We just want that push. We had it out there. Felt good." … The Steelers looked to me more conservative, less stunting on defense, and that might have helped them shut down what had been a really good Buffalo ground game. But Tomlin didn't see it that way when I asked: "We tackled well. It's fundamental. You maintain your ground, you shed blocks, you make tackles, and you're where you're supposed to be. That's what we were able to do." Obviously. … Easily the one facet that kept the day from feeling complete for the Steelers was getting only two touchdowns in five red-zone trips. (And one of those TDs came after the Bills insanely encroached on a field-goal try.) "That to me is what sticks out," Roethlisberger said. "We've got to do better with those chances." … Maybe all punters everywhere are terrible. It's a possibility, right? … You'll probably hear a lot in the days and weeks to come about attendance at Heinz Field, so at least be armed with facts. The actual turnstile count yesterday was 60,406, which is roughly 5,100 in terms of no-shows. … Hey, they're 3-6 and two games out of a wild-card spot. Should we … ? Nah.
The game story focuses on defensive redemption, by beat writer Alan Robinson.
The news coverage of the Ben nonsense, by Robinson.
The power returns to the offense, by Mark Kaboly.
The defense kept it simple, by Ralph Paulk.
The Bills ran out of running, by Chris Harlan.
Here's our full Steelers coverage, including game balls, turning points, injuries.
Here's Bills news from the Buffalo News.
Here are official game highlights from NFL.com.
And here's our Steelers photo gallery by Chaz Palla, including this of Jason Worilds destroying E.J. Manuel …
Oh, one last Steelers thing: If you missed the Sunday column on Larry Foote's loss, I hope you get a chance to take a look, if only for the input of Vince Williams. Neat kid.
>> Dan Bylsma reflects on the late Fred Shero's coaching innovations. Beat writer Rob Rossi has it.
Have the Penguins benefited from a soft schedule? David Golebiewski breaks it down.
>> Scott Harrington wants to skate in Olli Maatta's footsteps. Jonathan Bombulie files his weekly minor-league report from Wilkes-Barre, always a terrific feature.
Here's our full Penguins coverage.
Here's Flyers news from the Philadelphia Daily News.
Here are official game highlights from NHL.com.
>> Anyone who still doubts that Neal Huntington and his front office were in legitimate trouble after the 2012 season, here's a compelling interview of the Pirates' GM done by our Karen Price.
>> Ray Vinopal's redemption was a fun part of Pitt beating Notre Dame. Kevin Gorman looks back.
>> Even with Bill O'Brien curiously keeping his players from commenting after the loss in Minnesota, our Chris Adamski soldiers on and files a Penn State notebook.
>> If you couldn't stay up for last night's Subway Final Word on WPXI-TV, we tackled a whole bunch of Steelers, Penguins, Pitt and more. Fun show.
>> I'll check in with TribLIVE Radio today at 11:30 a.m.