By Dejan Kovacevic | Trib Total Media
Morning, Lunatics …
>> I generally have Mondays off, and I've been feeling a little guilty about that. So I've come up with what I hope is an idea to mitigate that here on the blog, all without my really doing much of anything.
That, of course, is to put you to work.
I'll pose three questions up here every week, almost always on three different sports or issues, and ask you to put together your own — preferably brief — opinions on each or on just one, if you're more comfortable that way. Let's put it this way: If you're over 150 words, you've gone way too far.
Type your entry right down below here in the Comments section.
Here goes …
1. The Steelers are 3-6 and only two games behind the 5-4 Other Jets for the final wild-card spot. Should this be the focus in favor of more future-based concepts such as playing more Jarvis Jones and other youngsters?
2. What, if anything, should the Penguins do about Evgeni Malkin's slump?
3. Play devil's advocate with the National League MVP finalists and make a case for either Paul Goldschmidt or Yadier Molina to win it. Don't fake it. If your best case isn't good enough, that's fine, too.
All entries will be judged by our self-appointed panel in the commenting section — figure it out amongst yourselves — with results tallied up by a designated tallying person.
I'll run the best entry — in its entirety — in the next day's Morning Java.
And yeah, the check will be in the mail.
There isn't anything of my own to showcase here on the blog, and I'm not covering anything, either.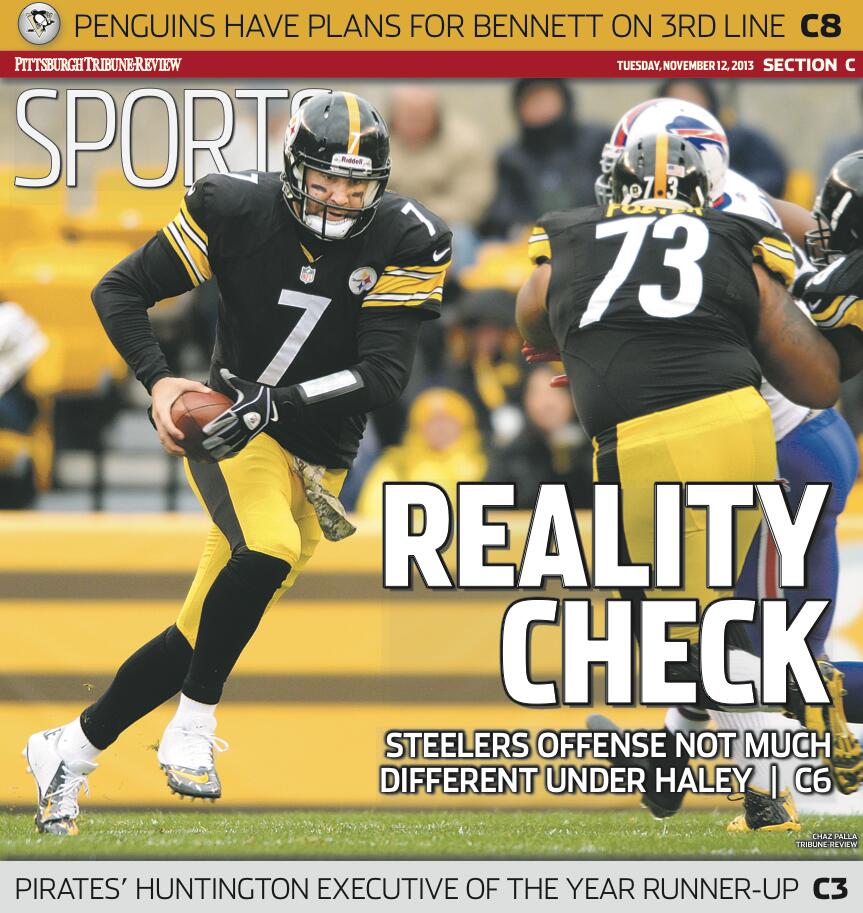 >> I love Mark Kaboly's weekly Steelers Film Session, if I haven't already said that a million times. The man watches the game in person, then talks to the athletes and coaches, then watches it no fewer than three more times to break it down.
A little offensive balance never hurts, by beat writer Alan Robinson.
Neither does a healthy attitude, by Ralph Paulk.
Here's our full Steelers coverage, including an update on Ramon Foster.
Here's Lions news from the Detroit Free Press.
Here are official game highlights from NFL.com.
And here are TribLIVE Radio's morning team of Ken Laird and Guy Junker talking some football yesterday …
One other Steelers item: Watch NFL Network tonight at 10:30 for a 15-minute, NFL Films-produced piece on Charlie Batch. I've seen a preview thanks to locally born producer Keith Cossrow, and it's worth it.
>> Beau Bennett plans to carry the puck more and, in turn, carry more of the slumping Penguins' scoring load. Beat writer Rob Rossi has it.
Here's our full Penguins coverage.
Here's Flyers news from the Philadelphia Daily News.
Here are official game highlights from NHL.com. In there, unfortunately, is the grisly broken leg sustained by Steven Stamkos. Hard to tell how long he'll be out, but it's hockey's loss, not just the Lightning's.
>> Paul Chryst looks ahead to North Carolina. Will his players still be looking back? Jerry DiPaola reports.
>> Moving photo essay of Sharon High School's first game after tragedy last night, by Andrew Russell. Here's the news coverage of same by Kevin Gorman.
>> Neal Huntington, the Pirates' GM, took second in Executive of the Year voting. Travis Sawchik reports.
Jay Bell is headed to the Reds, according to the Cincinnati Enquirer. No great loss there. As I wrote in the Oct. 10 column just after the season, he helped no one.
The vote for National League Manager of the Year will be released tonight. I had a ballot for this award, and I'll share it with you right here:
Clint Hurdle, Pirates
Fredi Gonzalez, Braves
Don Mattingly, Dodgers
If anyone takes issue with Pittsburgh guy picking Pittsburgh manager … you can't imagine how little I'll care.
>> I'll appear on MLB Network today at 2:30 p.m., live from PNC Park, to discuss that very topic.