By Dejan Kovacevic | Trib Total Media
Morning, Lunatics …
>> The TribLIVE Radio show today — 2-3 p.m. — will feature special guest Cam Wright, the soph guard who's been Pitt basketball's brightest spot in the early going.
Before that, in the opening segment, I'll present to listeners a question: Is any team in professional sports more detestable than the Flyers?
Call me at 412-320-7925 or email sportstalk@tribweb.com
To listen, just click on the link above. If you're mobile, try the TribLIVE Radio app.
>> Made it over to the Pete last night for Pitt's zoning out of overmatched Fresno State. Kevin Gorman has the game story, and here's some of what Wright had to say afterward …
Random randomness from the event: There's so much to like about Wright's upgraded game that I'll save it for the radio show. But I'll drop a hint here that he had one whale of a summer, and not just in the gym. … Talib Zanna is going to be the key this year, no matter what other distractions pop up. Pitt needs a big man underneath, and he's as big as they'll get at 6-9 and plenty strong enough. But, as Jamie Dixon put it afterward, "He'll need to finish more." … Watching a Dixon team in a zone defense is almost as striking as watching them try to push the attack. The latter, for the record, has a long way to go. … Lamar Patterson, pictured above, keeps showing top skill, keeps making you think this could be the year. But sorry, after seeing that fade two years in a row, he's in a Marc-Andre Fleury classification for me. Let's see how he does when it counts. … The competition is dubious, and it's so early even in the team-building process, but I'll say right now that I like this team more than I thought I would. They're bigger and more athletic — overall, not at center, obviously — than last year's team. They're tough, too. It's clear that Dixon thinks a lot of them, as well, in trying the zone, something he addressed candidly after this game. But an identity? A real personality to take into the ACC? We'll see.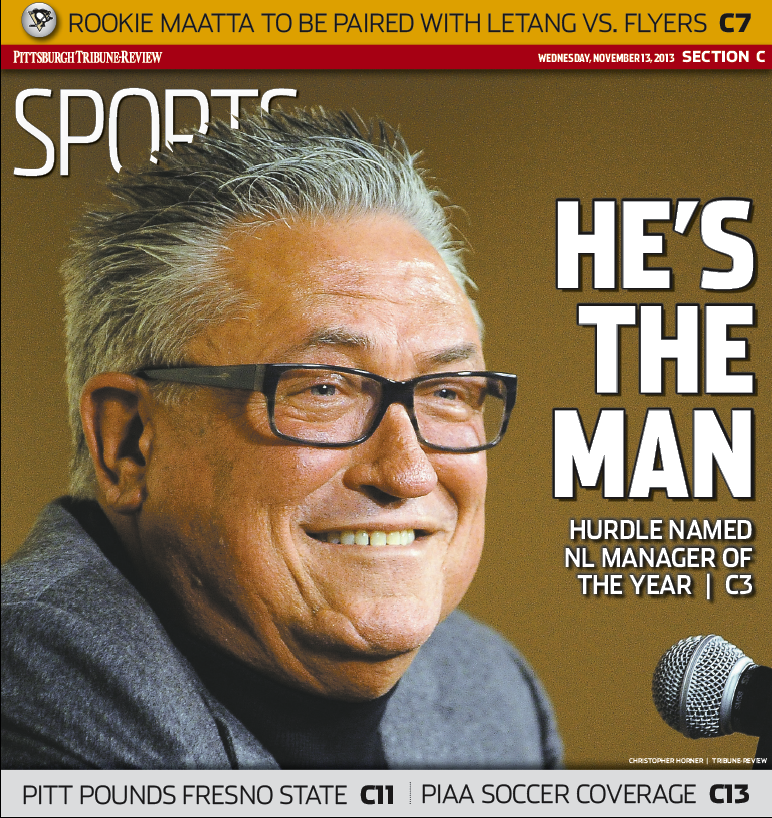 >> Clint Hurdle is National League Manager of the Year. Rob Biertempfel reports.
Here's some of what Hurdle told reporters …
Marlon Byrd leaves for the Phillies.
Our full Pirates coverage is here, including the latest on A.J. Burnett and Jay Bell.
>> Mike Tomlin wants to start 'stacking wins,' by beat writer Alan Robinson.
Some of the coachspeak …
Here's our full Steelers coverage.
Here's Lions news from the Detroit Free Press.
Here are official game highlights from NFL.com.
>> Kris Letang + Olli Maatta = We'll see tonight. Beat writer Rob Rossi has it.
Sidney Crosby reached out to Steven Stamkos. He wasn't alone in the hockey world.
Here's our full Penguins coverage.
Here's Flyers news from the Philadelphia Daily News.
Here are official game highlights from NHL.com.
>> Pitt looks ahead to North Carolina. Jerry DiPaola reports.
Tom Savage earns respect. A column by Joe Starkey.
>> Here are winners from of our first weekly write-your-own-column Tuesday entries, all responses to the following three questions, all limited to 150 words:
1. The Steelers are 3-6 and only two games behind the 5-4 Other Jets for the final wild-card spot. Should this be the focus in favor of more future-based concepts such as playing more Jarvis Jones and other youngsters?
James Tompkins writes …
Your Pittsburgh Steelers' 23-10 win over a listless Buffalo Bills was an exercise in regaining dignity, nothing more. We've seen sufficient evidence that this team, right now, does not have the composition or preparation necessary to stand with this season's top tier. And if the objective of winning a Super Bowl – heck, if winning an AFC North division title – isn't attainable, then what is gained from starting incumbents to win a chance?
If "the standard is the standard" as we've been told oh so many times, let's see what "the standard" is with guys who have a greater chance of being here next fall. Potential can't reflect "the standard" by taking the field with potential alone. It comes of potential tempered by experience. And if the result of younger players learning on the job doesn't produce the desired "standard", we have a whole slew of longer-term problems to deal with.
2. What, if anything, should the Penguins do about Evgeni Malkin's slump?
Wild Bill writes …
Having James Neal back at the wing will help a whole lot. Teams have been defending Malkin by pushing him out along the wall in the offensive zone, or by attacking him with two players at the center of the blue line – at least this is what I've been seeing. Better wing play, like what Neal brings, draws some of the defensive attention away. Better offensive play in general will draw more penalties and will give Malkin more power-play chances to score, as well. This could happen with a trade for an additional offensive threat.
I would like to see what Malkin could do if given a chance to be the power-play guy in front of the net at times. His strength could serve him well there.
3. Play devil's advocate with the National League MVP finalists and make a case for either Paul Goldschmidt or Yadier Molina. If your best case isn't good enough, that's fine.
AZBucsFan writes …
I grew up in Pittsburgh, but I have lived in Phoenix for the past seven years and change. I also work for MLB.com doing pitchf/x during the season at Chase Field, so I understand what Paul Goldschmidt means to the Diamondbacks. His 36 HRs tied for the league lead. He lapped the NL field in RBIs. Batted .302 with an OPS of .952. Plus, he only made five errors playing a full season at 1B. Without his monster season, a D-backs team that lacks great pitching and power at most other positions easily finishes with 100 losses.
Yes, Andrew McCutchen is a great player, but he played for a team that pitched its way to a winning season and the playoffs. His numbers were simply very good.
>> Hope you can listen — and call in — to the show!