By Dejan Kovacevic | Trib Total Media
Morning, Lunatics …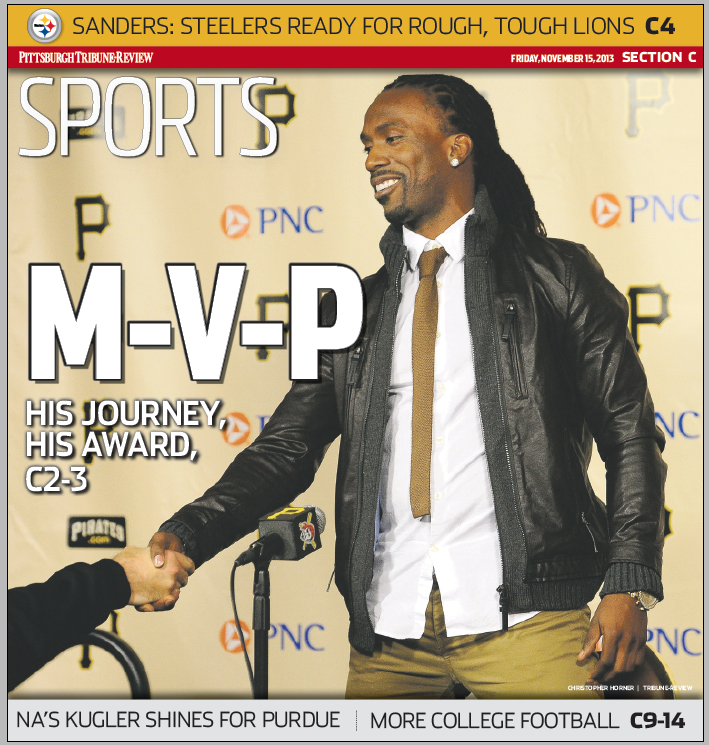 >> The Friday column digs deep in search of praise for the National League's MVP. And it does so with the considerable and generous help of two men from the Pirates' past, Ed Creech and Brian Graham. I appreciate the time from both yesterday, especially the former for doing so while on assignment in Venezuela.
It was a spectacular day for the Pittsburgh Baseball Club, and it's fair that all concerned get their due. I loved this from Creech as we closed our conversation: "Andrew deserves all the credit. He's a great kid from a great family, and I couldn't be happier for him. But we as scouts or instructors, these are days you enjoy. You'll always feel good to have your name attached to a truly special player."
Here's some of what that truly special player had to say at PNC Park …
The news coverage is by beat writer Rob Biertempfel. You'll also find on that file Rob's full MVP ballot.
>> What was Peter Laviolette doing in the Penguins' locker room yesterday? Rob Rossi has the answers.
Here's our full Penguins coverage with the Predators in town tonight.
Here's Predators news from the Nashville Tennesean.
Here are official game highlights from NHL.com.
>> Emmanuel Sanders is adamant the Steelers won't be bullied by the Lions, by Alan Robinson.
Jonathan Dwyer is happy to be employed, by Mark Kaboly.
Here's our full Steelers coverage.
Here's Lions news from the Detroit Free Press.
Here are official game highlights from NFL.com.
>> Pitt braces its O-line for North Carolina, by Jerry DiPaola.
>> Bobby Engram works for the Panthers but is Penn State proud, by Chris Adamski. Really enjoyed this.
>> I'll check in with TribLIVE Radio at 11:30 a.m., and we'll begin the weekly chat at noon right here on the blog. As soon as you see the post go up, you can submit entries. But please do so in the actual chat field, not in the blog comments.
>> Was just about to log off, and noticed a familiar right hand up there in that front-page pic. Small world.