By Dejan Kovacevic | Trib Total Media
Morning, Lunatics …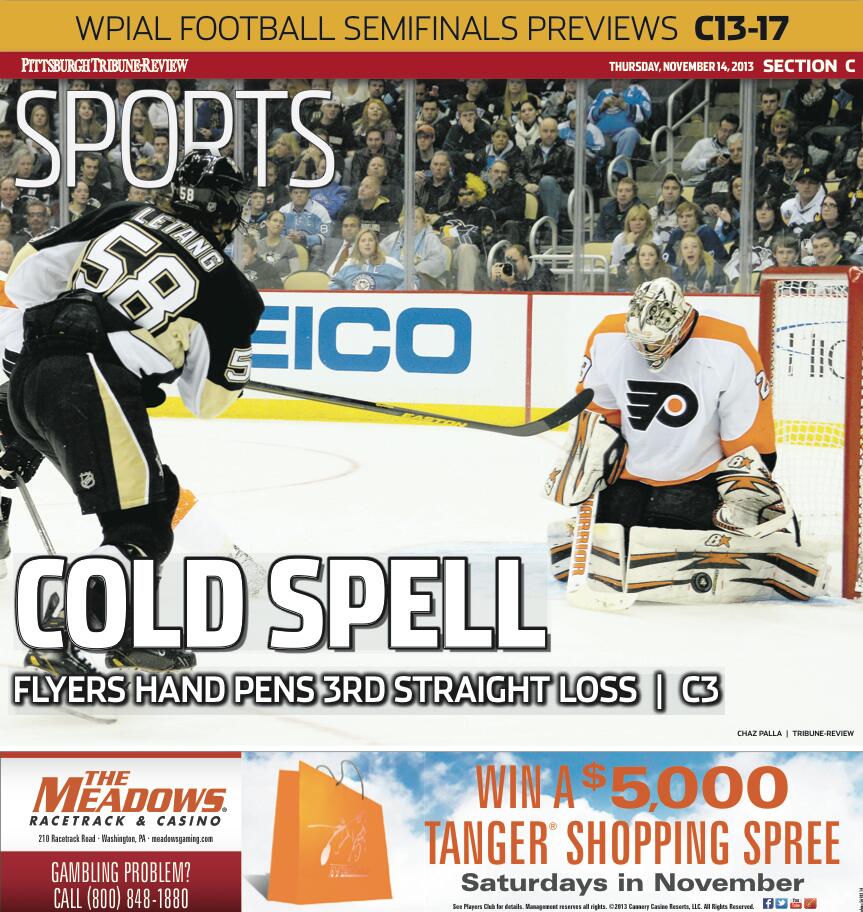 >> The Thursday column misses the mark. Badly. Which is to say it's probably a perfect fit for the subject matter.
Here's some of what Chris Kunitz had to say afterward …
Random randomness from the event: There's really not too much to analyze in a game where the home team misses 19 shots and has 12 others blocked, but hey, I'll give it a shot. … You can live with role players so long as they're, you know, filling roles. I have no idea what Matt D'Agostini does. I really don't. Not being mean. I see nothing. And yet, I saw him on the ice with three minutes left, down a goal, missing a stretch pass by putting himself offside. … Starting to look like Evgeni Malkin's exasperation is spilling over to Jussi Jokinen. The latter needs to get back to playing his own game rather than worrying about 71. … Kris Letang is just maddening. Really is. And for all the Norris Trophy talk that constantly surrounds him — deserved when he's at his peak — he'll never get to any next level until he can stop having so many of his offensive plays blocked, shots and passes. … There's no way Pascal Dupuis isn't playing through some kind of pain. … The Flyers have played better of late, in fairness, but you also could see the loose defense that's been there all along. And the lack of offense. … The ice at Consol is inexcusable. You can't pour $300 million into a facility and call it first-class unless that's addressed. And spare me complaints about the workers. There's always a way.
The game story is by beat writer Rob Rossi.
Here's our full Penguins coverage.
Here's Flyers news from the Philadelphia Daily News.
Here are official game highlights from NHL.com.
>> The Steelers really do have a shot, by beat writer Alan Robinson.
Couple Qs I had for Ben Roethlisberger yesterday about red-zone issues …
Evaluating the greatness that is Calvin Johnson, by Ralph Paulk.
Here's our full Steelers coverage.
Here's Lions news from the Detroit Free Press.
Here are official game highlights from NFL.com.
>> Pitt braces for North Carolina's gifted QB, by Jerry DiPaola.
>> Penn State has a gifted QB of its own, by Chris Adamski.
>> Duquesne goes down to New Hampshire, by Chris Harlan. Have to love Jim Ferry's candor.
>> I'll check in with TribLIVE Radio at 11:30 a.m.