By Dejan Kovacevic | Trib Total Media
Morning, Lunatics …
>> The Monday column from Heinz Field tries — through the eyes — to get hard answers to the Ben Roethlisberger stuff, and the undisputed truth it produces. Undisputed by anyone who counts, anyway.
Here's some of what the QB had to say …
And the head coach …
Random randomness from the event: I make only passing mention of this in the column, but seeing fans filing out of Heinz Field beginning late in the second quarter — with the Steelers down by four! — was pretty jarring. I don't tell people how to spend their money, but I will say that there's a season-ticket waiting list that stretches tens of thousands. And if these people don't want to attend games, there are a ton who'd gladly go in their place. … I don't care if this comes back to bite, but I liked what I saw of Jason Worilds and Jarvis Jones as the outside linebackers. Read into that as you please. … Don't know if they showed this on TV, but Willie Gay went running half the length of the field to shout in the direction of the Lions' coaches after that silly fake field goal. Of course, Gay wouldn't fess up when I poked: "That? Aw, I just got hit in the face because I had to line up against a guard. Me! Like a linebacker! Right in the mouth." Yeah, that was it. … It's incredibly rare that Tomlin offers any remark about the opposition strategy, so it was stood out that he said this of the Steelers keeping Calvin Johnson catch-free in the second half: "It might just have been what they didn't do." He's right. Matthew Stafford threw toward Megatron only three times. One was the Will Allen pick pictured above. Why? … It shouldn't be lost that the Steelers had ample shortcomings. Apart from the obviously grotesque second quarter for the secondary, the running game really didn't get going. Le'Veon Bell had one 13-yard carry but otherwise a total of 23 yards on 17 carries. That's practically backward. It isn't all on him, I know, but still. … Heath Miller is back — eight catches, 67 yards — but not all the way. Still not all there. Still lacking fluidity. … Did a double-take when looking over Detroit's defensive statistics because I couldn't find the infamous menace known as Ndamakong Suh. Hm, know why? He didn't register a single anything. Zippo. Credit David DeCastro in a big way. … This gets to be fun again now, right?
The game story tries to decipher this team, by beat writer Alan Robinson.
Hey, where did Megatron go? Mark Kaboly tries in vain to find No. 81.
OK, then, how about Mega-Brown? Ralph Paulk reports on AB.
The Lions' fake field goal had heads scratching everywhere, by Paul Schofield.
Here's our full Steelers coverage, including game balls, turning points, injuries.
Here's Lions news from the Detroit Free Press.
Here are official game highlights from NFL.com, for which I'll call special attention to Penn State's own Matt McGloin getting it done in his Oakland debut. Wouldn't be surprised in the slightest if he bumps Terrelle Pryor.
Here's our Steelers photo gallery by Chaz Palla and Chris Horner, and just to share here, this is a spectacular NFL.com freeze-frame of Megatron and AB exchanging jerseys right after the game. Love this …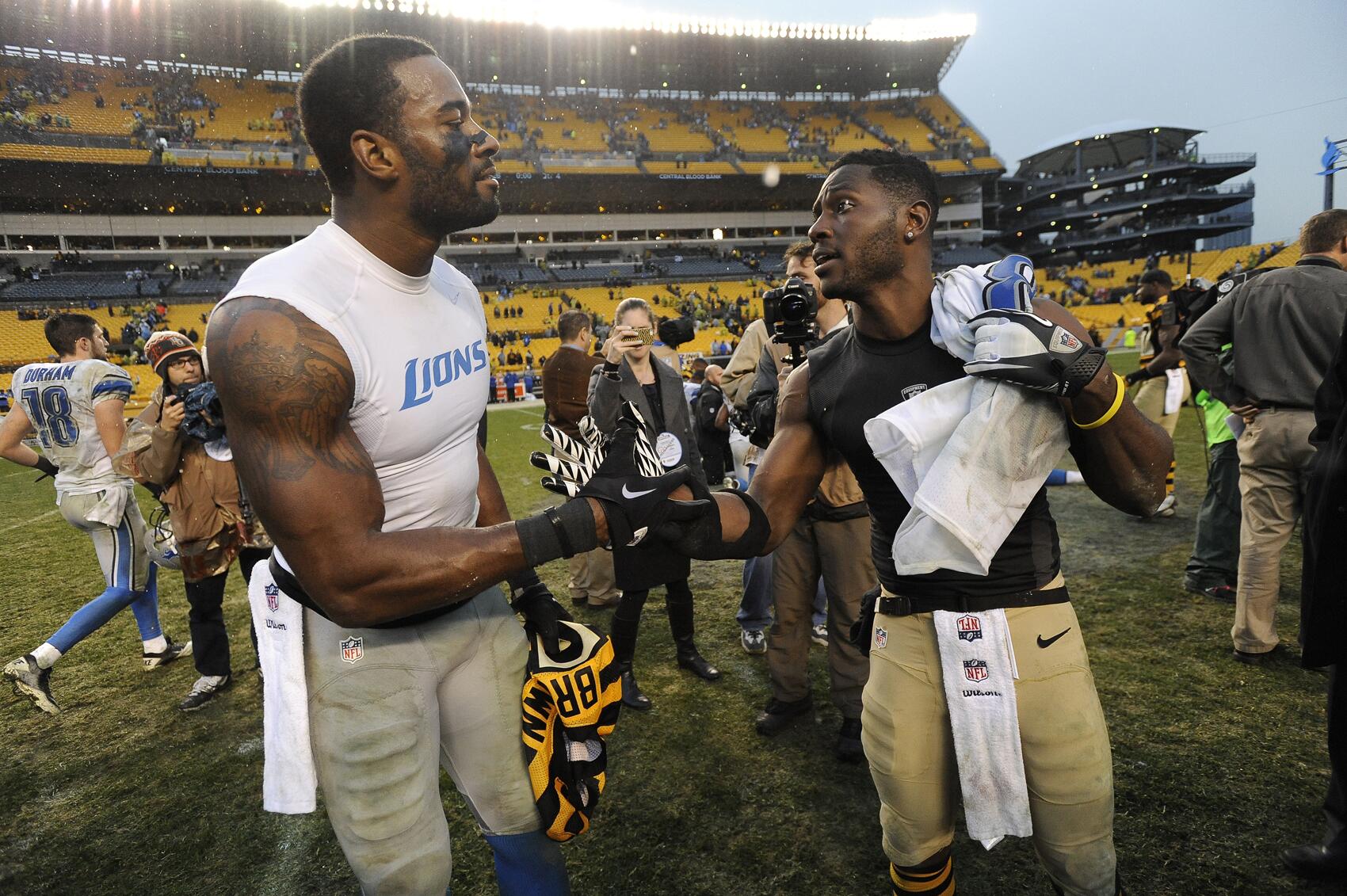 >> Teemu Selanne, one of the greatest players in hockey history, will play his final regular-season game in Pittsburgh tonight. Just in case you were wondering where my head would be today. It's been an absolute thrill watching the man play and a treasure each time I've interviewed him, from Winnipeg to Anaheim to representing Finland in the Olympics.
If you're going to the game tonight, forget the two points. Focus on No. 8. You'll be glad you did.
Here's a video montage done in September of career highlights …
As well as footage for how he was feted during a stoppage last month in Winnipeg …
Ben Lovejoy also will be returning with the Ducks. Josh Yohe interviewed Lovejoy yesterday at practice, and a couple of his quotes about the Penguins' system are not to be missed.
Here's our full Penguins coverage.
Here's Ducks news from the Orange County Register.
Here are official game highlights from NHL.com.
>> Pitt gets a good show from Lamar Patterson to beat Howard, by Kevin Gorman.
>> Duquesne can't defend West Virginia, by Chris Harlan in Morgantown.
>> If you couldn't stay up late last night, I was joined on WPXI-TV's Subway Final Word by Mark Madden and Robinson, and let's just say we had more than our share of spirited fun.
>> I'll check in with TribLIVE Radio at 11:30 a.m.